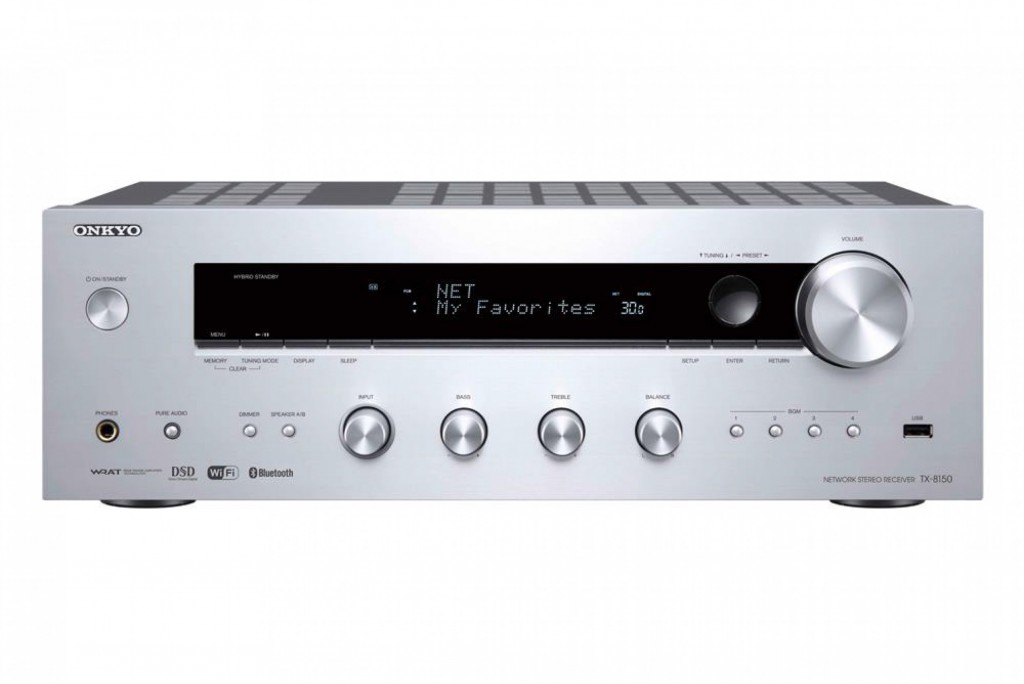 135 watt per canale e piene funzionalità di DAC, streamer e network player: è l'amplificatore integrato Onkyo TX-8150.
135 watt per canale di alta corrente in puro dominio analogico, componenti discreti a bassa impedenza e una pletora di funzioni digitali. L'amplificatore integrato Onkyo TX-8150 fa di tutto per farsi notare.
Ingressi digitali, music streaming di Spotify over Wi-Fi, iTunes via AirPlay, MP3 e USB drives, Bluetooth, radio FM e DAB, ingresso phono con equalizzatore, un totale di 4 ingressi digitali e 6 analogici: vi basta?
Lavora ad alta corrente, l'Onkyo TX-8150, con un sistema di prevenzione dello slittamento di fase.
384 kHz/32-bit: il DAC Asahi Kasei AK4452 è adeguato al massimo degli standard odierni, DSD compreso.
Il prezzo? Una piacevole sorpresa.

Caratteristiche tecniche amplificatore integrato con network player, streamer e DAC Onkyo TX-8150
135 W/Ch (6 Ω, 1 kHz, 1%, 1 Channel Driven, IEC); 140 W/Ch (6 Ω, 1 kHz, 2 Channels Driven, JEITA)
Built-in Wi-Fi for Wireless Audio
Bluetooth Audio Support
Spotify Connect
AirPlay
Phono Input
Hi-Current Amp Design
384 kHz/32-bit Hi-Grade DAC AKM AK4452
4 Quick-Access BGM Presets
Non-Phase-Shift Amp Design for Realistic Sound Imaging
Discrete Amplifier Design with Massive EI Transformer
Plays Music from Mass-Storage-Class USB Memory Devices
Onkyo Remote App
MP3, WMA, WMA Lossless, FLAC, WAV, Ogg Vorbis, AAC, Apple Lossless, DSD 5.6 MHz, e LPCM
TuneIn Radio, Spotify, Deezer
Certified with Windows® 8 and DLNA Version 1.5
Pure Audio Mode
Direct Mode
4 Digital Audio Inputs (2 Optical and 2 Coaxial)
6 Analog Audio Inputs (Excluding Phono Input) and 1 Output
MM Phono Input
Subwoofer Pre Out
Speaker A/B Drive
IR Input and Output
Gold-Plated Headphone Jack
Gold-Plated Audio Terminals
FM/DAB/DAB+ Tuner with 40 Station Presets
Anti-Vibration Oval Chassis
Auto Power On via Optical When Signal is Detected
Independent Bass, Treble, and Balance Controls
Produttore: ONKYO
Ti bastano meno watt?