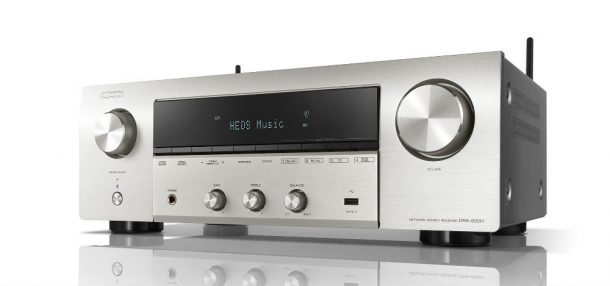 Chiamare amplificatore il Denon DRA-800H è davvero riduttivo. A bordo monta una radio DAB, uno streamer, un sistema multi-room e… tanto altro.
1.092,09 €
Dolby digital, dts, atmos, dts HD Network, spotify, bluetooth, airplay, dlna Alta potenza, ingresso giradischi Stereofonico Dub
(as of 7 Aprile 2020 - More info

Product prices and availability are accurate as of the date/time indicated and are subject to change. Any price and availability information displayed on [relevant Amazon Site(s), as applicable] at the time of purchase will apply to the purchase of this product.

)
Più che un
amplificatore integrato con streamer il Denon DRA-800H
è una vera e propria macchina da guerra.
Si tratta di un amplificatore stereo da 100 watt per canale a 8 Ω con un confortante 0,08% di distorsione armonica totale.
Come anticipavamo, ha uno streamer integrato, sia WiFi e sia via Ethernet, che si poggia sul DAC AKM AK4458, molto efficace e già in uso nella gamma home theater del produttore giapponese.
Gestisce in scioltezza i formati compressi più diffusi (MP3, WMA, AAC), ma anche e soprattutto FLAC, AIFF e WAV a 24 bit e 192 kHz, ALAC a 24/96 e DSD fino a 5,6 MHz.
Sul fronte delle connessioni wireless troviamo – oltre al WiFi – l'immancabile Bluetooth e l'AirPlay 2.
Il Denon DRA-800H è già pronto per i principali sistemi di streaming musicale: Spotify, Tidal, Amazon Music, Deezer, l'aggregatore di web radio TuneIn e altri ancora.
Anche se l'Italia su certe cose arriva a scoppio ritardato, il Denon DRA-800H è gestibile con gli assistenti vocali Amazon Alexa, Google Assistant e Siri.
Ma non è tutto.
Il Denon DRA-800H è in grado di diventare il cuore pulsante di un sistema muti-room HEOS (sempre di casa Denon).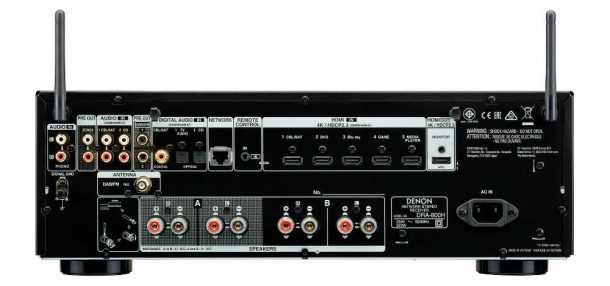 Ricchissima la dotazione di ingressi e uscite. Le connessioni in uscita: 2 sub-out, 1 pre-out. In ingresso le porte disponibili sono: 1 ingresso phono, 2 RCA, 1 Coax, 2 Toslink, 1 USB frontale, 4 HDMI oltre a 1 HDMI ARC. A cui si aggiungono le già citate Ethernet, Bluetooth e AirPlay 2.
La presenza di connessioni HDMI è davvero (incomprensibilmente!) rara in amplificatori stereo; in questo caso tornerà davvero utile a tutti gli appassionati che vogliano amplificare sorgenti come il decoder sat, il lettore DVD/BluRay, ma anche e soprattutto una console per videogames, senza impantanarsi nelle complicazioni dei collegamenti tipici dell'audio multi-canale, ma senza per questo rinunciare alla goduria di una (ottima) amplificazione stereo.
I videogiocatori andranno in brodo di giuggiole grazie al supporto dei segnali video con risoluzione fino a Ultra HD 50/60 Hz, profondità del colore a 10-bit, Rec.2020, HDR10 e HLG, oltre che per la ghiotta possibilità di gestire l'Auto Low Latency Mode(ALLM) sui TV compatibili.
I collegamenti per i diffusori riguardano due coppie di casse o una sola in bi-wiring.
Ad aumentare le possibilità di fruire flussi musicali, a bordo troviamo anche un sintonizzatore FM e uno DAB+.
Difficile volere di più.
Il Denon DRA-800H è atteso in Italia nei prossimi mesi a un prezzo che dovrebbe contenersi entro i 700 euro.
Amazon Auto Links: No products found.
Amazon Auto Links: No products found.