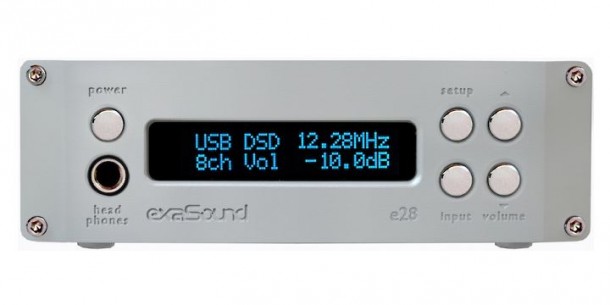 Con l'avvento del Blueray Pure Audio, ma anche dei normali dischetti argentati con diverse codifiche multicanale, avere un DAC solo stereofonico potrebbe essere limitativo. È così che la pensano i progettisti del convertitore exaSound e28.
Un DAC a 8 canali, senza dimenticare il supporto al formato DSD. È l'exaSound e28, un convertitore davvero semplice da usare e capace di risoluzioni da 44.1 a 384 kHz in PCM e da 2.8 a 12.2 MHz in DSD.
Ma soprattutto il flusso dei dati in DSD rimane tali fino all'uscita analogica, senza passare dalla conversione intermedia in PCM come invece fanno diversi concorrenti. Il DSD supportato dall'e28 riguarda praticamente tutte le frequenze di campionamento: 2.82, 3.072, 5.64, 6.14, 11.28 e 12.28 MHz. In PCM, invece, abbiamo tutti gli step intermedi sino ad arrivare a 32 bit e 384 kHz.
Il "cuore" dell'exaSound e28 è il microprocessore ES9018 Sabre32 della ESS Technologies e la porta USB è di tipo asincrono e a jitter infinitesimale clasificato a 0.13 ps master clock, livelli raggiunti con l'impiego di 3 oscillatori di precisione. L'isolamento del controller USB dalla circuitazione del DAC è di tipo galvanico.
Per l'ambiente Windows è previsto un driver ASIO ad hoc, non necessario su Mac OS X Mavericks.
Come i più smaliziati sanno, maggiori sono le frequenze di campionamento e maggiore è la possibilità che si produca del rumore, che viene opportunamente tagliato da appositi filtri; in questo convertitore ne entrano in azione ben 15.
Caratteristiche tecniche DAC exaSound e28
D/A Converter IC-ESS Technology ES9018S Sabre32 Reference DAC
PCM Sampling Rates: Asynchronous USB ASIO: 44.1 kHz, 48 kHz, 88.2 kHz, 96 kHz, 176.4 kHz, 192 kHz, 352.8 kHz, 384 kHz
DSD Sampling Rates: Asynchronous USB ASIO-DSD 64 Fs: 2.8224 MHz, 3.072 MHz, DSD 128 Fs 5.6448 MHz, 6.144 MHz, DSD 256 Fs: 11.2896 MHz, 12.288 MHz
Sampling Rates: SPDIF Coaxial IN 1-PCM 44.1 kHz, 48 kHz, 88.2 kHz, 96 kHz, 176.4 kHz, 192 kHz
Sampling Rates: SDIF Optical IN 2-PCM 44.1 kHz, 48 kHz, 88.2 kHz, 96 kHz
Total Harmonic Distortion + Noise: 0.000359% @ 1 KHz, 0 dBFS
Intermodulation Distortion: 124 dB / 0.0000605% % @ 19 KHz + 20 KHz 0 dBFS
2nd order IMD
Signal-to-Noise Ratio: 125 dB, A-weighted, 2 Vrms
DAC Master Clock Jitter: 0.13 psec rms
Frequency Response: 0 Hz ÷ 20 kHz (–0.15 dB)
Phase-Non-inverting
Channel Separation: 134 dB @ 1 KHz for adjacent channels, 123 @ 1 KHz between channel groups
Digital Inputs: USB 2.0, SPDIF Coaxial, SPDIF TOSLINK (optical)
Number of channels: 2 to 8 channels PCM, DSD
Operating System Requirement: Windows 8 x86, Windows 8 x64, Windows 7 or Windows XP x86 [Note that Windows XP support has been officially discontinued by Microsoft as of April, 2014.] Mac OS X Lion, OS X Mountain Lion, OS X Mavericks. ASIO Compatible Player is required for all Windows platforms. OS X Mavericks is required for DSD256.
Digital Volume Control Steps: 0.5 dB
Volume Matching between Channels: Better than 0.1 dB
Line Output: Unbalanced (RCA) or Balanced (Mini -XLR), gold-plated contacts
Line Output Level: 4 Vrms (balanced), 2 Vrms (unbalanced)
Line Output Impedance: 200 ohms
Line Output Offset: <5 mV
Headphone Amp Current Output: 200 mA peak
Headphone Amp Output Impedance: 1 Ohm, 20 Hz ÷ 20 kHz
Headphone Amp Output: 0-4 V
Headphone Amp THD+N: 0.00077% , 1 Vrms into 60 ohms
Headphone Jack: 1/4″ TRS SE
Power Jack Diameter: Internal: 2.2 mm x External: 5.5 mm
Power Consumption: <15 W
Prezzo di listo: 3.299 dollari americani
Produttore: EXASOUND
4,82 €
3,99 €
COMPATIBILITÀ HDMI UNIVERSALE: Questo cavo HDMI 4K è compatibile con i tuoi lettori Blu-ray, amplificatore AV, Playstation PS5, PS4, PS3, XBox one, Xbox 360, Mi TV BOX, decoder TNT, Raspberry PI 3, NVIDIA Shield TV, Freebox, Livebox, i videoproiettor...
read more
(a partire da 2 Dicembre 2022 06:57 GMT +01:00 - Altre informazioni

Product prices and availability are accurate as of the date/time indicated and are subject to change. Any price and availability information displayed on [relevant Amazon Site(s), as applicable] at the time of purchase will apply to the purchase of this product.

)