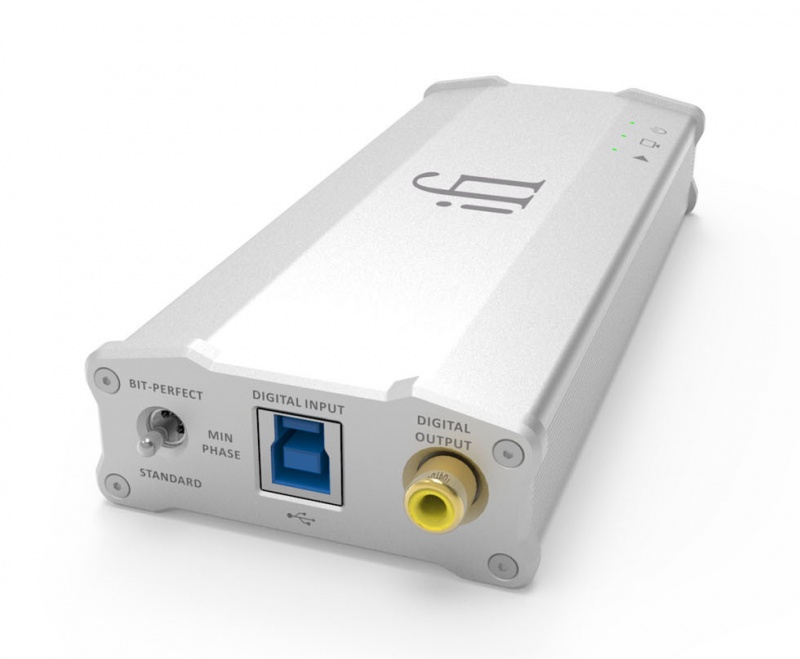 Con l'ormai classica estetica del produttore tedesco, il DAC IFI Micro iDac2 presenta, tra le tante features degne di nota, una porta USB 3.0.
Ci occupiamo solo ora, a diversi mesi dalla sua uscita sul mercato, del convertitore IFI Micro iDac2, un apparecchio che ha diverse frecce al suo arco per aspirare a diventare il cuore (digitale) pulsante dell'impianto dell'audiofilo degli anni '10.
Si tratta di un DAC / amplificatore per cuffia allo stato dell'arte, con una serie di raffinatezze costruttive e progettuali da top di gamma.
Il chipset su cui è basato è  il Burr-Brown True Native, che si lascia intendere sin da nome supporta il DSD256 QuadSpeed e i segnali PCM a 384 kHz nativamente, quindi senza l'odioso DoP o upsampling di dubbia efficacia.
Due valvole single ended Elna Japan Silmic II consentono di operare sulle uscite analogica RCA in Classe A, per assicurare la completa assenza di qualsiasi asperità digitale.
Lo stadio d'uscita in Classe A oltre ad essere costruito con componenti discreti combina un J-Fet N-Channel e un transistor bipolare PNP, soluzione di chiara derivazione dagli ambiti audio professionali.
Perché non sfruttare la maggiore velocità di trasmissione dati dell'USB 3.0? Devono esserselo chiesto anche i progettisti delll'IFI Micro iDac2, che infatti l'anno inserita nel loro progetto, a cui hanno incluso il Super Regulator, un filtro di rumore che "pulisce" le correnti in transito dalla porta USB.
Caratteristiche tecniche DAC / amplificatore per cuffia IFI Micro iDAC2
Input: USB3.0 (USB2.0 compatible)
Output: SPDIF RCA (only PCM up to 192KHz), Audio RCA, 3.5mm Headphone
Formats: 44.1/48/88.2/96/176.4/192/384KHz PCM, 2.8/3.1/5.6/6.2/11.2/12.4MHz DSD, 353/384KHz DXD
DAC: Bit-Perfect DSD & DXD DAC by Burr Brown (1-DAC Chip; 2-Channel; 4-Signals)
Filters: PCM: Bit-Perfect/Minimum Phase/Standard, Digital filters selectable, DSD: Extreme/Extended/Standard, Analogue filters selectable, DXD: Bit-Perfect Processing, Fixed Analogue filter
SNR: > 114dB(A) @ 0dBFS
THD+N: < 0.0025% @ 0dBFS (100k Load) < 0.025% @ 0dBFS (600R Load)Power consumption: <1.5W
Dimensions: 158(l)x68(w)x28(h)mm
Weight: 265g(0.58 lbs)
Produttore: IFI
Amazon Auto Links: No products found.
Amazon Auto Links: Could not resolve the given unit type, . Please be sure to update the auto-insert definition if you have deleted the unit.