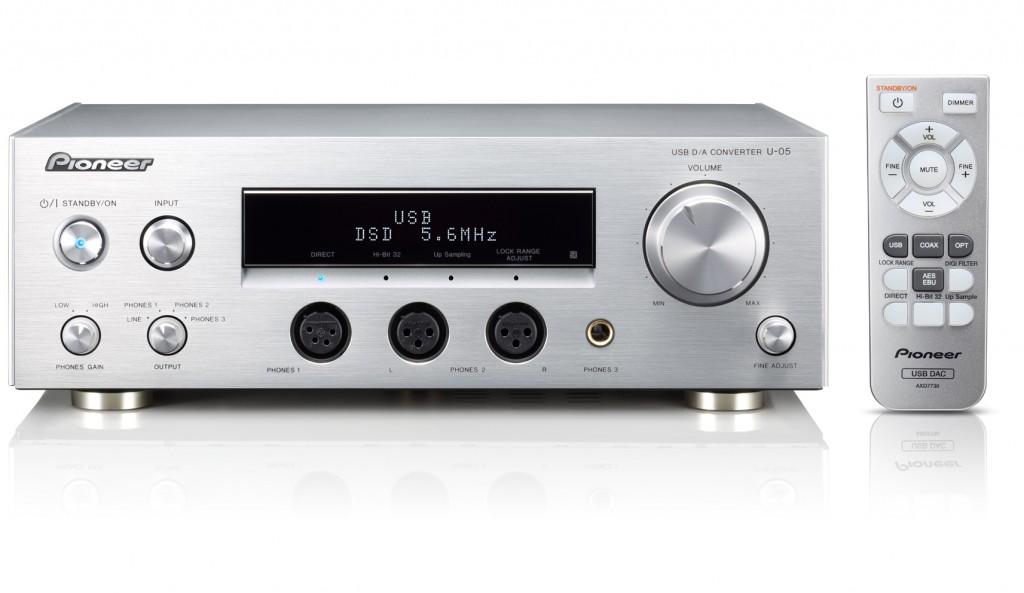 Il Pioneer U-05 è un DAC / ampli per cuffie con ingressi e uscite bilanciate. E la cosa fa davvero la differenza.
Perfettamente allineato con i nuovi standard di conversione (ovvero PCM fino a 32-bit/384 kHz e DSD 2.8 MHz e 5.6 MHz DSD), l'ampli per cuffie e DAC Pioneer U-05 ha nel suo cuore un doppio chipset Sabre a 8 canali, configurato per l'impiego parallelo a destra/sinistra.
Realizzato con una struttura anti-vibrazioni, fin dal frontale fa bella mostra dei suoi ingressi e uscite XLR (AES/EBU), ma accetta anche dal tradizionale jack standard ai jack NEUTRIK a 3 e persino 4 pin.
Col suo parco ingressi (cfr caratteristiche tecniche) può lavorare come preamplificatore di fascia alta con controllo del volume mediante le uscite XLR bilanciate o le uscite RCA non bilanciate.
Un master clock all'avanguardia saluta (senza ritorno) l'odiato jitter. Per capire perché scrivevamo in apertura dell'importanza e della differenza della presenza di ingressi/uscite XLR, basta confrontare la differenza di alcune caratteristiche tecniche: 106 contro 113 i dB di rapporto segnale/rumore, a vantaggio delle uscite bilanciate; ma anche 0,01 contro 0,004 le percentuali di distorsione, con le XLR sempre pronte a offrire il meglio.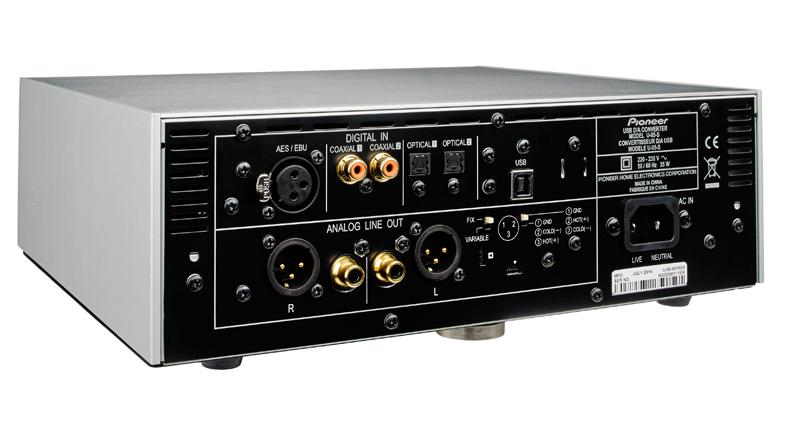 Caratteristiche tecniche amplificatore per cuffie con DAC Pioneer U-05
Connessioni d'ingresso: 1 USB, 2 coassiali digitali, 2 ottici digitali, 1 AES/EBU (XLR3)
Telecomando In dotazione
Uscita cuffie: 1 non bilanciato (STD), 1 bilanciato (XLR3), 1 bilanciato (XLR4)
Livello d'uscita: Non bilanciato (STD): 180 mW + 180 mW (32 Ω)
Impedenza: 16 Ω ~ 600 Ω
Risposta frequenza: 4 Hz ÷ 80 kHz (–3.0 dB)
Distorsione: non bilanciato (STD) 0,01%, bilanciato (XLR3/XLR4) 0,004% (uscita –3.0 dB)
Rapporto segnale/rumore: non bilanciato (STD) 106 dB, Bilanciato (XLR3/XLR4) 113 dB
Uscita analogica: 1 non bilanciata (RCA), 1 bilanciata (XLR3)
Alimentazione: AC 220–230 V, 50/60 Hz
Potenza assorbita: (durante l'uso/in standby) 35 W/0,27 W
Dimensioni: 296 x 101 x 271 mm
Peso 6.3 kg
Prezzo: 699 sterline
Produttore: PIONEER
Amazon Auto Links: No products found.
Amazon Auto Links: Could not resolve the given unit type, . Please be sure to update the auto-insert definition if you have deleted the unit.