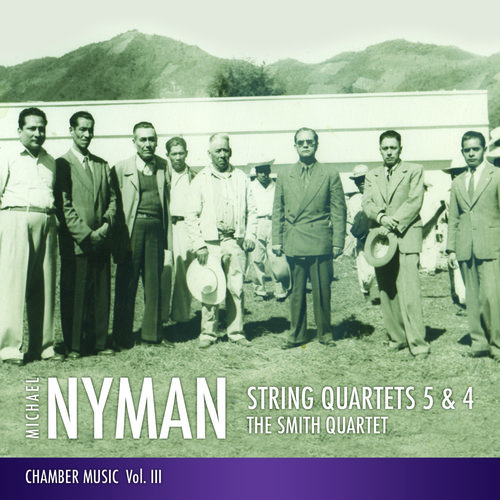 Michael Nyman, il compositore inglese celebre per le sue colonne sonore, torna con un disco nuovo di zecca in cui sono i violini a farla da protagonisti: String Quartets 5 & 4.
Michael Nyman da sempre divide la sua carriera in almeno 3 ambiti: musiche originali afferenti al filone del minimalismo neoclassico mozartiano, musiche originali di diverso stile e colonne sonore.
E sono proprio queste ultime ad avergli dato visibilità presso il grande pubblico, che ha trasformato in incredibili best seller i dischi con le musiche dei film , anche se già in tanti s'erano accorti di lui grazie alla lunga e proficua collaborazione col visionario regista Peter Greenaway.
Ma veniamo al disco appena uscito. String Quartets 5 è stato composto nel 2011 e arriva su CD solo oggi. Spesso Nyman è partito da sue incisioni / materiali precedenti per rielaborarli e dargli nuova forma, ma in questo caso si tratta di materiale nuovo di zecca scritto espressamente pensando alle doti dello Smith Quartet.
Il sottotitolo è Let's Not Make a Song and Dance Out of This, come a dire che i movimenti che lo compongono potrebbero essere considerati una canzone, una danza o nessuno dei due.
String Quartets 4, invece, è una composizione dell'inverno 1994/95 ed è basata da un assolo di violino commissionatogli dallo stilista Yohi Yamamoto per una sua sfilata parigina.
String Quartets 5 è il tipico Nyman extra-colonne sonore (lavori spesso con un fondo di melanconico romanticismo), ovvero alterna momenti di assoluto nervosismo a movimenti in cui è la calma a farla da padrone, un perenne elastico che si tende e si rilassa.
String Quartets 4 ha invece in tutto e per tutto la forma di un concerto virtuoso in cui lo Smith Quartet è messo a dura prova e riesce in scioltezza ad esprimere tutta la poetica di Nyman, il suo universo fatto di citazioni colte, di una visione musicale senza barriere di generi e un percorso che trascina l'ascoltatore in un turbinio di eleganti emozioni.
La registrazione è di ottimo livello (seppure non fa gridare al miracolo), ma la qualità artistica di questo lavoro lo rende imperdibile nella collezione di qualsiasi appassionato di musica contemporanea.