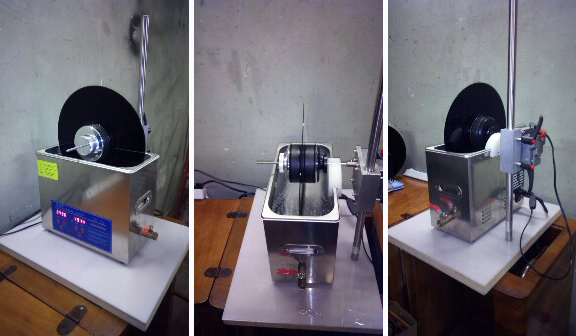 Questa volta non vi proponiamo una macchina lava-dischi, ma un comodo ed efficace servizio, per rimettere a nuovo i vostri vinili, il Vinyl Cleaner Service.
Il lavaggio del vinile è essenziale per il suo buon funzionamento. Oltre ad eliminare polvere, muffe, grasso, impronte e sporcizie varie, viene anche rimossa la carica elettrostatica accumulata sulle facce. Chi non ha pazienza, voglia, strumentazione adatta, può comodamente affidarsi al Vinyl Cleaner Service, un servizio completo, che farà risplendere i vostri vinili.
Le macchine usate per il lavaggio dei dischi sono di ultima generazione, con tecnologia ad ultrasuoni. Questo sistema permette al liquido detergente di penetrare nei solchi più a fondo e con maggiore efficacia.
In particolare, con la cavitazione ultrasonica, generata con una vasca ad ultrasuoni in un bagno liquido pulitore, viene prodotta un'implosione di miliardi di microscopiche bollicine, che penetrano nei solchi, rimuovendo in sicurezza tutto ciò che disturba il suono riprodotto.
Il dispositivo è stato costruito in modo da mantenere sospeso il vinile e proteggere l'etichetta sopra il pulitore ad ultrasuoni. Il disco ruota nella vasca, contenente il liquido detergente, ad un regime bassissimo di giri ( il lavaggio completo impiega circa 15 minuti) e poi viene completamente asciugato.
Il costo per il servizio è di € 2 a disco e comprende, oltre al lavaggio, una nuova busta con velina interna e, per grandi quantitativi, ritiro e consegna a domicilio.
Per info e prenotazioni: Vinyl Cleaner Service
Amazon Auto Links: No products found.
Amazon Auto Links: Could not resolve the given unit type, . Please be sure to update the auto-insert definition if you have deleted the unit.