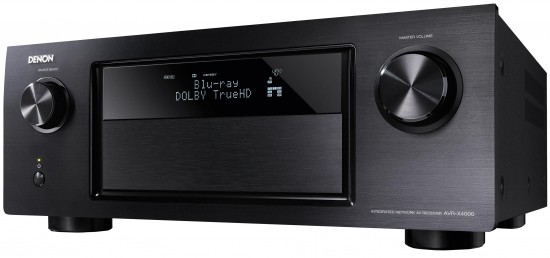 Il Denon AVR-X4000 si vuole impadronire del vostro salotto! Converrà lasciarglielo fare? Audio multicanale, ottime prestazioni anche in stereo, streaming player per file di musica liquida in HD e Internet radio, completamente auto-settante: vale la pena farci un pensierino.
Ci occupiamo solo ora del Denon AVR-X4000 perché ha subito un calo di prezzo, sia di quello di listino sia conseguentemente di quello "su strada". E ora è diventato un apparecchio davvero conveniente.
Il Denon AVR-X4000 è un amplificatore multicanale del tipo che va molto di moda in nord Europa, ovvero ampli con tantissime funzione, con soddisfacenti performance in ambito puramente HiFi e con funzione di player di Rete. Insomma, il Re del salotto, il cuore pulsante dell'intrattenimento domestico, il cervello dell'impianto.
I watt a disposizione per ogni canale sono 125, gli ingressi HDMI ben 7, di cui uno frontale, le uscite HDMI sono 3 di cui espressamente dedicata al multi-room. Praticamente tutti i protocolli e i codec dell'audio multicanale sono supportati e riprodotti, compreso il DTS Neo:X.
Chi s'è già confrontato con questo genere di amplificatori sa bene che la parte più noiosa è il corretto settaggio dei canali. Il Denon AVR-X4000 è invece dotato dell'Audyssey Platinum, un sistema che per mezzo di un microfono controlla tutto l'impianto e provvede da solo al miglior settaggio (salvo tornare sui propri passi e rifarlo manualmente, se lo si desidera). Rispetto alla versione "semplice", quella Platinum supporta Audyssey MultEQ XT32, Audyssey Dynamic Volume, Audyssey Dynamic EQ, Audyssey DSX, Audyssey Sub EQ HT, Audyssey LFC, Audyssey Pro e Audyssey MultEQ XT32.
SCOPRI LE OFFERTE SULLA GAMMA DENON
Sul fronte video ormai il 4K ha già dimostrato di cosa è capace (basta andare il qualsiasi mega-store delle grandi città e non solo per vedere apparecchi in azione) e il Denon AVR-X4000 lo supporta. In pratica al momento le società che producono software hanno fatto cartello e NON verranno rilasciati supporti fisici in Ultra HD (ovvero in 4K), formato disponibile solo in streaming e (in maniera sperimentale) via satellite. Questo amplificatore, come alcuni suoi colleghi, se l'utente lo desidera fa l'upsampling da definizione standard (SD) ad alta definizione (HD) e – in caso partissimo da un formato a 1080p – da HD a 4K, il tutto con risultati davvero sorprendenti e spettacolari. La nostra cara e vecchia collezione di DVD, ad esempio, riprende davvero vita ed è pronta per essere (ri)goduta sui nuovi televisori.
All'affollato telecomando, il Denon AVR–X4000 fa preferire l'App a lui dedicata e funzionante su ecosistemi Android e IOS, ma c'è anche disponibile un sistema per controllare l'amplificatore via broswer web (utilissima nel caso del multiroom).
Mandare il Denon AVR–X4000 in Rete è possibile via Ethernet o via WiFi, in quest'ultimo caso con un accessorio opzionale. Saremo così pronti per i vari servizi di streaming musicale come Sirius, Spotify, Pandora e per le HD Radio, sistema che si sta affermando all'estero e per il quale una stazione AM assurge alla qualità di una FM e quelle in FM suonano a qualità CD! L'ampli è certificato DLNA 1.5, per cui è in grado di suonare musica sparsa in giro per la nostra Rete domestica, in HD e in tutti i più diffusi formati. I file Mp3, inoltre, grazie ad uno specifico algoritmo denominato Denon Compressed Audio Restorer, assurgono a nuova vita.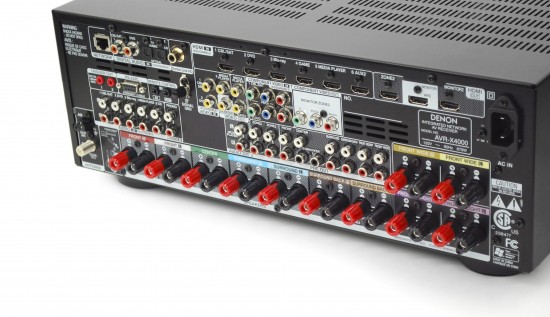 Caratteristiche tecniche amplificatore multicanale con funzioni di network player Denon AVR-X4000
GENERALS
Equal Power Amplifiers – 7 Channel
Power Output Per Channel (20 Hz ÷ 20 kHz, 0.08% THD @ 8 ohm) 125 Watts (.05% THD)
Power Output Per Channel(1 kHz, 0.7% THD @ 6 ohm) 165 Watts
Maximum Power Output Per Channel 235 Watts
High-Current/Discrete Amplifiers
Remote Control Multi Brand
Interactive Owners Manual on CD-R
Weight: In Pounds 27.12
Dimensions: 17.1 x 6.6 x 14.92 (inches)
CONNECTIVITY
HDMI Inputs 7 (3D/1080 p/4 K Ultra HD)
HDMI Outputs 3
Audio Return Channel (ARC)
HDMI Deep Color Support
HDMI xvYCC Color Space Support
HDMI SACD/DSD Support
Front Panel Inputs HDMI/USB/A/V
Digital Inputs: Optical 2
Digital Inputs: Coaxial 2
Denon Link Denon Link HD
Analog Audio Inputs 6
Tuner HD AM/FM
Phono Input
Analog Record Outputs 1
Composite Video Inputs 4
Composite Video Outputs 2
Component Video Inputs 2
Component Video Outputs 1
Ethernet Port – Network Audio/Photo Streaming
RS-232 Port – Third Party Remote Controllers
IR Serial Remote In/Out terminals
+12v Trigger Output
Variable Multi-Zone Pre-Amp Outputs Yes Z2/Z3
Multi Zone Video Output HDMI, Component, Composite
Main Zone Pre-Amp Outputs 11.2 Channel (Discrete LFE)
Detachable Power Cord
NETWORK/USB FEATURES
Mobile App Control Android & iOS
Apple AirPlay Certified
Online Music Streaming Services Pandora, Spotify, SiriusXM – Subscription Required
dlna 1.5 Certified
Windows Certification Windows 8/RT
vTuner Internet Radio Service
Compatible Music Formats – USB MP3, WMA, AAC, ALAC, FLAC
Compatible Music Formats – dlna Streaming MP3, WMA, AAC, ALAC, FLAC
High Resolution Audio Format Support 192kHz/24-bit FLAC & WAV, 96kHz/24-bit ALAC
Compressed Audio Restorer
Flickr Photo Streaming
Made for iPod/iPhone Certified USB Input
I/P Control for Home Automation
Web Browser Control and Setup
Online Firmware Update Capability
CONVENIENCE FEATURES
Easy Setup Assistant for First Time Setup
Input Delete Function
Auto/Manual Room Equalization
Audyssey MultEQ XT32
Audyssey Dynamic Volume
Audyssey Dynamic EQ
Audyssey LFC
Audyssey SubEQ HT
Audyssey Pro Calibration Ready
Variable High/Low Pass Crossover Points (12/24 dB) – 40/60/80/100/ 120/150/200/250
Source Function Renaming
Video Conversion – Analog to HDMI
Video Scaling Yes (1080 P/4 K Ultra HD)
Icon-Based Graphical User Interface with Video Overlay
Instapreview
Audio Signal Delay – By source
56 Station Auto-Preset Memory Tuning
Video Select Control Yes w\HDMI
Multi-Source/Multi-Zone 3S/3Z
High Pass Filter for Multi-Zone Outputs
Discrete Remote Power On/Off, Source Selection and Volume for Main and Second/Third* Zones
Assignable Amplifier Configuration of Surround Back Channels Surround Back, Zone 2, Zone 3, Zone 2/3 Mono, PLIIz, DSX, Biamp
Relay-Controlled Protection Circuits
Pre Labled Assignable Digital Inputs
Pre Labled Assignable Analog Inputs
Digital to Analog Conversion Multi Zone Outputs HDMI (Z2 Only), Coaxial , Optical
Speaker Terminals New Horizontal Layout, 12 o'clock Wire Input
COMPONENT TECHNOLOGY
Dynamic Discrete Surround Circuit – D.D.S.C – HD
Audio Upsampling Technology AL24 Processing Plus
Audio DAC 192 kHz/24-bit
Video Processing Analog Device 12-bit -ADV8003
Independent Power Supplies
DSP Processor Analog Devices 32-bit x 2
Jitter Free Transmission Technology Denon Link HD & PLL
SOUND MODES
Maximum Channel Processing 9.2
Dolby Pro Logic IIz – with Cinema, Music, Game Modes
Dolby TrueHD and Dolby Digital+ Decoding
Dolby Digital Surround EX Decoding
dts-HD Master Audio and High Resolution Decoding
dts ES Discrete 6.1 Decoding
dts Neo:X Matrix Upmixing
dts Neo:6 Stereo-to-Surround Cinema and Music Mode
dts 96/24 5.1 for DVD-Video Processing
Audyssey Dynamic Surround Expansion (DSX) Processing
Pure Direct/Direct/Stereo Modes on Digital/Analog inputs
Multi-Channel Stereo Mode
Video Game Mode
Mono Movie Surround Mode
Rock Arena Surround Mode
Matrix Surround Mode
Jazz Club Surround Mode
Virtual Surround Mode – For 2 Speakers/Headphones
Prezzo in Rete: 1200 euro
Produttore: DENON
102,99 €
99,99 €
Wireless Bluetooth 5.0 core supportano aptX e apt-X-HD, Portata streaming fino a 12m, Con Bluetooth e selettore AUX, nessun pop quando il Bluetooth si connette. Potenza di uscita 50W x2 (4 ohm, 20 Hz - 20 kHz, 0,04% THD), circuito di protezione degli...
read more
(a partire da 28 Maggio 2022 18:09 GMT +02:00 - Altre informazioni

Product prices and availability are accurate as of the date/time indicated and are subject to change. Any price and availability information displayed on [relevant Amazon Site(s), as applicable] at the time of purchase will apply to the purchase of this product.

)