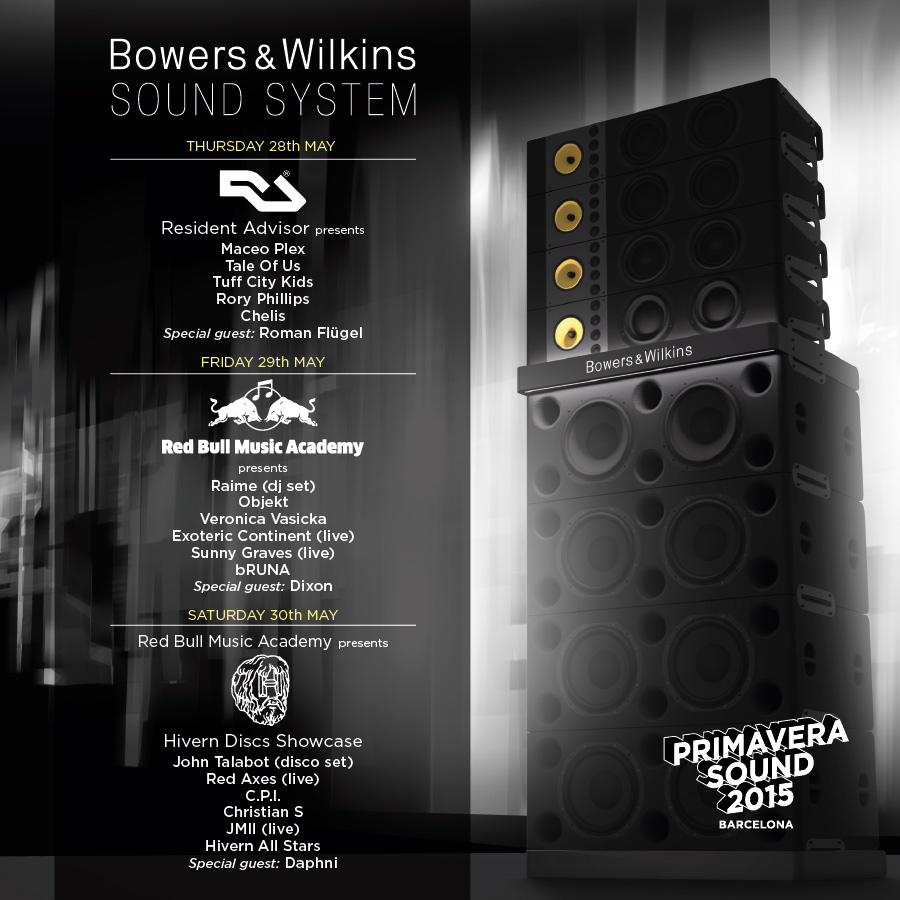 Per il secondo anno consecutivo il produttore Bowers & Wilkins (per gli amici B&W) allestisce all'interno del Primavera Sound Festival di Barcellona un impianto "mostruoso".
In primo luogo spieghiamo il titolo, a pesca là dove stanno i pesci. "Fish were the fishes are" è il motto dei marketers americani che un po' tutti gli imprenditori dovrebbero (sempre) tener presente.
Il significato è semplice, vado a pescare i miei clienti là dove già sono presenti, senza avere la pretesa di attrarli a me.
Significa, rapportato al nostro mondo, che se io produttore di HiFi espongo i miei prodotti in una fiera di settore, dedicata agli appassionati di lungo corso, starò facendo qualcosa per catturare tanti nuovi clienti?
Starò facendo qualcosa per favorire il ricambio generazionale degli appassionati di alta fedeltà del suono?
Mmmmm.
E che volete che succeda quando un giovane, magari capitato in una fiera di settore, si trova ad ascoltare – quando va bene – i "soliti" Pink Floyd o gli Eagles, quando non campanellini, nacchere e cimbali mandati in play da un CD di test?
Ma gli imprenditori del settore HiFi, specie quelli nostrani, da quanto tempo non guardano fuori il giardino di casa loro?
Da quanto tempo non buttano un occhio alle classifiche di vendita musicali? (stavo per scrivere "classifiche discografiche", ma i dischi non si vendono più!).
È possibile che questa semplice e sconcertante verità l'abbia capita solo il produttore inglese Bowers & Wilkins?
Per il secondo anno consecutivo B&W inonderà di musica elettronica uno degli 11 palchi del Primavera Sound Festival di Barcellona (Parc del Forum, dal 28 al 30 maggio).
Come?
Con un sistema sonoro colossale che porterà la perfetta qualità sonora da studio di registrazione nell'esperienza del festival. Un sistema di altoparlanti attivo da 135.000 watt, quadrifonico, che consegnerà un incredibile suono dinamico e dettagliato e consentirà al pubblico di sentire musica con intatta vitalità e dettaglio.
E che musica mai spareranno a un pubblico di 60.000 persone (per lo più tra i 20 e i 30 anni) accorsi a Barcellona da tutta Europa?
Un bellissimo disco della ECM?
O quello che i giovani (e meno giovani) preferiscono ascoltare?
Ciò che riempie i festival di tutto il mondo si chiama EDM, acronimo di Electronic Dance Music.
Orrore! Starà gridando l'audiofilo.
Ma sappiamo bene che il jazz, giusto per fare un esempio, s'apprezza dopo i 40anni e che se non si insegna ad apprezzare la qualità di riproduzione sonora ai più giovani… l'HiFI è destinata a morire.
E quindi, B&W ha unito le forze con Resident Advisor, probabilmente il più seguito sito di musica elettronica, e con la Red Bull Music Academy, il braccio dancefloor della famosa bevanda energetica. Insieme riempiranno il palco con alcuni pesi massimi della scena dance elettronica contemporanea: il dj e produttore Maceo Plex, residente in Spagna, rinomato per le sue uscite su etichette come Kompact e sulla propria etichetta Ellum, insieme a Tale of Us, il duo italiano che si è già fatto conoscere in tutto il mondo grazie alla sua fusione eclettica di stili. Saranno accompagnati da Roman Flügel, una leggenda della scena tedesca, dal progetto Tuff City Kids di Gerd Janson e Lauer, dalla neo disco del DJ britannico Rory Phillips e da uno dei migliori dj spagnoli, il versatile Chelis da Saragozza.
E inoltre, il venerdì ci sarà una session di una delle figure del momento, il tedesco Dixon, fondatore dell'etichetta Innervisions e baluardo della house contemporanea. Il resto della serata sarà per la maggior parte dominata da suoni oscuri e sperimentali, con due live act spagnoli che fanno risaltare la musica elettronica iberica: Sunny Graves ed Exoteric Continent. Seguendo la stessa linea ci saranno anche concerti di Veronica Vasicka della Minimal Wave, del duo britannico Raime, la dark techno di Objekt e l'artista barcellonese bRUNA.
C.P.I, il progetto di Marc Piñol e Hugo Capablanca, il duo di Tel Aviv Red Axes, l'apparizione straordinaria di Caribou con il suo alias Daphni, Christian S dell'etichetta Cómeme, e un live di JMII costituiscono il programma del sabato, la notte dedicata alla Hivern, l'etichetta barcellonese di cui tutti parlano grazie ad un roster di nomi chiave nella scena musicale dance più contemporanea.
Ecco il programma del B&W stage del Primavera Sound Festival 2015 in dettaglio:
Giovedì 28 maggio – Resident Advisor presents:
Maceo Plex
Raime (dj set)
Tale Of Us
Tuff City Kids
Rory Phillips
Chelis
Special guest: Roman Flügel
Venerdì 29 maggio – Red Bull Music Academy presents:
Objekt
Veronica Vasicka
Exoteric Continent (live)
Sunny Graves (live)
bRUNA
Special guest: Dixon
Sabato 30 maggio – Red Bull Music Academy presents:
Hivern Discs Showcase
Red Axes (live)
C.P.I.
Christian S
JMII (live)
Hivern All Stars
Special guest: Daphni
+ Very special guest