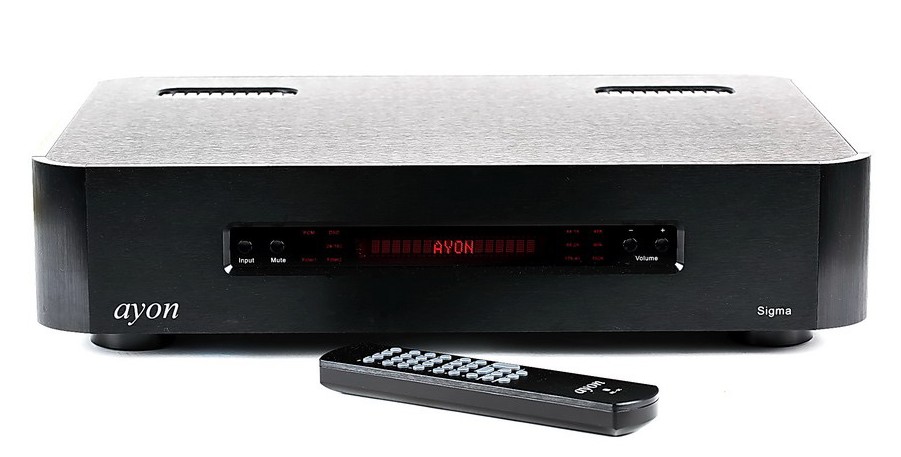 Arriva dall'Austria il DAC a 32 bit Ayon Audio Sigma. Di fatto anche un preamplificatore, è la messa a punto di tutta la ricerca fin qui effettuata dal produttore.
Un altro DAC?, Sì. Perché l'Ayon Audio Sigma siamo sicuri sausciterà la vostra curiosità. Si tratta infatti di un convertitore a 32 bit con uscite bilanciate e – come lo definisce la stessa azienda – con gli stadi di uscita in "Class-A triode vacuum-tube".
In casa Ayon credono fortemente nel realizzare percorsi di segnale più brevi possibili. Non fa una grinza: meno strada fa il segnale, meno ci sono possibilità che si "sporchi".
L'Ayon Audio Sigma ha una funziona automatica di preriscaldamento delle valvole, a cui il segnale arriva – dal momento in cui è diventato di dominio analogico – senza passare da componenti allo stato solido.
Assemblato a mano sulle montagne austriache, l'Ayon Audio Sigma ha anche i canali sinistro e destro completamente separati nelle parti in cui i segnali sono già in analogico.
L'upsampling è disinseribile dall'utente, i segnali in PCM arrivano ai classici 24 bit e 192 KHz, mentre nativamente questo DAC supporta il DSDx128 su porta USB asincrona e su ingressi BNC.
Caratteristiche tecniche DAC DSD Ayon Audio Sigma
Type: High resolution vacuum tube DAC with preamplification stage
Accepted Formats: Up to 32-bit/192 kHz (PMC) + 2.3 MHz/5.6 MHz/1-bit (DSD)
Digital Inputs: S/PDIF via RCA, AES/EBU via XLR, optical TosLink, BNC, USB, I2S, DoP and three BNC for DSD
Output Impedance: 300 Ohms for both XLR balanced and RCA
Tube complement: Two 6H30 for analog output and 6Z3 for power supply
Dynamic Range: >128 dB
S/N Ratio: >120 dB
Frequency Response: 20 Hz ÷ 20 kHz (±0.2 dB)
Total Harmonic Distortion (THD) @ 1 kHz: <0.002%
Remote Control: Yes
Dimension: 48 x 36 x 11 (W x H x D in cm)
Weight: 28 lbs.
Prezzo di listino: 3.700 euro
Produttore: AYON AUDIO SIGMA