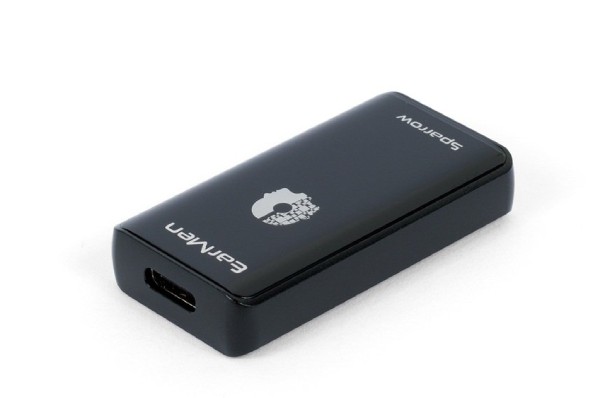 L'EarMen Sparrow è un DAC da taschino (ultra-portatile) che funziona anche da amplificatore per cuffie. Supporta i formati DSD e MQA.
Non è solo la portabilità il punto di forza di questo piccoletto, ma anche una straordinaria versatilità: MacOS, Windows, Android e iPhone sono tutti habitat naturali per questo convertitore.
Il convertitore
I formati supportati sono praticamente tutti, PCM fino a 32 bit e 384 kHz, DSD64 (nativo) e DSD128 (in DoP), oltre al formato MQA.
Il chip di conversione è l'ESS Sabre ES9281PRO, il prodotto di punta dell'azienda nonché di collaudata efficacia e che lavora a braccetto col modulatore HyperStream®II.
In particolare, questo chip di conversione si porta appresso misure di tutto rispetto: 124 dB di dinamica e una THD+N (Total Harmonic Distortion plus Noise) di -112.
Inoltre, l'ES9281PRO è il primo convertitore USB che offre una gestione integrata e l'autoriconoscimento del formato MQA.
Il progetto
L'EarMen Sparrow è stato realizzato in collaborazione con Auris Audio, che ha messo in campo il suo know how produttivo mettendolo al servizio del progetto del produttore di Chicago. EarMen infatti è specializzata nella costruzione di apparecchiature portatili per audio professionale e la sua emanazione europea – invece – si occupa di progetti hi-fi consumer.
Pensato per l'Hi-Res Audio
L'EarMen Sparrow usa capacitori Super LOW ESR al tantalo e con PCB (Printed Circuit Board) a 4 strati e placcati in oro; in altre parole, questo DAC garantisce il riumore del dominio digitale ridotto ai minimi termini e ben al di sotto della soglia dell'udibile.
Design e costruzione
Piccolo, davvero piccolo, questo DAC USB è costruito con attorno uno chassis di robusto alluminio con protezione anti-interferenze.
Esteticamente mi ha immediatamente ricordato un accendino, più che un componente elettronico, ma… si sa… de gustibus non disputanda est.
Conclusioni
L'EarMen Sparrow  è in gradi di riservare grandi soddisfazioni all'audiofilo evoluto e che – magari – ascolta molta musica in mobilità. Ma non solo.
Il suo amplificatore per cuffie integrato è in grado di gestire in scioltezza la stragrande maggioranza degli auricolari, fino ad impedenze impegnative.
Il prezzo fissato in 200 dollari m'è sembrato adeguato alla qualità del prodotto.
Caratteristiche tecniche DAC portatile DSD e MQA EarMen Sparrow
Input USB C Female
Output 3.5 mm, 2.5 mm Balanced
Audio formats: DSD 64 / 128 DoP, DXD 384 / 352.5 kHz, PCM Up to 384 kHz, MQA Rendering Up to 384 kHz
Dimension LxHxW (mm) 42 x 8 x 22
14,99 € (7,50 € / m)
Versione HDMI: HDMI 2.1/2.0b/2.0a/2.0/1.4/1.3/1.2/1.1, specifica HDMI 2.1 è l'aggiornamento più recente delle specifiche HDMI. Risoluzione: 10k@60Hz, 8K@60Hz, 4K@144Hz, 4K@120Hz,2k@165Hz, 2k@144Hz, 1080p@240Hz, 720p, 480p. Supporta le ultime funziona...
read more
(a partire da 1 Dicembre 2021 20:35 GMT +01:00 - Altre informazioni

Product prices and availability are accurate as of the date/time indicated and are subject to change. Any price and availability information displayed on [relevant Amazon Site(s), as applicable] at the time of purchase will apply to the purchase of this product.

)