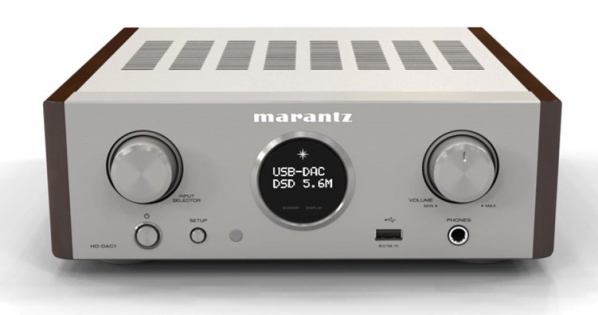 Il produttore giapponese alza il tiro e fa uscire un convertitore / ampli per cuffie con supporto al formato DSD. Il Marantz HD-DAC1 è praticamente un prodotto d'artigianato.
In casa
Marantz
tengono bene a mente come realizzare prodotti di successo, ottimizzando il rapporto qualità/prezzo e/o producendo apparecchi per il mass market. Ma quando decidono di alzare il tiro e dedicarsi a prodotti senza compromessi… sanno altrettanto bene come fare e ne escono sempre fuori apparecchi degni di nota.
Come nel caso del Marantz HD-DAC1, un DAC / ampli per cuffie che utilizza la tecnologia di amplificazione Current Feedback, già apprezzata nella Serie 11 del produttore giapponese e che catapulta questo nuovo convertitore dell'olimpo della classe HiEnd.
In grado di pilotare anche cuffie difficili (fino a 600 Ohm), si giova di tre livelli di guadagno e dei moduli HDAM, proprietari di casa Marantz.
La parte dedicata alla conversione, che raggiunge i fatidici 24/192, è di tipo audiophile ad alta corrente (CS4398), le uscite RCA sono sia a livello fisso sia a livello variabile e il supporto DSD è a 2.8MHz e 5.6MHz.
Gli ingressi disponibili sono digitali ottici e coassiali, nonché di una porta USB-B per il collegamento al PC o MAC, opportunamente isolata per eliminare i disturbi ad alta frequenza. La porta USB-A allocata sul pannello anteriore è dedicata agli iDevice, ma il salto verso un pre vero e proprio è breve, ed ecco quindi spuntare anche un ingresso analogico.
Il jitter viene dimenticato grazie a un doppio clock di precisione. Esteticamente è in puro stile Marantz, pur risultando del tutto nuovo. Il pannello frontale in alluminio è sostenuto da una piastra di fondo a doppio strato, mentre sui fianchi spuntano dei pannelli in legno, ponte fra passato e presente di questo DAC per palati fini.
Caratteristiche tecniche DAC / ampli per cuffie Marantz HD-DAC1
High quality Headphone amplifier with DAC Mode
2 x optical, coaxial and USB type B digital inputs capable of 192 kHz/24 bit
Native DSD2.8 and 5.6 support
Asynchronous mode
High quality D/A converter CS4398
Jitter remover
Dual Clock
Noise isolation for all digital inputs (USB-A, Optical, Coaxial, USB-B)
HDAM & HDAM-SA2
Bit-perfect transmission
Frequency Response: 2 Hz ÷ 20 kHz
Signal to Noise Ratio: 106 dB
Total Harmonic Distortion: 0,0012%
Channel Separation: 100 dB
Headphone Power: 800 mW / 32 ohm
Remote Control RC001HD
Standby Consumption: 0.3 W
Auto power off
Detachable Power Cable
Ground isolator for DAC Mode operation
Gain control to support wide range of headphones
iDevice capable front USB input
Gold plated fix level and variable level RCA output terminals
Available in black & silvergold
Maximum Dimensions (W x D x H) in mm: 250 x 270 x 90
Weight in kg: 5
Prezzo di listino: 649 £
Produttore: MARANTZ
CERCHI UN DAC A PREZZO SCONTATO?
Auto Amazon Links: Nessun prodotto trovato.