Il Metrum Acoustics Transient R-2R Menuet è un DAC assolutamente privo di oversampling. E con alcuni accorgimenti tecnici che lo rendono un prodotto davvero interessante e che ci danno il pretesto per ripassare un po' di teoria.
Repetita iuvat, dicevano i latini. E così anche noi diamo una ripassatina alle teorie che abbracciano o respingono (come nel caso del convertitore Metrum Acoustics Transient R-2R Menuet) la tecnica dell'oversampling nei DAC.
Alla base di tutto c'è la considerazione che all'aumentare delle frequenze di campionamento viene prodotto del rumore digitale che – seppure interessi frequenze ben al disopra dei 20.000 Hz – può "sporcare" parte della banda udibile. I DAC, quindi, tutti, intervengono con dei filtri digitali che operano dei tagli di frequenze per troncare via di netto il rumore. E qui entrano in gioco le due due diverse filosofie.
La prima dice che aumentando la frequenza di campionamento a dismisura, anche operando via oversampling (un aumento "forzato" da un microchip), i filtri possono operare con una curva più dolce e meno repentina, eliminando il rischio di portarsi via anche informazioni acustiche udibili e/o che influenzerebbero l'ascolto delle frequenze più alte.
La seconda invece dice invece che è una pratica barbara, inutile e dannosa e che avendo a disposizione componentistica di alta qualità i rumori vengono prodotti a frequenze così alte che seppure viene operato un taglio "verticale" non inficia l'ascolto.
Ovviamente, in questa sede abbiamo semplificato molto quella che altrimenti è un'argomentazione squisitamente tecnica a livelli molto spinti. Ma… ci siamo capiti.
La maggior parte dei DAC operano un oversampling (o upsampling), ma non il Metrum Acoustics Transient R-2R Menuet, che in primo luogo sfoggia un robusto chassis completamente isolato e anti-vibrazioni.
Il Metrum Acoustics Transient R-2R Menuet usa quattro moduli di scala proprietari denominati Transient™ R2R, già visti nei topo di gamma della stessa azienda.  Sono i moduli che consentono a questo convertitore di non applicare alcun tipo di oversampling, dato che sono in grado di gestire elevate frequenze di campionamento che potrebbero andare ben al di là di quanto invece consentono gli attuali standard (384 kHz via USB).
Il "trucco" di questi moduli consiste nel dividere il lavoro il segnale in due cluster di 12 bit ciascuno (invece di un unico cluster da 24 bit) e questa pratica gli consente una migliore linearità, una virtuale assenza di rumore e – in buona sostanza – una operativa simile a quella che in altri ambiti viene definita dual mono.
Velici e precisi, questi moduli consentono, a detta del suo produttore, di apprezzare la superiorità della qualità d'ascolto del Metrum Acoustics Transient R-2R Menuet sin dal primo ascolto, lasciando apprezzare una migliore ricostruzione della scena sonora.
Il tutto a un costo ragionevole e che non invita a formare cambiali  ;-), fissato in poco meno di 2.800 euro.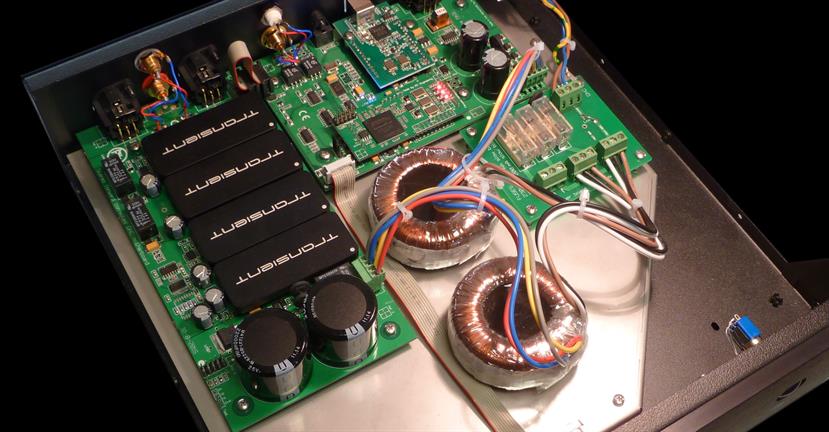 Caratteristiche tecniche DAC senza oversamplig Metrum Acoustics Transient R-2R Menuet
Non oversampling DAC. Forward (FPGA) corrected, 2 Dacs pro channel in differential mode.
Inputs: 1x optical, 2x coaxial (1x BNC and 1x RCA)., AES/EBU, USB
Outputs: 2x RCA Neutrik © cinch connectors. 2x XLR balanced output
Output voltages: RCA : 2 Volts RMS; XLR: 4 Volts RMS
Frequency responce: 1Hz – 20 khz -2.5 dB. 44.1 kHz sampling; 1Hz – 65 kHz – 3dB .192 and 384kHz (USB)
Distortion: 0.01 % THD
Noise: -145 dB related to 2 Volt RMS
Output impedance: RCA 100 Ohm. XLR 200 Ohm
Sampling rate: Optical 44.1 – 96 kHz sampling rate. Coax and AES/EBU: 44.1 -192 kHz . USB 44.1 – 384kHz sampling rate
Dimensions: 320 x 85 x 320 mm.
Weight: 6 kg.
Produttore: Metrum Acoustics