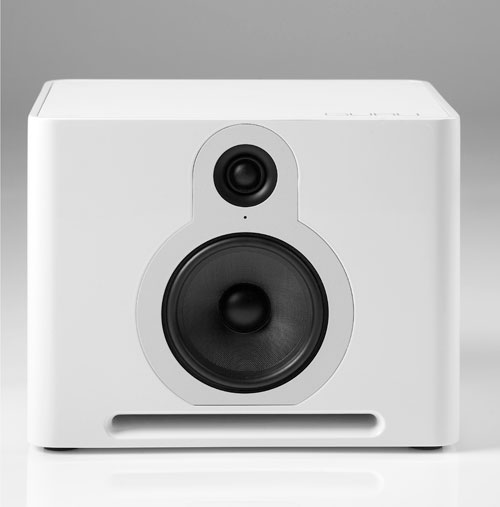 Le Guru Audio QM10Two sono casse acustiche espressamente di derivazione professionale e appartengono di diritto alla classe "monitor". Sfruttano in pieno i recenti studi sulla psicoacustica. Vediamo come.
Guru Audio è un'azienda svedese che prende le cose molto sul serio. Circa la timbrica dei suoi diffusori, soprattutto.
A dispetto delle loro dimensioni compatte, le Guru Audio QM10Two montano un woofer capace di scendere fino a 30 Hz e allo stesso tempo di offrire una pressione sonora tipica di altoparlanti di ben altra dimensione.
La scelta del tipo di membrana usata, progettata in casa, è alla base di questo miracolo, una fibra menerale che assicura l'assoluto controllo della riproduzione sonora, del suo range di lavoro e della linearità della risposta in frequenza ottenuta.
Le più recenti teorie psicoacustiche danno una mano alle Guru Audio QM10Two, un progetto in cui l'accuretezza della riproduzione sonora nello spazio e nel tempo vanno a braccetto con la timbrica e la dinamica, che in questo caso – promettono i progettisti svedesi – si adattano alle proprietà di qualsiasi ambiente di ascolto.

Caratteristiche tecniche casse acustiche Guru Audio QM10Two
Typical In-Room Response 30 Hz–30 KHz
Sensitivity: 87 dB (2,83 V, 1 M)
Nominal Impedance: 5 Ω (Min 4 Ω) – Mean Value 8 Ω
Crossover Function: 2-7 KHz – Non-Textbook Function
Crossover Class: Passive
Recommended Amplifier Power: 5 W ÷ 150 W
Peak Power Handling: >300 Hz >160 W
Helmholtz Resonator
Mdf/Aluminum
Drivers: 1 × 20,5 mm Dome Tweeter, 1 x 102 mm Black Mineral Fibre Cone
Ideal Listening Distance: 1 ÷ 4 m
Dimensions (w x d x h): 300 x 252 x 232 mm
Net Weight: 6 Kg
Placement Against A Wall (Or Rather 0-2" From It) Toed In, And 60 Cm (2') Above The Floor
Finishes: Black, White And Red Piano Lacquer
Prezzo: 1.795 sterline, circa 2.100 euro
Produttore: GURU AUDIO
8,89 €
Sostituzione perfetta: Telecomando universale - Semplici impostazioni richieste. Telecomando universale per Samsung, LG, Sony, Sharp, Hitachi, Vestel, Vizio, Philips, Toshiba, RCA, Sanyo, JVC, TCL, Hisense, Haier, Smart TV. NESSUN IMPOSTAZIONE RICHIE...
read more
(a partire da 9 Dicembre 2022 07:45 GMT +01:00 - Altre informazioni

Product prices and availability are accurate as of the date/time indicated and are subject to change. Any price and availability information displayed on [relevant Amazon Site(s), as applicable] at the time of purchase will apply to the purchase of this product.

)