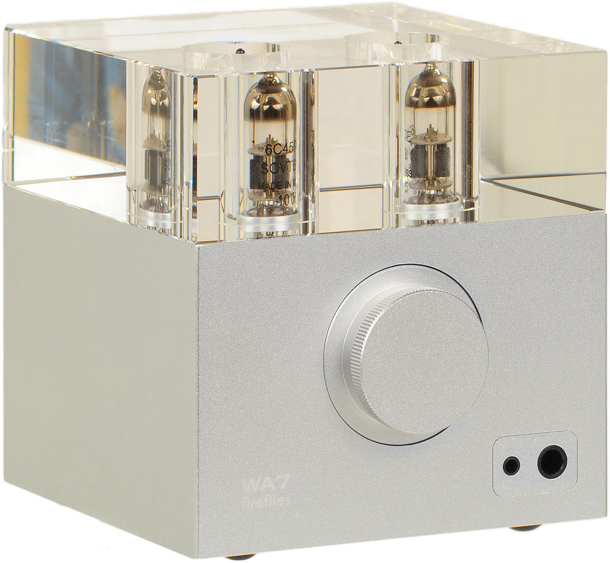 Woo Audio WA7 Fireflies è un amplificatore valvolare per cuffie in Pura Classe A completo di DAC 32 bit – 192K USB.
Il preampli-DAC per cuffie Woo Audio WA7 Fireflies è già passato per le mani di quasi tutti i recensori di riviste internazionali, raccogliendo lodi.
Si tratta di una combinazione pre/DAC che utilizza tubi 6C45 in classe A, in tipologia single-ended, con accoppiamento a trasformatore. Non ci sono semiconduttori utilizzati nella intero percorso del segnale.
Il convertitore Digitale/Analogico è progettato per essere in grado di lavorare fino a 32-bit/192 k. I dati viaggiano attraverso standard USB ad alta velocità (2.0) in modalità asincrona.
Le caratteristiche costruttive sono di alta qualità, come la coppia di trasformatori in lega di nichel, telaio interamente in alluminio senza viti a vista, alimentatore esterno con trasformatore toroidale con specifiche militari e il controllo di volume garantisce il minimo rumore.
Nonostante le dimensioni estremamente compatte, il Woo Audio WA7 Fireflies è in grado di pilotare quasi ogni tipo di cuffie anche quelle dedicate agli audiofili più esigenti.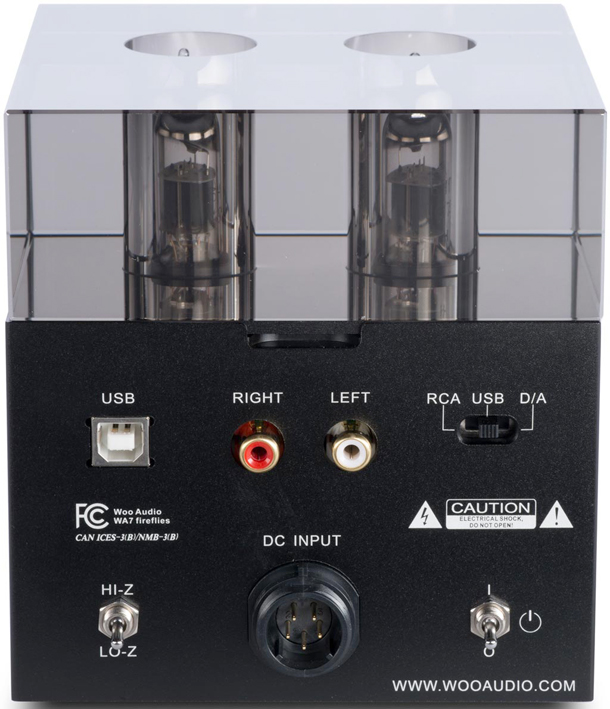 Caratteristiche del Pre/DAC per cuffie Woo Audio WA7 Fireflies
Single-ended, class-A, transformers output
Linear external high-performance power supply (remote-controlled power switching)
Two 6C45 driver/power tubes
C-Media 6631 USB chip
TI PCM5102A 32-bit DAC chip
Headphones impedance: 8-600 Ohms
Input impedance: 100 KOhms
Sampling rate: up to 32-Bit, 192 kHz
Inputs: 1 Asynchronous USB2.0, 1 RCA
Outputs: 1 1/4″ and 1 1/8″ headphone outputs, 1 RCA (same connector as the input)
Max output: approx 1 watt @ 32 Ohms
Frequency response: 11 Hz ÷ 27 kHz, ±0.5 dB
Distortion: <0.03%
S/N: 95 dB
Power consumption: 25 W max
Mains supply: 100-120V, 220-240V, 50/60 Hz, user selectable
Finish: Anodized aluminum
DC cord length: 1.3 m
Dimension: AMP: 4.8″ L x 4.8″ W x 5.1″ H with glass
PSU: 7″ L x 3.5″ W x 2.2″ H
Weight: AMP –  2.4 kg, Glass – 1.5 kg
PSU –  1.4 kg
Altre caratteristiche
Handmade output transformer with Nickel Alloy core
32-Bit, 192 kHz high resolution playback
Ultra-low jitter USB 2.0 runs on Asynchronous mode
High and low impedance output facilitated via toggle switch on back panel
Open load protection will automatically engage to prevent the amp from damaging when no headphones are plugged in
Multi-functional switch for USB input, RCA input, and RCA output via D-A.
The RCA connectors can be used either as RCA analog inputs or USB DAC preamp outputs
All-aluminum chassis with no screws visible from any viewing angles
High clarity tube protection glass
Multi-layer military grade PCBs
Customized driver for Windows Vista/XP/7/8
USB Audio Class 2.0 is natively supported by Apple OS X version 10.6.4 and above without installing driver
Prezzo: 999 dollari US
Produttore: WOO AUDIO
8,89 €
Sostituzione perfetta: Telecomando universale - Semplici impostazioni richieste. Telecomando universale per Samsung, LG, Sony, Sharp, Hitachi, Vestel, Vizio, Philips, Toshiba, RCA, Sanyo, JVC, TCL, Hisense, Haier, Smart TV. NESSUN IMPOSTAZIONE RICHIE...
read more
(a partire da 9 Dicembre 2022 07:45 GMT +01:00 - Altre informazioni

Product prices and availability are accurate as of the date/time indicated and are subject to change. Any price and availability information displayed on [relevant Amazon Site(s), as applicable] at the time of purchase will apply to the purchase of this product.

)