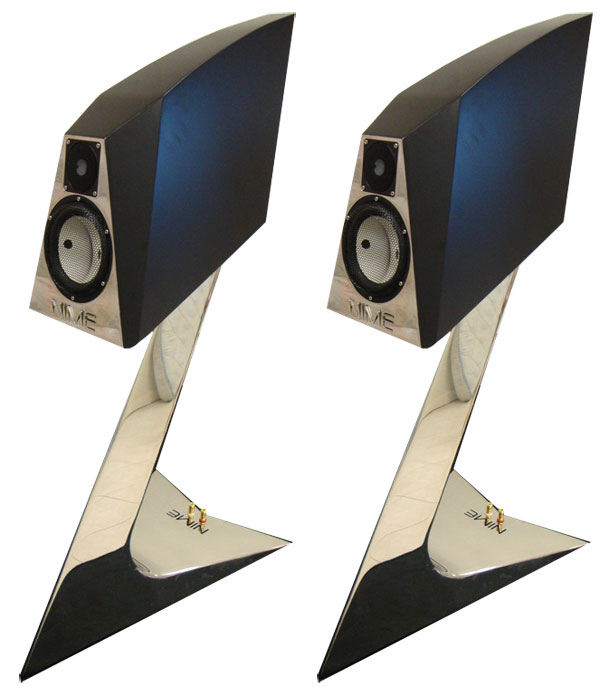 I diffusori Nime Audiodesign Elite One li abbiamo visti per la prima volta al Roma High Fidelity 2012. È la loro prima apparizione pubblica e non passano certo inosservati, vista la loro originalissima forma e l'abbondante impiego di acciaio e alluminio.
Le casse acustiche Nime Audiodesign Elite One vengono presentate come concepita per gli amanti della musica più esigenti, in grado di ofrrire grande palcoscenico, ampio respiro profondo e potente, nonostante le loro ridotte dimensioni.
I diffusori Nime Audiodesign Elite One impiegano componentistica e materiali high tech e sono interamente lavorati ed assemblati a mano. Il design, molto personale e moderno, combinato all'utilizzo di acciaio e alluminio, oltre che conferire un aspetto innovativo e farne oggetti di arredamento, servono a fornire una migliore resa acustica.
Anche gli stand, dedicati, vengono forniti esclusivamente in acciaio massiccio lucido o satinato, con punte di 6 cm sotto la base, per il disaccoppiamento dal pavimento. La struttura massiccia ed il notevole peso dei diffusori rendono l' insieme supporto-diffusore molto stabile e contribuiscono ai migliori risultati sonori, specialmente in gamma bassa.
Gli altoparlanti usati nei  diffusori Nime Audiodesign Elite One sono Thiel & Partner, i migliori drivers dinamici di fascia alta sul mercato mondiale. Attualmente non esistono altoparlanti con migliore risoluzione e riproduzione naturale. Sono drivers con membrane ceramiche caratterizzate da estrema rigidità, peso ridotto ed alto smorzamento interno.
I diffusori Nime Audiodesign Elite One possono essere impiegati con qualsiasi amplificatore, sia a valvole, sia a stato solido.
Caratteristiche tecniche dei diffusori Nime Audiodesign Elite One
Cabinet: in acciaio massiccio 10 mm per un effetto lucido o satinato oppure cabinet rinforzato in sandwich di alluminio per laccature
Tipo: 2 vie reflex posteriore
Drivers: 1 x Tweeter 25 mm T&P Accuton con cupola in ceramica; 1 x BassMindrange 173 mm  T&P Accuton in ceramica
Risposta in frequenza: 42 Hz ÷ 20 KHz
Sensibilità: 88 dB, spl (2,83 v/1m)
Impedenza nominale: 8 Ohm, min.7 Ohm
Potenza raccomandata: 15- 120 Watts RMS
Dimensioni cabinet in mm: 310* x 270* x 430
Dimensioni su stand in mm: 118* x 450* x 80
Finitura cabinet: nero lucido o opaco, bianco lucido o colori personalizzati
Finitura stand: cromo lucido o satinato, nero
Peso: 45 Kg. ciascuna
Produttore: NIME AUDIODESIGN
Distributore: NIME AUDIODESIGN
Amazon Auto Links: No products found.
Amazon Auto Links: Could not resolve the given unit type, . Please be sure to update the auto-insert definition if you have deleted the unit.