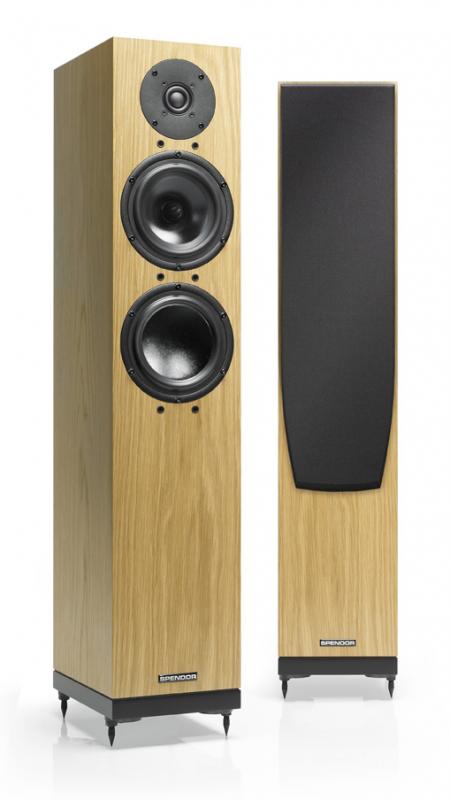 Le casse acustiche Spendor A5R faranno battere il cuore degli appassionati senza dilapidare un patrimonio e – allo stesso tempo – sono pronte a diventare un importante elemento d'arredo.
Le Spendor A5R rimpiazzano il modello precedente A5, best seller planetario per un'estetica curata e un suono superbo, senza chiedere in cambio un mutuo.
Due vie e mezza basate sulla tecnologia proprietaria D-line, che – tra l'altro – garantisce una straordinaria ampiezza di dispersione al tweeter da 22 mm e va a insistere sul woofer e sul mid woofer massimizzandone le prestazioni.
Il mid-woofer in Kevlar da 15 centimetri è comandato a bacchetta dal filtro di crossover, che lo fa intervenire a partire dai 900 Hz, lasciando il resto delle frequenze più basse al woofer, dello stesso diametro e in grado di scendere fino a 34 Hz, a dispetto del caricamento in sospensione pneumatica.
La sensibilità non è da primato e richiede una certa dose di watt, rivelandosi di 87 dB/W/m. Le Spendor A5R si rivelano anche particolarmente esigenti in fatto di posizionamento in ambiente, richiedendo tempo, pazienza e diverse prove, al cui seguito sapranno donare grandissime soddisfazioni e rivelandosi piacevolmente "autoritarie" anche grazie al punch efficace e spettacolare di cui sono capaci, caratteristica che invece tenderà a nascondersi se mal disposte in sala.
Caratteristiche tecniche casse acustiche da pavimento in sospensione pneumatica Spendor A5R
2.5-way floor standing loudspeaker
Enclosure type Rigid, asymetric braced, infinite baffle
HF drive unit 22mm wide-surround dome with fluid cooling
MF / LF drive unit Spendor 150mm ep77 cone
LF drive unit Spendor 150mm Kevlar© composite cone
Sensitivity 87dB for 1 watt at 1 metre
Crossover point 900 Hz and 3.2 kHz
Typical in-room response 34Hz – 25kHz
Impedance 8 ohms nominal
Impedance minimum 3.8 ohms
Power handling 150 watts unclipped programme
Terminals 4 way precision binding posts single-wired
Cabinet (HxWxD) 830 x 165 x 250mm
Finish black ash, cherry, light oak, dark walnut
Weight 15 kg each
Prezzo di listino: 3.030 euro la coppia; prezzo in Rete: 2.875 euro la coppia.
Produttore: SPENDOR