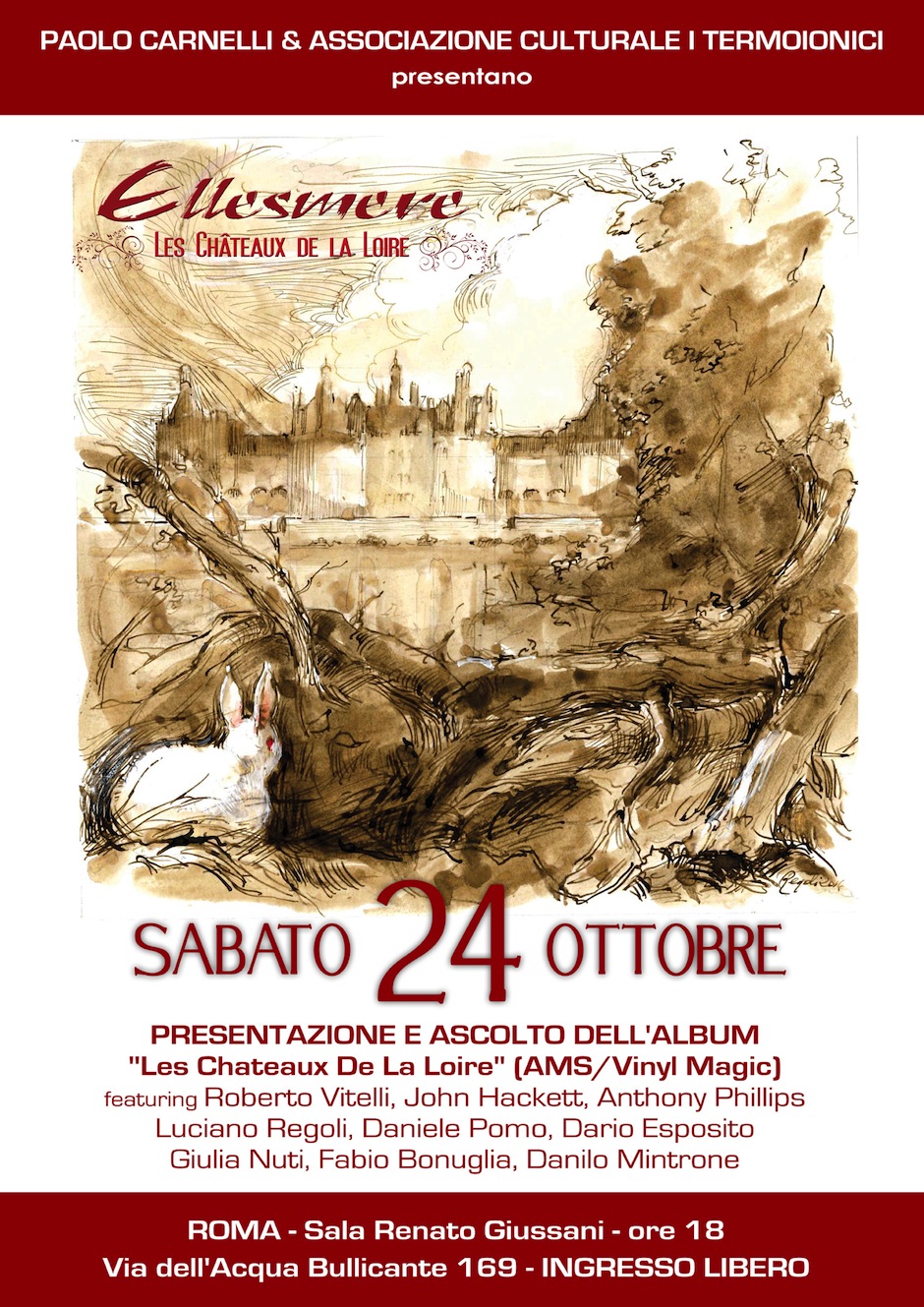 In occasione della pubblicazione di Les Châteaux De La Loire (AMS/Vinyl Magic), l'Associazione Culturale I Termoionici (Roma) propone un incontro / ascolto del debut album di Ellesmere. Sarà presente il compositore delle musiche e dei testi, Roberto Vitelli, e alcuni dei musicisti che hanno preso parte alla realizzazione dell'album.
All'interno della Sala Renato Giussani, opportunamente insonorizzata per ospitare prove di ascolto di alto livello, sarà allestito per l'occasione un impianto audio adatto a valorizzare al massimo le sonorità presenti nel disco.
Ellesmere nasce da un'idea di Roberto Vitelli, bassista e chitarrista della prog band italiana Taproban. In contrasto col sound energico di questi ultimi, con gli Ellesmere Vitelli si focalizza su un approccio acustico e sinfonico al tempo stesso, realizzando un'impressionante suite di 40 minuti nello stile dei primi Genesis e di Anthony Phillips (quello di "The Geese and the Ghost").
Come suggerito dal titolo "Les Châteaux De La Loire", ogni sezione della suite è dedicata a uno degli antichi castelli francesi che risiedono lungo il fiume della Loira. Passaggi acustici, classici e arpeggi di chitarra a 12 corde fanno da base a meravigliose melodie di archi e flauto (John Hackett è ospite in quasi tutti i brani), e un Mellotron vintage originale è fonte di ulteriori orchestrazioni.
La lista degli ospiti speciali include anche Daniele Pomo (RanestRane) alla batteria e alle percussioni, e il Maestro Luciano Regoli (Raccomandata con ricevuta di ritorno, Samadhi) ha contribuito con multiple armonie vocali su quattro pezzi. Ciliegina sulla torta: la rara e speciale presenza dello stesso Anthony Phillips nelle vesti de Il Narratore.
Lo stupendo dipinto di copertina è stato appositamente realizzato per questa release da Luciano Regoli
INGRESSO LIBERO
Tracklist:
1.Le Narrateur
2.La Loire
3.Sully-sur-Loire
4.Passage
5.Meung-sur-Loire
6.Blois
7.La Loire (thème)
8.Chambord
9.Chaumont-sur-Loire
10.La Loire (encore)
11.Au Revoir…
BONUS TRACKS
12.The Ancient Samovar
13.Wintry Afternoon
Music, lyrics and arrangements by Roberto Vitelli
Produced by Roberto Vitelli and Paolo Carnelli
Credits
Roberto Vitelli: Takamine 6 strings classic, Eko Ranger 12 strings, Fender "Geddy Lee" jazz bass, Fender Stratocaster U.S.A., E-Bow, Moog Taurus III
John Hackett: flute
Anthony Phillips: narration
Daniele Pomo: drums and percussions (1-11)
Luciano Regoli: vocals
Giulia Nuti: violin and viola (3,5,9)
Pietro Horvath: cello (5)
Linda Giuntini: corno (3)
Fabio Bonuglia: Mellotron M 400 (1-12), Moog Model D and keyboards (3), strings pizzicato (12)
Paolo Carnelli: electric piano (3,6,11), keyboards (12/13), acoustic piano (13)
Danilo Mintrone: strings arrangement (9,13)
Dario Esposito: drums (12)
Recorded Jan 2014 / May 2015 at Gulliver Master, Studiosette, La Genesi Studio, Plastic Sun Studio, DM Studio, DE Home Studio. Flute recorded at Hacktrax, Sheffield UK. Engineer Duncan Parsons. Narration engineer James Collins. Mixed by Riccardo Romano at The Shell. Mastered at Reference Mastering by Fabrizio De Carolis