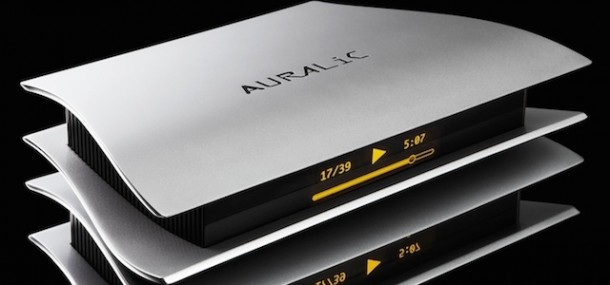 Annunciato a ottobre strombazzando investimenti ultra-milionari per lo sviluppo del progetto, s'è visto al MOC l'Auralic Aries, un network player (finalmente!) innovativo.
La maggior parte del budget se n"è andata nello sviluppo della tecnologia Lightning Streaming, il cuore dell'Auralic Aries, network player di nuova generazione che s'affaccia in un segmento dell'HiFi ancora giovane ma che già soffre di una certa stanchezza (leggi: ripetitività delle soluzioni, ovvero: apparecchi un po' troppo uguali tra loro).
In primo luogo il design, futuristico, avveniristico, ricercato, di sicuro non in grado di assecondare i gusti degli audiofili più tradizionaliosti e in cui fanno bella mostra ben tre display OLED.
Ma all'interno c'è tanta tecnologia e tanto sale in zucca infuso. L'Auralic Aries è già pronto per le due principali piattaforme di streaming musicale, Spotify e Qobuz, forte di montare a bordo un WiFi di tipo high speed e una porta Gigabyte Ethernet. Le connessioni di Rete installate sono state pensate per ottimizzare al massimo il rendimento/collegamento con NAS e computer con a bordor un server UPnP.
Ma Auralic fa parte dello stesso gruppo del marchio di computer Tesla, da cui ha ereditato l'architettura informatica anche l'Aries, che a bordo monta un processore Quad-Core ARM Coretex-A9 a 1 GHz, 1 GB DDR3 di memoria e 4 Gb di memoria di massa interna. 25 miliardi di istruzioni al secondo è la capacità di elaborazione del microprocessore!
La compatibilità con i file audio comprende praticamente di tutto, ivi compresi AAC, AIFF, ALAC, APE, DIFF, DSF, FLAC, MP3, OGG, WAV, WV e WMA. Grazie all'uso dell'interfaccia ActiveUSB™, anche questa bistrattata porta nell'Auralic Aries può veicolare segnali PCM fino a 32 bit e 384 kHz, ma soprattutto DXD, DSD e DSD 2X.
Già nel titolo parlavano di "Lightning": è un tipo di connessione del mondo Apple di ultima generazione, capace di fare impallidire per velocità la USB 3. L'Aries l'ha resa disponibile agli appassionati su questo network player.
Ma soprattutto l'Auralic Aries è stato pensato come un network player capace di aggiungere funzionalità mano a mano che verranno sviluppate. È già stato previsto un aggiornamento del firmware a breve per fargli fare l'upsampling dei DSD e molto presto verrà aggiunto un sofisticato sistema di correzione acustica ambientale digitale.
L'Auralic Aries è atteso sul mercato a un prezzo di circa 1.500 euro, mentre la sua versione "light" (la LE) a 999 euro.
Produttore: AURALIC
Amazon Auto Links: No products found.
Amazon Auto Links: Could not resolve the given unit type, . Please be sure to update the auto-insert definition if you have deleted the unit.