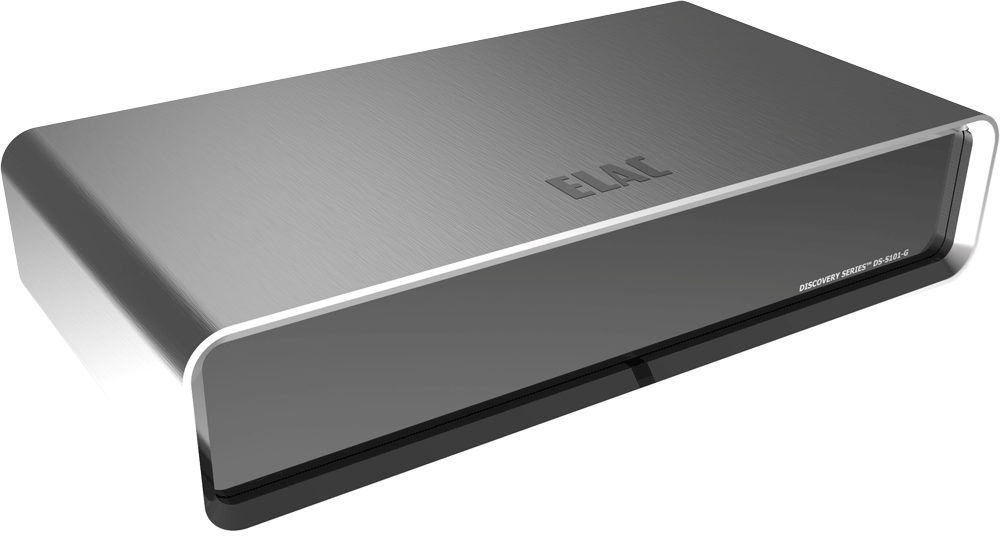 L'Elac DS-S101-G è un music server che fa entrare nel mondo del computer audio… l'audiofilo che di PC non ne vuole sapere. E lo fa nel migliore dei modi.
Musica in streaming, audio multi-room, collegamento alla propria libreria di file e altro ancora: sono le cose che fa l'Elac DS-S101-G, pronto all'uso in un attimo.
In primo luogo chiariamo subito che il mondo sta andando sempre di più (anzi, è già andato) dalla parte dello streaming: nessun ingombro (né di CD, né di file su hard disk, da backuppare per paura di crash improvvisi). E gli audiofili vanno i servizi di streaming a loro dedicati, come Tidal e/o Roon, entrambi a qualità CD, nell'Elac DS-S101-G disponibili e in buona compagnia di Internet Radio e altri servizi.
L'Elac DS-S101-G pesca la musica dal nostro computer, dai nostri hard disk di rete, ma anche – ovviamente – da smartphone e tablet, tutti sistemi a cui si potrà rinunciare in scioltezza una volta scoperta la comodità e la versatilità dei servizi di streaming di qualche riga fa.
In realtà c'è molto altro. Nel senso che Tidal è stato integrato dal software Discovery, che analizza i contenuti presenti nella propria collezione musicale e quelli sterminati presenti in Tidal, organizzandoli tutti insieme in un'unica (comoda e bella) interfaccia, rendendo quindi indistinguibile (e inutile da distinguere) musica immagazzinata in locale da quella in streaming.
Discovery Music Server si usa invece con l'app di Roon e ci dà istantaneo accesso a una infinità di informazioni e correlazioni sulla musica che stiamo ascoltando.
Naturalmente è presente anche una porta USB per collegare direttamente un hard disk, senza scomodarsi ad andare e cercare i NAS della nostra rete o i computer con music server installato.
Se non vogliamo usare il DAC integrato, possiamo collegarne uno esterno via Toslink o Coax, mentre le uscite analogiche consistono in due coppie di RCA.

Caratteristiche tecniche music server Elac DS-S101
CONNECTIONS
Analog outputs (independent zones): 2
Coaxial output (independent zone): 1  (192kHz 24-Bit Max)
Optical output: 1 (96kHz 24-Bit Max)
USB port (mass storage class): 1 USB 2.0
Ethernet port: 1 Gigabit Ethernet
END POINT SUPPORT
Discovery
AirPlay
Roon End Point
CONTROL & USER INTERFACE
ROON Essentials Control app: For iOS (64-bit Devices), Android (4.4 and higher), Windows (7, 8, and 10) and Apple OSX (10.8 and higher)
FORMAT SUPPORT
Supported Audio Formats: WAV, AIFF, FLAC, ALAC, OGG, MP3, AAC
192kHz 24-Bit Audio Formats: WAV, AIFF, FLAC, ALAC
EXTERNAL USB HDD FILE SYSTEM SUPPORT: EXT2, EXT3, EXT4, HFS+, NTFS, VFAT, AND VFAT
INTEGRATED STREAMING SERVICES: Tidal
Track Limit: 30,000 Tracks (Combination of Personal and Tidal Content) * Firmware Update Coming Soon
PLAYBACK MODES
Gapless, Crossfade, Shuffle, and Repeat
MULTI-ROOM SUPPORT
Type: Wired and Wireless
Synchronized Audio: Yes (Analog 1 & 2 can be grouped together and synchronized) (Wireless End-Points can be grouped together and synchronized as well). Please note that since the digital outputs always output the native sampling rate and bit depth it cannot be synchronized with the analog outputs.
POWER SUPPLY & CONSUMPTION
Power Supply: 12VDC 2A
Power Consumption Normal Operation: 4.8 Watts
DIMENSIONS & WEIGHT
Dimensions (WxHxD): 8-1/4″ x 1-7/8″ x 4-5/16
Weight: 2lbs
NOTE: The Discovery can be controlled using the free Roon Essentials app for Windows, OS X, iOS, and Android.