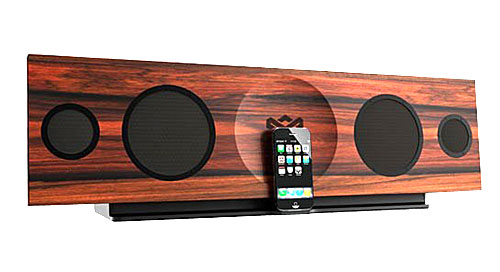 A un anno dalla nascita, The House of Marley, come annunciato in una precedente notizia, all'IFA 2012 ha presentato una linea completamente rinnovata di cuffie, auricolari e dock per il 2013.

Quest'anno The House of Marley ha presentato a Berlino la sua gamma di nuovi prodotti: cuffie, auricolari e docking station per iPhone e iPad. Cominciamo con le cuffie Little Bird, disponibili nel 2013 (60 euro). Si presentano con un design molto sottile e struttura in acciaio rivestita in tessuto eco-sostenibile. Seguono le Rebel Music, disponibili sempre nel 2013 (100 euro), adottano driver a bobina mobile da 40 mm, con padiglioni in legno certificato FSC.
Per la musica in mobilità, Marley propone i Jammin' Speaker (60 euro), con una batteria ricaricabile e la possibilità di essere alimentati da USB. Poi, la dockstation Get Up Stand Up, della famiglia Marley Freedom, già disponibile a 400 euro. È realizzata con una lastra di legno curvo, certificato FSC. Viene attivata inserendo un iPod, iPhone o iPad. Sono presenti due ingressi audio, per riprodurre musica da dispositivi non Apple, come driver impiega due woofer da 4,5 pollici e due tweeter da 1 pollice.
Sempre nella famiglia Marley Freedom, le cuffie on-ear Riddim (170 euro) e le cuffie Rise Up (180 euro), per una ascolto di qualità superiore. Le prime si adattano ai padiglioni, adeguandosi alla forma della testa e delle orecchie. Anche le cuffie Rise Up sono regolabili, con rivestimento in tessuto eco-sostenibile. Nella serie top di gamma troviamo gli auricolari in-ear Marley Destiny, con struttura in alluminio e audio al top. Disponibili nel 2013 a 230 euro.
Infine, Marley Destiny Dock One Foundation(foto in apertura notizia), una dock di qualità audio superiore, disponibile nel 2013 a 800 euro e destinata agli audiofili più esigenti. Anch'essa realizzata in legno certificato FSC, integra la tecnologia Apple AirPlay, per lo streaming audio dai dispositivi Apple mobile. I Dock sono compatibili con iPod™, iPhone™ e iPad™ e funzionano da base per la ricarica.
Produttore: HOUSE OF MARLEY
Distributore: HOUSE OF MARLEY ITALIA