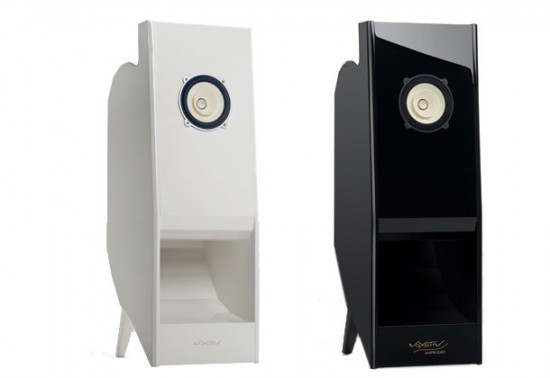 Voxativ, un marchio tedesco non distribuito in Italia di vera hi-end. Era presente a Milano al Top Audio & Video Show 2012. Distribuito in 14 paesi, accarezza l'idea di entrare anche in Italia.
Voxativ non sono solo diffusori, ma anche elettroniche valvolari (un amplificatore, un preamplificatore, un finale monofonico), cavi e 10 modelli di altoparlanti di assoluto pregio.

Chi ha ascoltato le elettroniche e i diffusori ne è rimasto favorevolmente colpito. I diffusori, in particolare, suonano veramente bene. Vengono prodotti quattro modelli di diffusori a tromba e tutti usano un altoparlante con cono in carta full-range.
Nella saletta erano in funzione i diffusori Voxativ Ampeggio (nella foto), con il cabinet prodotto da una famosa fabbrica di pianoforti e disponibili con una finitura laccata in bianco o nero, di efficienza molto alta: 100 dB.
Caratteristiche tecniche dei diffusori Voxativ Ampeggio
Risposta in frequenza: 38 ÷ 20.000 Hz
Altoparlanti: 1 x Voxativ AC-3X
Efficienza: 100 dB/1 W/1 m
Potenza: 50 W sinusoidali
Dimensioni in cm: 40 x 110 x 35
Peso: 55 kg
Nell'immagine sotto il grafico della risposta in frequenza dei diffusori Voxativ Ampeggio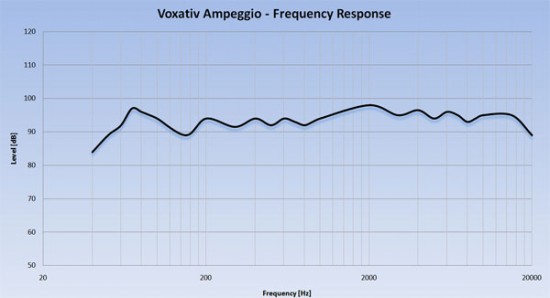 Produttore: VOXATIV
http://youtu.be/YCXQbOa14Lg
Amazon Auto Links: No products found.
Amazon Auto Links: Could not resolve the given unit type, . Please be sure to update the auto-insert definition if you have deleted the unit.