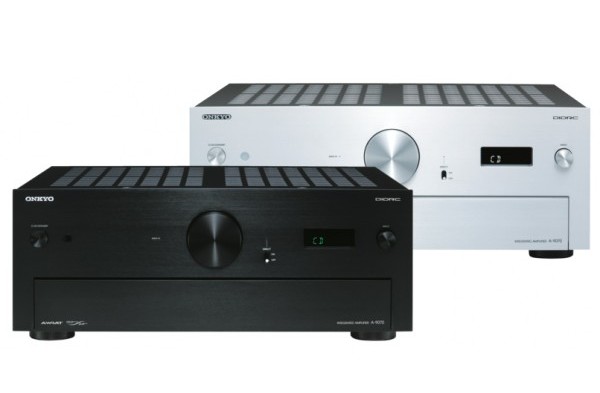 Amplificatore stereo integrato con DAC incorporato: potenza e qualità audio in un singolo e sofisticato apparecchio.
Onkyo ha dichiarato guerra alla distorsione. Al successo dei risultati ottenuti ha contribuito il nuovo DIDRC (Dynamic Intermodulation Distortion Reduction Circuitry), che riduce drasticamente la distorsione ad alta frequenza e l'HICC (High Instantaneous-Current Capability), per lo smorzamento delle vibrazioni.
La loro combinazione produce un suono sorprendentemente puro, con ampia gamma dinamica. I quattro condensatori da 15.000 µF consentono una notevole riserva di potenza, da tenere a portata di mano. Il circuito è un parallelo push-pull, accoppiato con tre stadi Darlington invertiti, che riducono la distorsione quasi a zero.
Anche la maggiore separazione tra i canali sinistro e destro migliorano le prestazioni. Inoltre, l'unità è dotata di conversione a 24 bit/192 kHz, per la riproduzione audio in alta definizione, adatta a gestire i moderni formati audio.
La possibilità di separare l'amplificazione di potenza dalla preamplificazione, consente l'integrazione con altri componenti hi-fi. È anche presente un amplificatore per cuffia indipendente, un ingresso phono, tre ingressi audio digitali, quattro ingressi analogici.
Tutte  le prese per le connessioni d'ingresso e di uscita sono placcate in oro. L'altissima qualità costruttiva è accompagnata da raffinatezza tecnologica e attenzione al dettaglio.
Alcune caratteristiche tecniche:
140 W/Ch at 4 Ω, 20 Hz–20 kHz, 0.05%, 2 Channels Driven, IEC
AWRAT (Advanced Wide Range Amplifier Technology)
DIDRC (Dynamic Intermodulation Distortion Reduction Circuitry)
Parallel Push-Pull Amplification Design with Three-Stage Inverted Darlington Circuitry
192 kHz/24-Bit HD Audio Playback via Coaxial Inputs
New Circuit Board Construction, con strutture interne per ridurre le vibrazioni
Symmetrical Layout of L/R Channels
Separate Wolfson® 24 Bit/192 kHz DACs (WM8742 x 2)
Condensatori di grande capacità 15.000 µF
1,2 mm-Thick Copper Bus Plate per una perfetta massa
Quattro modi d'uso dell'apparecchio: amplificatore integrato, finale di potenza, preamplificatore, split preamp/finale
3 Digital Audio Inputs (1 Optical and 2 Coaxial)
3 Analog Audio Inputs and 1 Output
Amplificazione per cuffia indipendente
Ingresso Phono (MM/MC)
Selettore diffusori A/B
Audio L/R Pre-Out
Connessioni di uscita e ingresso placcate oro
Funzione automatica di standby
DIDRC (Dynamic Intermodulation Distortion Reduction Circuitry)
Pur essendo al di là del normale range dell'udito umano, le frequenze superiori a 100 kHz sono suscettibili di clock e altre forme di distorsione nei dispositivi digitali.
Tali distorsioni nella gamma di super-alta frequenza sono in grado di generare interferenze, che a loro volta influiscono sulla timbrica del suono originale. Migliorando la linearità e riducendo la distorsione in tale gamma, la nuova tecnologia Onkyo DIDRC consente di ridurre efficacemente il rumore percepibile.
Low Negative-Feedback Design
Troppa controreazione riduce la qualità del suono percepito. Per evitare questo, Onkyo si concentra sul miglioramento della risposta in frequenza, riducendo la distorsione, senza ricorrere alla controreazione.
Closed Ground-Loop Circuits
L'A-9070 impiega un sofisticato circuito di massa in cui ciascuna parte ha un collegamento separato per l'alimentazione. Questo aiuta a eliminare il rumore individuale di ogni parte e mantenere un potenziale di terra privo di rumori.
HICC (High Instantaneous-Current Capability)
Per erogare 100 A l'ampli ha une resistenza interna nulla, quindi elevato fattore di smorzamento. Questo annulla l'energia prodotta dall'altoparlante.
Un altoparlante, sollecitato da un amplificatore, genera un'onda riflessa, che va dal carico verso l'amplificatore (se si sollecita meccanicamente un altoparlante a bobina mobile e si collega un tester ai suoi capi, questo segna una tensione).
Ovviamente la bassa resistenza interna e la forte erogazione di corrente lo rende anche insensibile al variare dell'impedenza.
Symmetrical Twin-Monaural Construction
I dispositivi di potenza, per i canali destro e sinistro dell'A-9070, sono totalmente simmetrici. Ogni canale ha lo stesso design elettrico e strutturale. Anche i percorsi di segnale sono uniformi in lunghezza. Questo aiuta a minimizzare le differenze indesiderate tra i canali durante la riproduzione stereofonica finale.
Parallel Push-Pull Amplification Design with Three-Stage Inverted Darlington Circuitry
Negli amplificatori push-pull parallelo i due rami dell'amplficatore lavorano alternativamente. I dispositivi d'uscita (trasistor mosfet, ecc.)  lavorano in coppia: un ramo amplifica la metà positiva della forma d'onda, mentre l'altro quella negativa.
Il push-pull è altamente efficiente, ma può essere influenzato da occasionali problemi legati alla distorsione. Qui è dove entra in gioco il Three-Stage Inverted Darlington Circuitry, che lavora attivamente, per ridurre la distorsione, utilizzando un design a basso tasso di controreazione, che mantiene stabile la tensione e migliora la risposta ai transienti.
Questa circuitazione  è estremamente sensibile alle oscillazioni e richiede una sofisticata tecnologia di controllo.  La circuitazione push-pull, unita al Three-Stage Inverted Darlington Circuitry, determina un segnale pulito e coerente da inviare ai diffusori acustici.
Four Amplifier Modes for the Ultimate in Versatility
Con le funzionalità combinate di un preamplificatore e un amplificatore di potenza, l'A-9070 è un amplificatore che fa la differenza. Tramite una manopola, può essere configurato per funzionare in una delle quattro modalità distinte.
A seconda di come si desidera integrarlo nel vostro sistema hi-fi, è possibile usarlo come un amplificatore integrato, come un amplificatore di potenza, o come un preamplificatore. È anche possibile impostare l'A-9070 in modalità split. In questo modo il preamplificatore e l'amplificatore di potenza operano separatamente, per poter includere un altro dispositivo, ad esempio, un equalizzatore.
Separate Wolfson® 192 kHz/24-Bit DACs for L/R Channels
Un convertitore di alta qualità, DAC Wolfson, viene impiegato per ottimizzare le prestazioni audio analogico sull'A-9070. Si tratta di un 24-bit DAC WM8742, che supporta frequenze di campionamento fino a 192 kHz.
Sebbene questo DAC sia specifico per gestire due canali audio su un singolo chip, Onkyo impiega chip separati su ciascun canale stereo, per garantire una più accurata conversione digitale/analogico.
New Circuit Board Construction
Piuttosto che essere direttamente collegate alla base del telaio, le schede dei circuiti, all'interno dell'A-9070, vengono ammortizzate da montanti interni sul frontale, sul laterale e sul posteriore. Questo metodo di costruzione evita che le vibrazioni dal telaio incidano negativamente sui circuiti.
Audiophile-Quality Parts
Per garantire prestazioni ottimali dall'A-9070, gli ingegneri Onkyo hanno impiegato una serie di componenti di livello professionale. Quattro condensatori da 15.000 microfarad, con una piastra di rame da 1,2 mm di spessore, per contribuire al raggiungimento di un'alimentazione stabile e regolare. Terminali placcati in oro sugli ingressi RCA e phono, per garantire connessione estremamente affidabili.