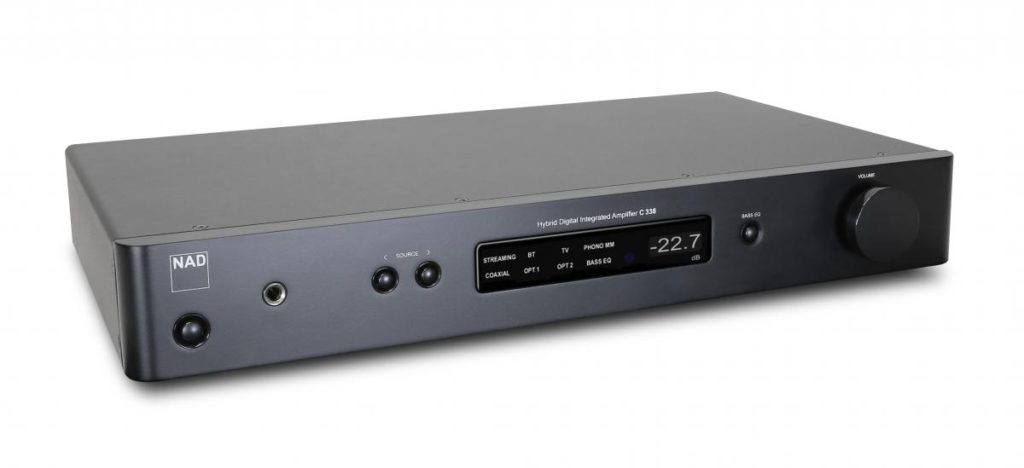 Gli amplificatori con network player integrato stanno sempre di più prendendo piede negli impianti degli audiofili. Il NAD C 338 ha ottime carte per entrare nel cuore degli appassionati.
Passato, presente e futuro della riproduzione musicale. È quello che troviamo nell'amplificatore integrato con network player NAD C 338.
Si tratta di apparecchio curato nei minimi dettagli, dai circuiti a bassissimo rumore al maniacale bilanciamento tra i canali, dalla precisa impedenza di ingressi e uscite al circuito di soppressione del rumore subsonico tipico dei giradischi, per terminare con un circuito di amplificazione della cuffia dedicato.
Sì, perché il NAD C 338 ha anche l'ingresso phono MM, per non lasciare gli audiofili a secco di vinile.
Il ricevitore Bluetooth aptX incorporato consente di trasmettergli musica da smartphone, tablet e da altri dispositivi compatibili, ma c'è anche il trasmettitore Bluetooth per ascoltare in cuffia senza fili.
Col ricevitore WiFi a doppia antenna è possibile l'accesso diretto alle Internet Radio e a un qualsiasi music server (computer, NAS, …) UPnP, ma anche il multi-room con standard BluOS.
Oltre agli ingressi analogici e l'uscita sub, il pannello posteriore rivela anche due ingressi Toslink e due Coax. Gli ingressi digitali insistono su un DAC a 24 bit e 192 kHz con doppio differenziale con una dinamica di 120 dB. E se non vi basta, è garantita anche la compatibilità col dongle Google Cast.
Con l'ingombro di uno smilzo, il NAD C 338 è un amplificatore in Classe D con alimentazione switch ed è capace di erogare fino a 50 watt continui per canale a 8 Ω, con consumi ridottissimo e una insignificante produzione di calore.
L'amplificatore con network player NAD C 338 è completamente gestibile anche con l'app dedicata.

Caratteristiche tecniche amplificatore / network player NAD C 338
Continuous Output Power into 4 Ω and 8 Ω (Stereo) >50W (at rated THD, 20-20kHz, both channels driven), IHF Dynamic Power,  2 Ω 200W, 4 Ω 150W, 8 Ω 90W
THD 0.01%
IMD 0.01%
Signal/Noise Ratio <-92dB (IHF; A-weighted, 500mV input ref. 1W out in 8 Ω), <-104dB (IHF; A-weighted, ref. 50W in 8 Ω, max volume)
Damping Factor >200 (ref. 8 Ω, 50Hz and 1kHz)
Frequency Response 20Hz-65kHz
Channel Separation 1kHz 85dB, 10kHz 70dB
Sample Rate 192kHz/24bit
Standby Power 0.5W
Inputs Digital: Coax x2, Optical x2
Analogue: Line In, Moving Magnet Phono Preamp (0.3mV input sensitivity ref. 200mV preout)
Dimensions (W x H x D) 435 x 70 x 285mm (17 1/8 x 2 13/16 x 11 1/4)"
Net Weight 4.85kg (10.7lb)
Amazon Auto Links: No products found.
Amazon Auto Links: Could not resolve the given unit type, . Please be sure to update the auto-insert definition if you have deleted the unit.