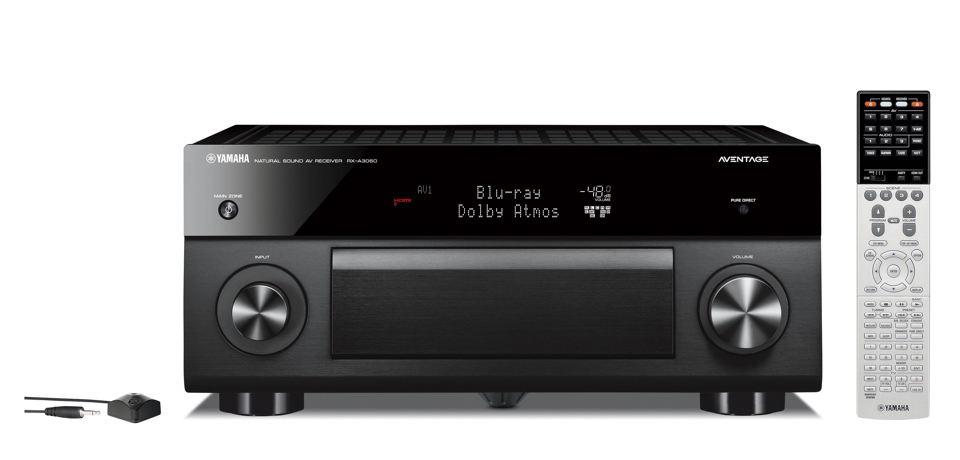 4K, Dolby Atmos, multi-room: sono solo tre delle tantissime possibilità offerte dall'amplificatore Yamaha RX-A3060, di vocazione home theater, ma che non mancherà di soddisfare anche gli audiofili a (solo) due canali.
DTS:X o Dolby Atmos? Perché dover scegliere? Sul fronte della tecnologia di riproduzione audio multidimensionale… meglio entrambi. Come entrambi ce li mette a disposizione il sintoamplificatore streamer Yamaha RX-A3060.
Come se non bastasse, in pura tradizione Yamaha in campo home theater, questo gigante si porta in dota il circuito Cinema DSP HD3, un insieme di nuovi algoritmi che processano il segnale per portare l'esperienza del cinema anche in casa, aumentando l'effetto presenza e ottimizzando il campo sonoro.
Lo Yamaha RX-A3060 è pronto per il presente dell'audio-video e per il futuro, supportando il passthrough (ma anche l'upscaling!) a 4K a 60p e l'HDR., ma anche il formato 21:9, maggiormente coerente col formato cinematografico.
L'applicazione della Tecnologia Anti Risonanza (A.R.T.), per assicurare che le vibrazioni non interferiscano con la qualità del suono, va a beneficio delle performances sonore sia a 2 canali che in applicazioni home theater. Consiste in un quinto piedino al centro dell'unità, piazzato per ridurre le vibrazioni generate dal trasformatore, dai transistor e dal dissipatore, così come le vibrazioni che potrebbero rientrare dalle casse acustiche.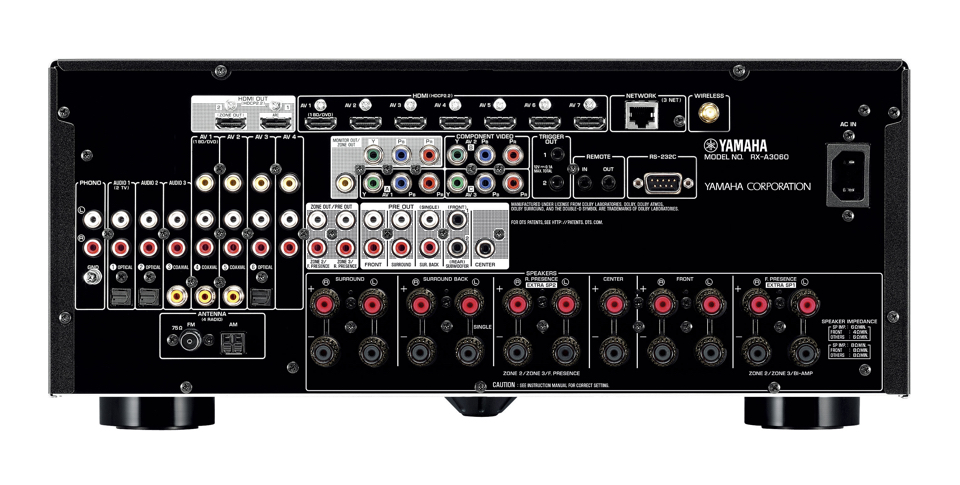 Lo chassis è rinforzato con una struttura ad H, anch'essa pensata per fornire la massima stabilità e rigidità. L'interno dello Yamaha RX-A3060 ha una disposizione simmetrica dell'amplificazione, con percorsi dei circuiti realizzati in modo che i canali siano isolati fisicamente ed elettricamente.
Col WiFi integrato questo gioiello accede a NAS, alla Rete domestica e ai principali servizi di streaming audio come Spotify e le Internet Radio. Volendo è possibile applicare l'upsampling audio per passare dai classici 24 bit e 44.1 (o 48) kHz a 24/96.
La conversione dei segnali digitali in analogico è affidata al DAC ES9016 a 192 kHz / 32-bit, capace di una gamma dinamica di 124 dB e – tra gli altri formati – di decodificare anche il DSD.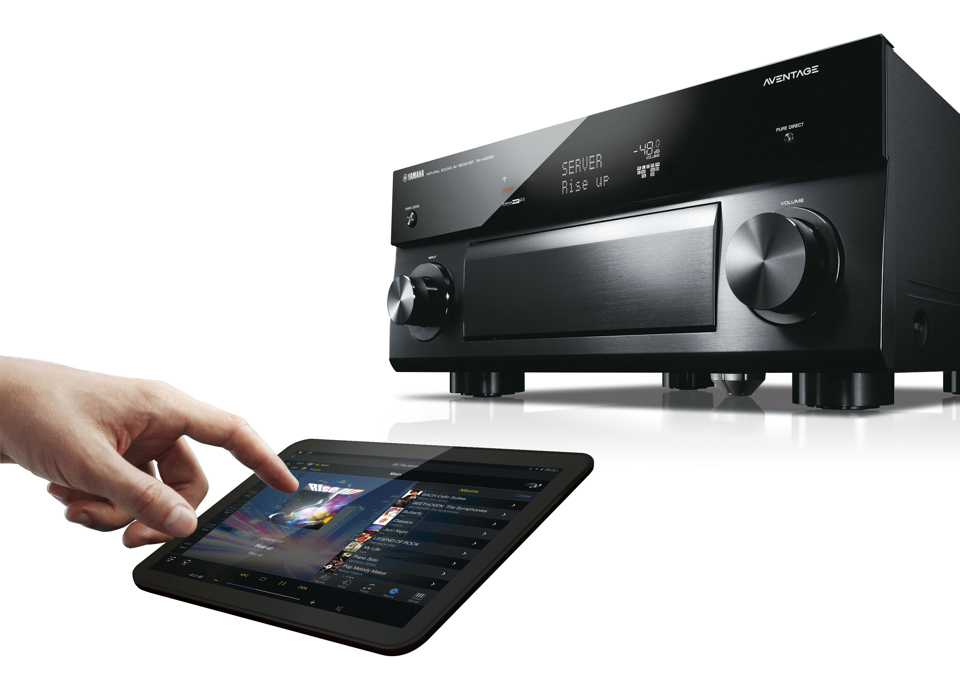 L'app consente la completa gestione dello Yamaha RX-A3060 e anche e soprattutto la gestione del mullti-room declinato secondo il produttore giapponese, ovvero il MusicCast, che qui s'avvale anche del Bluetooth e AirPlay.
YPAO Volume è l'evoluzione secondo Yamaha del caro, vecchio tasto loudness, per garantire un suono naturale anche a bassi volumi e con buona pace del condominio.
Ci sarebbe ancora tanto da dire sullo Yamaha RX-A3060, zeppo com'è di possibilità di utilizzo; per il momento ci accontenteremo di aggiungere che suona davvero bene sia in modalità home theater e sia solo in stereo. Ci è piaciuta molto la possibilità di avere a disposizione un DSP dedicata a chi è costretto a non poter installare i canali posteriori (e quindi l'ampli prova a virtualizzare un surround avendo tutti i canali sul fronte d'ascolto). A dirla tutta il telecomando non ci è piaciuto, davvero troppo zeppo di pulsanti e davvero difficile da padroneggiare.
Caratteristiche tecniche sintoamplificatore – streamer Yamaha RX-A3060
Amplifier Section Channel 9.2
Rated Output Power (1kHz, 1ch driven) 230 W (4 ohms, 0.9% THD [European Model])
Rated Output Power (20Hz-20kHz, 2ch driven) 150 W (8 ohms, 0.06% THD)
Maximum Effective Output Power (1kHz, 1ch driven) (JEITA) 230 W (8 ohms, 10% THD)
Dynamic Power per Channel (8/6/4/2 ohms) 175 / 220 / 295 / 410 W
Surround Sound Processing CINEMA DSP Yes (HD3)
DSP Programs 24
Dialog Level Adjustment Yes
Virtual Presence Speaker Yes
Virtual Surround Back Speaker Yes
Dialogue Lift Yes (no presence speakers required)
SILENT CINEMA / Virtual CINEMA DSP Yes (Virtual CINEMA FRONT)
Dolby Atmos, Dolby TrueHD, Dolby Digital Plus, Dolby Pro Logic IIx, DTS:X, DTS-HD Master Audio
Compressed Music Enhancer
High-resolution Music Enhancer
YPAO multi-point measurement  with R.S.C. (Reflected Sound Control), 3D, 64-bit Precision EQ Calculation and Angle Measurement
YPAO Volume
Adaptive DRC (Dynamic Range Control)
Bi-amp capability Yes
192kHz/24-bit DACs for all channels ESS SABRE32™ Ultra DAC (for main 7 channels)
Video Features 4K Ultra HD Pass-through and upscaling  (4K/60p, 4:4:4)
HDMI 3D passthrough
HDMI Audio Return Channel
HDMI upscaling
Video adjustment
Deep Color/x.v.Color/24Hz Refresh Rate /Auto Lip-Sync
Connectivity HDMI Input/Output 8 (HDMI1-7: HDCP2.2 compatible) / 2 (HDCP2.2 compatible)
HDMI CEC
USB Input USB Memory, Portable Audio Player
Network Port
Wi-Fi  (with Wireless Direct)
AirPlay
Bluetooth  (SBC / AAC)
Phono Input
Preout 11.2-ch
Headphone Output
Tuner Section FM/AM
App Control
Web Browser Control
Remote Control Unit
Zone Control Zone 2 Audio Output Preout / HDMI, Zone 3 Audio Output Preout, Zone 4 Audio Output HDMI, Powered Zone Zone 2 / 3, Zone Video Output HDMI / Component / Composite, Zone HDMI (Advanced HDMI Zone Switching), Zone B Output HDMI
Auto Power Standby
ECO mode
Dimensions (W x H x D) 435 x 192 x 474 mm (with antenna up: 435 x 247 x 474 mm); 17-1/8" x 7-1/2" x 18-5/8" (with antenna up: 17-1/8" x 9-3/4" x 18-5/8")
Weight 19.6 kg; 43.2 lbs.