Da Pisa alla conquista delle Americhe. Come dei novelli Cristoforo Colombo, la M2Tech va alla conquista dei mercato oltre oceano con Marley, un amplificatore per cuffie in Classe A.
M2Tech Marley è un amplificatore per cuffie Dual Drive Class-A; un progetto ambizioso fatto anche e soprattutto per il mercato americano, più che per l'asfittico mercato di casa nostra, nonostante la M2Tech sia saldamente basata in provincia di Pisa, ma con gli occhi e la testa guarda (giustamente) altrove.
Il Marley può pilotare contemporaneamente due cuffie a due volumi diversi, da due sorgenti diverse! Realizzato a componenti discreti, questo amplificatore per cuffie offre il suo meglio in qualsiasi condizione, sia in single ended (quando pilota contemporaneamente due cuffie diverse), sia in modalità "balanced" via XLR, dove esprime il suo meglio e 6 dB in più di SPL.
Dotato di una vera e propria sezione pre, in modo da poterlo collegare direttamente a un finale di potenza, comprende anche un'uscita tape-out, il tastino muting (che attenua di 20 dB) e il circuito auto switch-off.
Il rapporto segnale / rumore dichiarato è un interessantissimo 120 dB.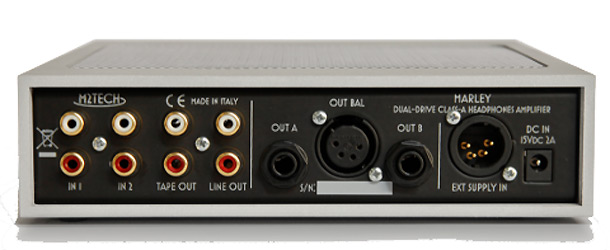 Caratteristiche tecniche amplificatore per cuffie M2Tech Marley
Type: Solid-stare stereo headphone amplifier
Inputs: Two line in on female, gold-plated RCAs
Outputs: Two 1/4″ stereo jack (single-ended)
4-pole female XLR (balanced), pre out on gold-plated female RCAs
Tape out on gold-plated female RCAs
Supply Inputs: 5.5/2.1 mm jack, positive on tip, 4-pole male XLR for +15 V/–15 V/+5 V
Output Voltage: 8 Vrms max (single-ended), 16 Vrms max (balanced)
Output Power: 4 Wrms per channel @ 8 Ohms
Input Impedance: 40 kOhms
Gain: 12 dB (single-ended) / 18 dB (balanced)
Input Sensitivity: 2 Vrms in for max output
Frequency Response: 3 Hz ÷ 80 kHz (+0/–0.5 dB)
Signal-To-Noise Ratio: 120 dB (8 Vrms out, 1 kHz, A-weighted)
THD+N: 0.003% (2 Vrms out, 1 kHz)
Volume Range: 0 to –78 dB plus total mute (1 dB steps)
Muting: –20 dB
Balance Range: ±6 dB (1 dB steps)
Auto Switch-Off: disabled, 0 to 240 minutes (30 minute steps)
Supply: 15 V DC
Dimensions: 200 x 200 x 50 mm (WxDxH)
Weight: 4.41 lbs.
Prezzo di listino: $1699
Produttore: M2TECH