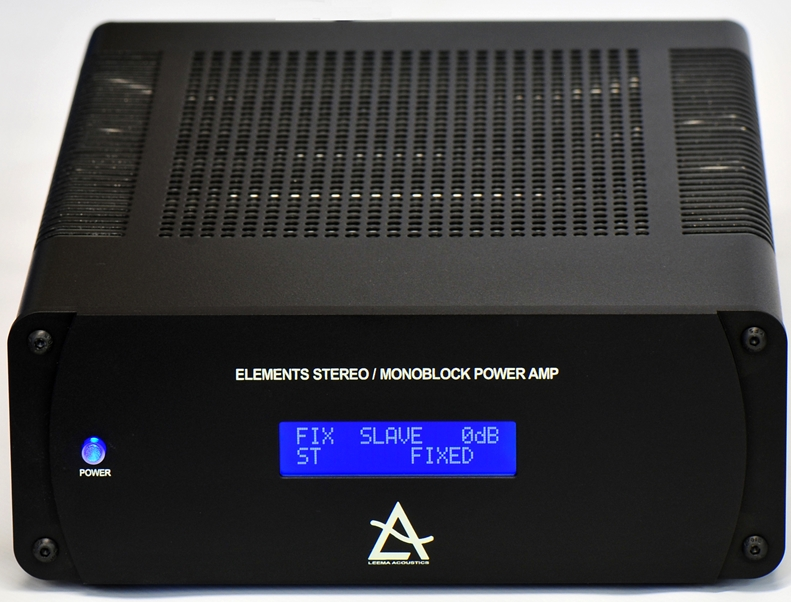 Facente parte della serie a design compatto del produttore inglese, il Leema Acoustics Elements Power Amplifier si presta a usi differenti grazie a una spiccata versatilità. Scopriamolo insieme.
Prima di iniziare a parlare del Leema Acoustics Elements Power Amplifier è bene osservarne il retro.

Una serie di connessioni e interruttori, unitamente a un controllo del volume completamente analogico,  permettono di configurare questo amplificatore per varie applicazioni.
Ovviamente il Leema Acoustics Elements Power Amplifier può essere configurato come un amplificatore stereo convenzionale, ovvero con preamplificatore integrato.
Ma può anche essere commutato in modalità monoblocco per essere innestato in sistemi a multiamplificazione o multicanale. Ovviamente come monoblocco la potenza erogata subirà un'impennata (cfr caratteristiche tecniche), ben al di là di quanto le ridotte dimensioni farebbero supporre.
Il controllo LIPS, proprietario di casa Leema, facilità la gestione unita ad altri componenti dello stesso produttore, compresa la possibilità di bi-amplificazione.
Prima parlavamo del controllo di volume analogico: è questa scelta che consente al Leema Acoustics Elements Power Amplifier di lavorare in qualsiasi modalità senza che insorgano problemi di guadagno.
Tra le tante possibilità (altre le lasciamo alla vostra fantasia) vi segnaliamo quella di usarne 3 unità, due in modalità monoblocco per pilotare i mangia-watt woofer (o i sub) e una per pilotare in stereo i tweeter.
In gradi di gestire in scioltezza carichi fino a 2 Ω in stereo e 4 Ω in mono/bridge, il Leema Acoustics Elements Power Amplifier monta dei sofisticati sistemi di protezione che riguardano sia il controllo della corrente, sia il controllo della temperatura.
Insomma, un approccio modulare dedicato all'audiofilo evoluto, accompagnato da un'ottima progettazione e un'altrettanto interessante costruzione, con risultati sonori tipici di casa Leema, ovvero senza compromessi.
Caratteristiche tecniche amplificatore Leema Acoustics Elements Power Amplifier
Stereo mode, both channels driven: 8 Ohms: 55 watts RMS/ch, 4 Ohms: 92 watts RMS/ch, 2 Ohms: 160 watts RMS/ch, Minimum Load Impedance 2 Ohms.
Bridged mode: 8 ohms: 210 watts RMS, 4 ohms: 365 watts RMS, Minimum Load Impedance 4 Ohms.
THD: 0.015%
Noise: < -105 dB
Frequency Response: 5 Hz – 100 kHz (+0/-3 dB)
Number of Balanced Inputs (XLR): 1
Number of Un-Balanced Inputs (RCA): 2
Pre-out Outputs: 1
Thermal Protection: Yes
LIPS® system: Master or Slave
Dimensions: 220*340*88mm
Mass: 10.5Kg
Auto Amazon Links: Nessun prodotto trovato.