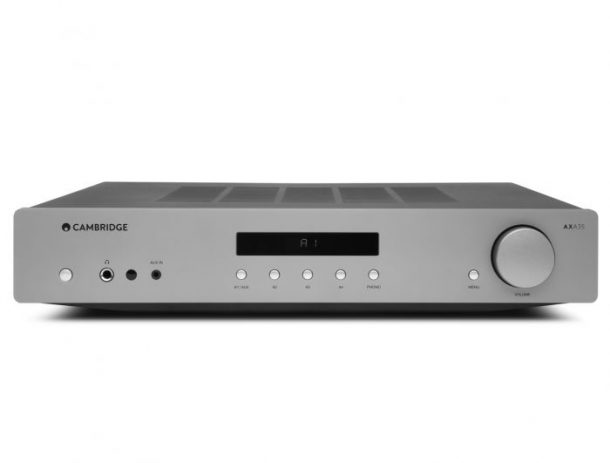 Il Cambridge Audio AXA35 è un amplificatore integrato di basso costo, ma che non fa rimpiangere soluzioni più costose.
Cambridge Audio AXA35: cos'è
Se non fosse per un telecomando che non è proprio il massimo dell'usabilità, il Cambridge Audio AXA35 sarebbe al 100% un best-buy.
Perché è un amplificatore ben costruito, ben suonante, esteticamente piacevole e sufficientemente versatile.
Il Cambridge Audio AXA35 fa parte della più recente serie entry level del produttore inglese, che comprende un fratellino del tutto simile ma privo dell'ingresso phono, due CD player e due sintoamplificatori.
Potenza erogata
35 watt di potenza su 8 Ω di impedenza bastano per la maggior parte degli ambienti domestici, watt pronti a gestire i 4 ingressi linea e l'ingresso phono MM.
Il frontale
Sul frontale, con la solita illusione ottica di Cambridge, che fa apparire questo amplificatore curvo quando invece non lo è, troviamo con piacere anche l'uscita cuffia e i controlli di tono.
Nessun collegamento digitale
Il Cambridge Audio AXA35 non strizza l'occhio al digitale: non ci sono ingressi per sorgenti liquide né tantomeno un ricevitore Bluetooth.
Come suona
Basta però accendere questo piccoletto per accorgersi subito della bontà del prodotto: bassi precisi e corretti, un'ottima ricostruzione della scena sonora, una riproduzione delle voci mai sacrificata. Insomma, davvero un bel sentire.
Cuffia
Anche l'uscita cuffia si comporta coerentemente con le caratteristiche sonore riscontrate con l'ascolto dei diffusori (nel nostro caso una coppia di
Conclusioni
Concludendo, il Cambridge Audio AXA35 va a insidiare un segmento molto ben presidiato da Marantz e altri marchi giapponesi, ma lo scontro è ad armi pari e la vittoria sarà affidata solo al gusto personale.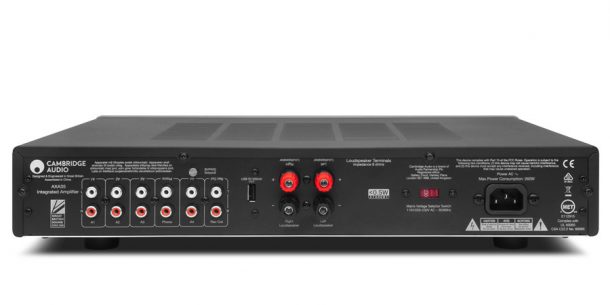 Caratteristiche tecniche amplificatore integrato Cambridge Audio AXA35
POWER OUTPUT 35 Watts (into 8 Ohms)
THD (UNWEIGHTED) <0.01% @ 1kHz, 80% of rated power <0.15% 20Hz – 20kHz, 80% of rated power
FREQUENCY RESPONSE (-3DB) 5Hz – 50kHz
S/N RATIO (REF 1W) >82dB (unweighted)
INPUT IMPEDANCES 47k ohms
POWER AMP DAMPING FACTOR > 50
MAX. POWER CONSUMPTION 260W
BASS/TREBLE CONTROLS Shelving, ultimate boost/cut +/- 10dB @ 100Hz and 10kHz
STANDBY POWER CONSUMPTION <0.5W
INPUTS 4x RCA, 1x Phono, 1 x 3.5mm Aux input (front panel)
OUTPUTS Speakers, Rec Out, USB 5V power
DIMENSIONS (HXWXD) 83 x 430 x 335mm (3.3 x 16.9 x 13.2")
WEIGHT 5.6kg (12.3lbs)
IN THE BOX AXA35 Integrated Amplifier, Power Cable, Remote Control, 2 x AAA Batteries
Amazon Auto Links: No products found.
Amazon Auto Links: Could not resolve the given unit type, . Please be sure to update the auto-insert definition if you have deleted the unit.