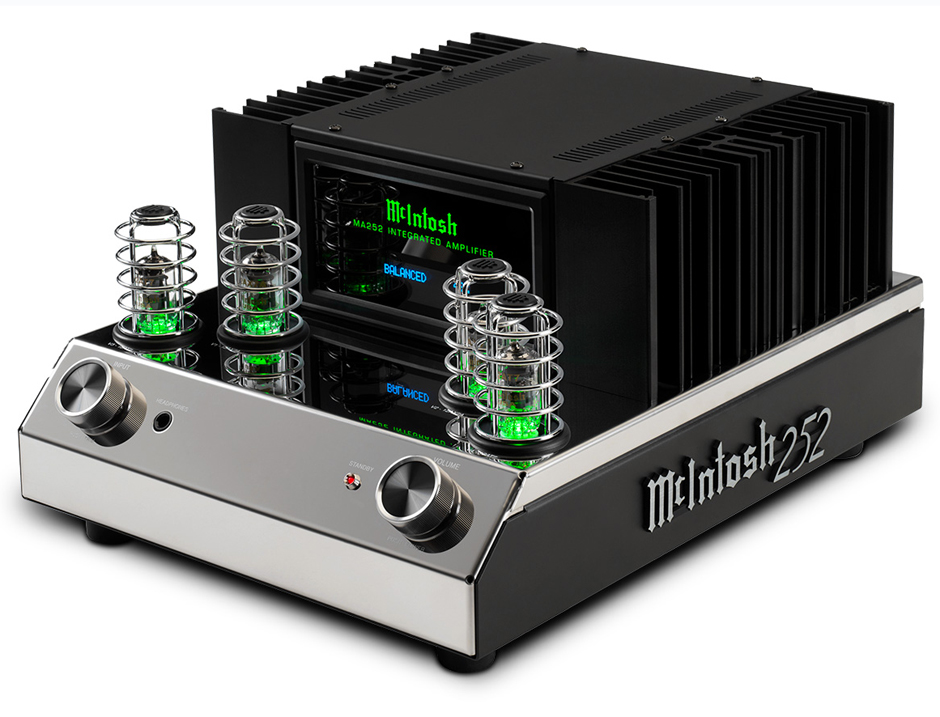 Il McIntosh MA252 è il primo amplificatore ibrido integrato di McIntosh. Esteticamente richiama il design retrò del leggendario McIntosh MC275 (ampli a volvole d'epoca) e tecnicamente combina il meglio del tubo a vuoto con il meglio dello stato solido.
L'amplificatore integrato McIntosh MA252 ha lo stadio preamplificatore a valvole e lo stadio finale a semiconduttori. Lo stadio preamplificatore utilizza due tubi 12AX7 e due 12AT7, alloggiati all'interno di gabbie protettive. Lo stadio di uscita è un amplificatore a stato solido accoppiato direttamente che eroga 100 watt per canale su 8 Ohm o 160 watt per canale su 4 Ohm.
Il pannello posteriore dell'amplificatore integrato McIntosh MA252 ospita 2 ingressi sbilanciati, 1 bilanciato, 1 ingresso phono MM e un'uscita subwoofer. L'amplificatore dispone anche di controllo bassi e alti, da un po' di tempo ritornato in auge.
Grazie alla presenza dello stadio d'uscita a stato solido, l'amplificatore integrato McIntosh MA252 è anche il primo prodotto della Casa contenente tubi in cui sia presente la tecnologia brevettata Power Guard®.
Con questa tecnologia è stato possibile controllare eventuali sovraccarichi del segnale di uscita, che potrebbero danneggiare i diffusori. Tale controllo avviene tramite micro regolazioni in tempo reale del segnale di ingresso. Se Power Guard è attivato, i 2 tubi a vuoto collegati al canale audio interessato lampeggiano con un colore ambra, per tornare al loro normale colore verde passata l'emergenza.
Le impostazioni e l'ingresso selezionato sono visualizzate sul display OLED. Immancabile il classico telaio in acciaio inossidabile lucido, con il marchio e il modello in alluminio stile McIntosh su ogni lato.
L'amplificatore integrato McIntosh MA252 costa € 4.500 e può essere pre-ordinato sin d'ora, con inizio spedizioni nel mese di dicembre.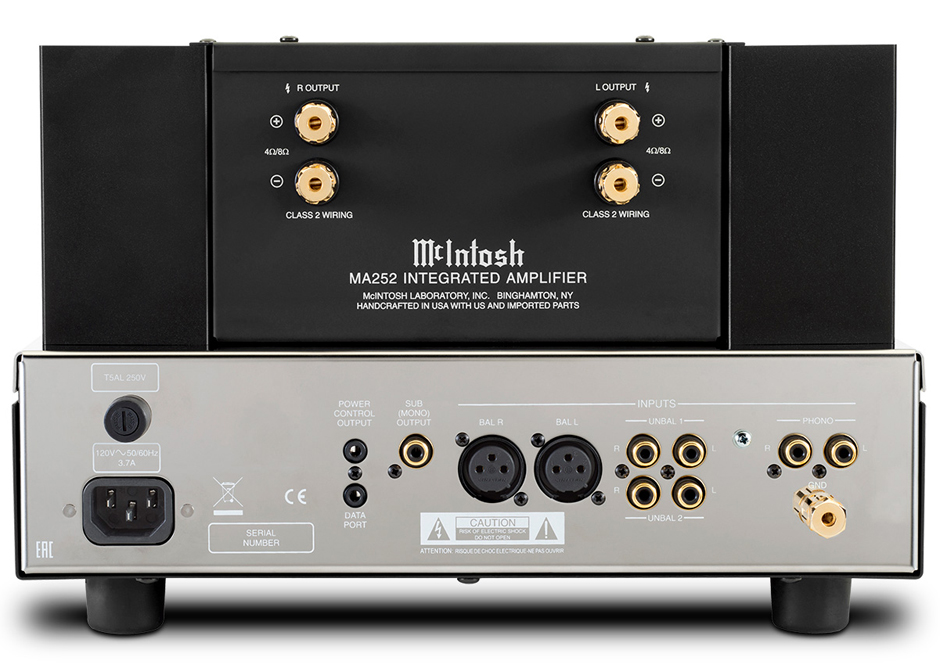 Caratteristiche tecniche amplificatore integrato McIntosh MA252
ELECTRONIC SPECIFICATIONS
POWER OUTPUT PER CHANNEL: 100 Watts into 8 Ohms – 160 Watts into 4 Ohms
NUMBER OF CHANNELS: 2
SPEAKER IMPEDANCE: 4 or 8 Ohms
RATED POWER BAND: 20 Hz to 20 kHz
TOTAL HARMONIC DISTORTION: 0.03%
DYNAMIC HEADROOM: 1.8 dB
FREQUENCY RESPONSE +0,–0.5 dB: 20 Hz to 20 kHz
FREQUENCY RESPONSE, +0, –3 dB: 10 Hz to 100 kHz
SENSITIVITY PHONO (MOVING MAGNET): 3.0 mV
SENSITIVITY HIGH LEVEL (BALANCED / UNBALANCED): 0.6V/0.3V
SIGNAL TO NOISE RATIO (MOVING MAGNET): 80 dB
SIGNAL TO NOISE RATIO (HIGH LEVEL): 97 dB
INPUT IMPEDANCE (BALANCED / UNBALANCED): 20 K/20 K
DAMPING FACTOR: 8 Ohms >200 – 4 Ohms >100
MAXIMUM OUTPUT (BALANCED / UNBALANCED): 8 V Unbalanced
CONNECTIVITY
BALANCED INPUT: 1
UNBALANCED INPUT: 2
PHONO INPUT MOVING MAGNET: 1 (fixed loading)
HEADPHONE OUTPUT: 1/4″ High Drive
SUBWOOFER OUTPUT: 1 (mono)
UNBALANCED ANALOG CONNECTOR TYPE: Standard
SPEAKER BINDING POST TYPE: Standard
CONTROL
TONE CONTROLS: Bass and Treble
TONE BYPASS AND INPUT ASSIGN: Yes
POWER CONTROL OUTPUT: 1
REAR PANEL DATA PORT: 1
INPUT LEVEL MATCH: Yes
GENERAL SPECIFICATIONS
VACUUM TUBE OR SOLID STATE: Preamplifier Vacuum Tube – Power Amplifier Solid State
DUAL LAYER CHASSIS: Yes
CHASSIS FINISH: Polished stainless steel
MCINTOSH MONOGRAMMED HEATSINKS™: Yes
POWER REQUIREMENT: 120 V – 220 V 50/60Hz, 3.7 A
STANDBY POWER REQUIREMENT: <0.5 Watts
DIMENSIONS (W X H X D): 30.5 x 19.4 x 45.7 cm
WEIGHT: 12.7 kg
SHIPPING WEIGHT: 16.8 kg
Produttore: McINTOSH
35,99 €
Impermeabile IPX7: L'altoparlante Bluetooth impermeabile Lrecat è resistente a schizzi, pioggia, spruzzi delicati, Idrorepellente è adatto a tutte le tue attività all'aperto e al chiuso: home theatre, feste, escursioni, nuoto, spiaggia, campeggio ecc...
read more
(a partire da 3 Dicembre 2021 20:38 GMT +01:00 - Altre informazioni

Product prices and availability are accurate as of the date/time indicated and are subject to change. Any price and availability information displayed on [relevant Amazon Site(s), as applicable] at the time of purchase will apply to the purchase of this product.

)