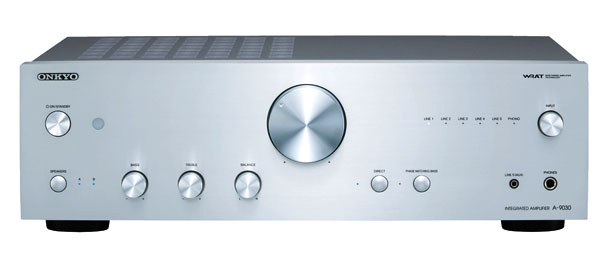 Per la nuova generazione di audiofili, ecco l'amplificatore integrato Onkyo A-9030. E davvero non c'è componente migliore per iniziare. Qui c'è proprio tutto, anche (cosa oggi molto singolare) i controlli di tono e il bilanciamento dei canali. È incluso un pre phono e fornisce 65 watt di potenza hi-fi… Il tutto per 369 euro.
Questo amplificatore integrato Onkyo A-9030 è dotato di cinque ingressi linea e un ingresso Phono che coprono, praticamente, tutte le esigenze di collegamento: dai giradischi analogici, ai lettori CD, ai sintonizzatori, ai DAC per le fonti digitali. Sul frontale si trova anche un ingresso per l'ascolto in cuffia.
Oltre a un audio di qualità hi-fi, l'amplificatore impiega un robusto trasformatore e condensatori di grande capacità, per fornire la potenza necessaria ai diffusori, affinché questi esprimano profondità e dinamismo.
Sul pannello frontale dell'
amplificatore integrato Onkyo A-9030 
sono presenti regolazioni separate per i toni bassi e alti e anche per il bilanciamento dei canali destro e sinistro, sicuramente indispensabili per correggere eventuali difetti d'ambienza della stanza in cui suonano i diffusori, o per venire incontro alle personali preferenze d'ascolto.
Sempre sul pannello anteriore trovano posto la manopola per il volume, il selettore degli ingressi, il pulsante di accensione, il selettore per scegliere tra due coppie di diffusori (all'amplificatore A-9030 si possono collegare due coppie di diffusori), il pulsante per il "phase matching bass" (abilita o disabilita la funzione di potenziamento dei bassi) e il pulsante "direct", per escludere i controlli di tono e far passare il segnale direttamente. Da segnalare, infine,  l'uscita pre, che dà la possibilità di usare solo la sezione pre dell'A-9030 in abbinamento con un finale di potenza esterno.
Caratteristiche tecniche dell'amplificatore integrato Onkyo A-9030
Power Output 65 W/Ch (8 Ω, 1 kHz, 0.08% THD, 2 Channels Driven, IEC)
THD+N (Total Harmonic Distortion + Noise): 0.08% (1 kHz, 1 W Output)
Damping Factor: 60 (1 kHz, 8 Ω)
Input Sensitivity and Impedance: 175 mV/33 kΩ (Line) – 4.8 mV/47 kΩ (Phono MM)
Rated RCA Output Level and Impedance: 0.175 V/2.2 kΩ (Rec Out)
Phono Overload: 100 mV (MM, 1 kHz, 0.5%)
Frequency Response: 10 Hz ÷ 100 kHz/+1 dB, –3 dB (Line 1)
Tone Control: ±14 dB, 100 Hz (Bass); ±14 dB, 10 kHz (Treble); +8 dB, 80 Hz (PM Bass)
Signal-to-Noise Ratio: 105 dB (Line, IHF-A) 80 dB (Phono MM, IHF-A)
Speaker Impedance: 4 Ω–16 Ω (A or B), 8 Ω–16 Ω (A + B)
Power Supply: AC 220–230 V~, 50/60 Hz 135 W
Power Consumption: 135 W
Dimensions (W x H x D): 435 x 139 x 330.3 mm
Weight: 7.4 kg
Produttore: ONKYO
Amazon Auto Links: No products found.
Amazon Auto Links: No products found.