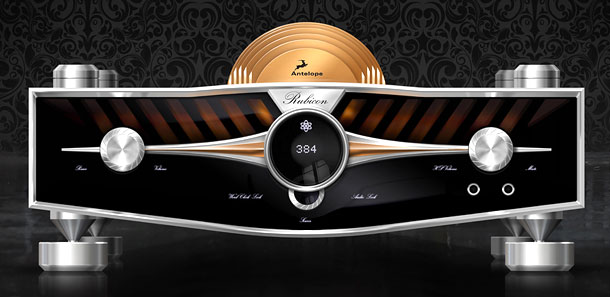 Antelope Audio Rubicon Atomic è il primo DAC al mondo a 384 kHz, con Clock atomico, pre phono e amplificatore per cuffia integrati.
Antelope Audio è un'Azienda dal forte background nella produzione di attrezzature audio professionali, specializzata nell'alta definizione, sia in studio di registrazione, che in ambiente domestico.
Antelope Audio ha aperto la strada all'adozione di Clock atomici, implementando tecnologie audio professionali in una linea di prodotti DAC USB, destinati sia gli audiofili, che ai professionisti.
Antelope Audio è un frutto di Igor Levin, meglio conosciuto per la creazione del leggendario Aardsync. Levin ha sviluppato innumerevoli innovazioni nell'audio digitale e nella tecnologia di sincronizzazione. Con oltre vent'anni di esperienza e un'esperienza senza precedenti nell'audio digitale, Igor continua a stabilire nuovi standard in termini di qualità e prestazioni.
L'obiettivo di Antelope Audio è di realizzare registrazioni audio a un livello superiore, fornendo la tecnologia digitale che trascende tutte le aspettative, senza sacrificare il calore e la pienezza tipicamente associati al suono analogico.
L'alta definizione di cui si parla, nell'Antelope Audio Rubicon Atomic, si serve della tecnologia AFC (Acoustically Focused Clocking), a 64 bit, con Jitter controllato.
Rubicon è il primo DAC che integra un orologio atomico, che è 100.000 volte più stabile di un oscillatore a cristallo tradizionale. Accoppiato con la tecnologia AFC, si è raggiunta una svolta nella gestione del jitter, con un miglioramento della qualità sonora senza precedenti. La stessa tecnologia che viene implementata in Clock di punta della Master Audio, usati per il film Avatar e disponibili presso i migliori studi di registrazione e mastering in tutto il globo.
Oltre al pre phono integrato, a bassissimo rumore, complemento che sarà molto apprezzato dagli appassionati di vinile e lo streaming USB a 384 kHz, Rubicon offre lo streaming DLNA, che dà agli utenti la possibilità di spingere in modalità wireless i file audio dal proprio smart phone, PC o NAS (Network-Attached Storage) server, per riprodurre il contenuto attraverso il DAC ad alta velocità di campionamento.
Caratteristiche generali del DAC Antelope Audio Rubicon Atomic
10M Rubidium Atomic Clock, providing 100,000 times more accurate reference
64-bit Acoustically Focused Clocking jitter management technology
Ultra low noise phono inputs with custom audio transformers, discrete JFET preamp design
384kHz A/D & D/A converters Gold-plated stepped relay volume attenuator matched to 0.05dB for all volume levels Ultra-linear, dual stage headphone amps
De-jittered audio S/PDIF output
Custom USB 2.0 chip streaming up to 480 Mbits/384kHz with recording option
DLNA streaming capabilities through an Ethernet interface
Caratteristiche tecniche del DAC Antelope Audio Rubicon Atomic
Inputs
Analog Inputs
1x PHONO Input on RCA3x Inputs on RCA1x HiZ Input on RCA1x Combo Balanced Input on XLR/¼ TRS
Digital Inputs
2x S/PDIF
2x TOSLINK
1x AES/EBU
Word Clock Input
Ethernet port
Hi-Speed USB on standard B type connector
Outputs
| | |
| --- | --- |
| Analog Outputs | 1x Balanced Output on XLR1x Unbalanced Output on RCA |
| Digital Outputs | 2x S/PDIF De-jittered outputsHi-Speed USB on standard B type connector |
Per ulteriori info sull'alta risoluzione Antelope Audio
Produttore: ANTELOPE AUDIO
Amazon Auto Links: No products found.
Amazon Auto Links: No products found.