Struss è un marchio polacco, non ancora distribuito in Italia, costruisce due amplificatori, Struss R150 e struss R550. Russell Kauffman (Morel Europa) ha lasciato per  l'R550 un feedback molto positivo, affermando che oggi è il migliore amplificatore più potente del mondo (dual mono).
Lo Struss R550 è un amplificatore di nuova generazione, che offre un suono estremamente dinamico e dettagliato, pur restando naturale e senza le distorsioni tipiche dei dispositivi a transistor.
L'obiettivo del progettista era quello di ottenere l'effetto "musica dal vivo" a casa e dopo anni di lavoro pare proprio che ci sia riuscito. Molti possessori dello Struss R550 hanno confermato questa caratteristica.
L'amplificatore Struss R550 non possiede un suono proprio, dà esattamente quello che gli viene fornito e lo passa, per così dire, ai diffusori. Le soluzioni tecniche adottate sono di proprietà dell'Azienda e sono registrate con numerosi brevetti.
All'interno dispone di un sistema completamente bilanciato, dotato di due condensatori elettrolitici con una capacità totale di ben 176.000 uF e due trasformatori toroidali della potenza di 2,0 kW (2,8 kW di picco) magneticamente ed elettrostaticamente schermati. E come è tradizione di Struss, non si fa impiego di transistor bipolari.
Il design, che alcuni hanno definito surreale, non è una questione casuale. Il design, molto compatto, si combina con la grafica di uno dei più rinomati artisti polacchi del dopoguerra, autore di molte opere importanti, appunto, surreali dell'arte contemporanea.
Questo nuovo amplificatore integrato Struss R550, è la dimostrazione di come l'amplificatore più potente del mondo (2 monoblocchi) possa essere progettato e realizzato in Polonia.
Caratteristiche tecniche dell'amplificatore integrato Struss R550
Power RMS/Music: 2 x 550 W/8 Ω, 2 x 1000 W/4 Ω (DIN 45500)
Minimum load: 0,5 Ω (momentary)
Distortions THD: 0,05 % with a power of 1 W, 0,025 % of the power of 500 W – load 8 Ω
Frequency Response: 2,5 Hz ÷ 300 kHz +/–0,05 dB/ 1 W/ 8 Ω
S/N ratio: 145 dB (IHF – A)
Dynamic Range: 140 dB
Inputs: 4 x Universal – RCA, XLR (balanced), separated CD – RCA voltage output for external devices
Security system: advanced against short-circuiting of the speakers and the appearance of the output voltage
Indication of "peak": approaching the maximum output
Transformers: 2 x toroidal, magnetically and electrostatically isolated, power 2000 VA each
Remote control: RC5 code (volume)
Power consumption: 200 VA – 4 500 VA (peak)
Work in Class A: 2 x 55 W
Net weight: 54,5 kg
Dimensions: 530,3 x 155 x 430 mm
The amplifier meets all the requirements and standards applicable in the EU
Manufacturer Warranty: 36 months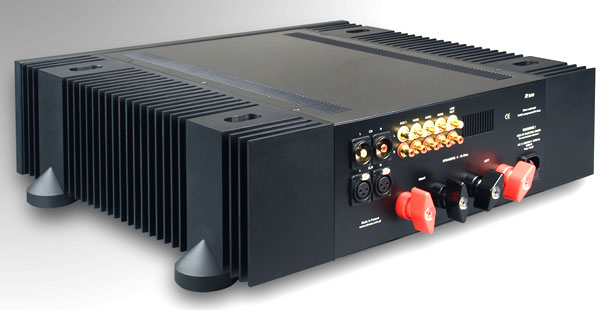 Produttore: STRUSS
Auto Amazon Links: Nessun prodotto trovato.