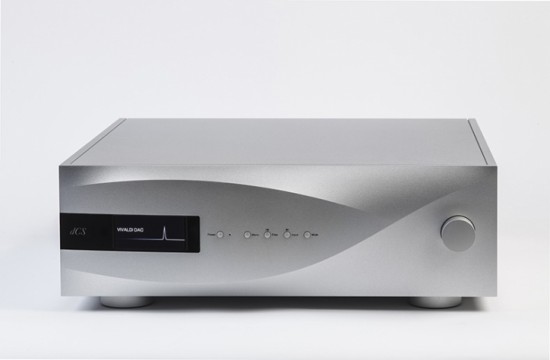 dCS è l'acronimo di Data Convertion System. L'azienda inglese ha infuso il meglio del meglio delle tecnologie digitali nel suo convertitore Vivaldi. Conosciamolo più da vicino.
L'inglese dCS va giustamente orgogliosa del suo DAC Vivaldi, che definisce come lo stato dell'arte nel campo dei convertitori digitale-analogico. Design ricercato ed elegantissimo, un approccio progettuale e costruttivo del tipo "senza compromessi" e carattaristiche tecniche da top di gamma completano il quadro generale del Vivaldi.
Pù  in dettaglio, il DAC dCS Vivaldi ha al posto del cuore il Ring DACTM, Digital Processing Platform and Clocking System, un sistema per la gestione del clock (il punto debole di ogni DAC, spesso con performances assai diverse a seconda del tipo di input usato) in grado di garantire gli stessi straordinari risultati da ogni ingresso digitale, là dove invece spesso è proprio la porta USB ad essere penalizzata da risultati inferiori a quanto possibile raggiungere via SPIDIF.
I 24 bit di profondità sono quindi garantiti su qualsiasi ingresso e il Ring DACTM dimostra sul campo le sue incredibili doti di dinamica, separazione dei canali, realismo musicale e, non ultimo, un jitter davvero basso.
Il trattamento del segnale digitale del Vivaldi è basato sul chip Field Programmable Gate Array (FPGA), un DSP di progettazione tutta inglese, sviluppato in casa dalla dCS e con una capacità logica doppia rispetto alla precedente generazione di microprocessori. Il FPGA, inoltre, consente di elaborare segnali DXD (24 bit a 352.8 and 384kS/s) e DSD.
Il DAC dCS Vivaldi supporta gli standard AES3, Dual AES, SDIF-2 e SPDIF, oltre a gestire una porta USB di tipo asincrono. La manopola del volume, impostata su valori massimi di 2 o di 6 volt, è ottimizzata per un collegamento diretto con un finale di potenza o un amplificatore integrato, rendendo superfluo l'utilizzo di un preamplificatore.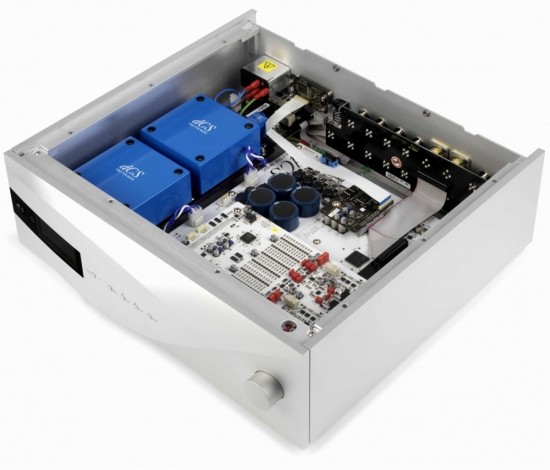 Caratteristiche tecniche DAC dCS Vivaldi
Finiture: silver o black
Dimensioni: 444  x 435 x 151 mm
Peso: 16,2 kg
Convertitore proprietario Ring DACTM
Uscita analogica a 2 V rms o 6 V rms, settabile dall'utente
Uscite bilanciate XLR
Uscite sbilanciate RCA
Ingresso digitale USB tipo B asincrono in grado di accettare stream PCM a 24 bit e a 44.1, 48, 88.2, 96, 176.4 & 192 kS/s ; accetta segnali DOP (DSD over PCM); può operare in modalità USB Audio Class 1 o Class 2
4 x AES/EBU a 3-pin XLR femmina; accettano segnali PCM a 24 bit e a 32, 44.1, 48, 88.2, 96, 176.4 & 192 kS/s, segnali DOP e 2 x Dual AES coppie a 88.2, 96, 176.4, 192, 352.8 & 384 kS/s
3 x SPDIF su 2 x RCA e 1 x BNC; accettano segnali a 24 bit PCM e a 32, 44.1, 48, 88.2, 96, 176.4 & 192 kS/s oppure DOP
1 x SPDIF ottica con connettore Toslink, accetta segnali PCM a 24 bit e a 32, 44.1, 48, 88.2 & 96 kS/s
1 x SDIF-2 su 2 x BNC, accetta segnali PCM a 24 bit e a 32, 44.1, 48, 88.2 & 96 kS/s o SDIF-2 DSD (auto-selected)
3 x Word Clock inputs su 3 x BNC, accettano standard Word Clock a 32, 44.1, 48, 88.2, 96, 176.4 o 192 kHz
Prezzo indicativo: 35.000 dollari americani
Produttore: DCS
Distributore: AUDIO GRAFFITI