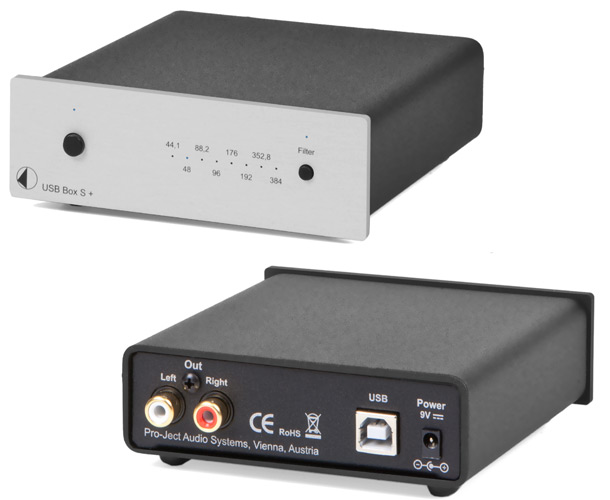 Pro-Ject Audio Systems USB Box S + è un DAC USB 32 bit/384 kHz disponibile da giugno ad un costo di 169 sterline.
Il nuovo DAC Pro-Ject Audio Systems USB Box S + è dotato di un chipset HiEnd XMOS in grado di supportare USB asincrono e streaming fino a 32-bit/384 kHz, con livelli minimi di jitter.
Sul pannello frontale del DAC vengono visualizzati la frequenza di campionamento del file in riproduzione, con tutti i flussi digitali campionati ad un livello superiore (up-scaling). Segnali a 44.1, 88.2 e 176.4 kHz possono essere up-campionati a 352.8 kHz; segnali a 48, 96 e 192 kHz a 384 kHz.
Il DAC Pro-Ject Audio Systems USB Box S + impiega un chip PCM5102A Burr-Brown, per fornire un ottimo rapporto segnale-rumore e notevole gamma dinamica, così come basse distorsione e impedenza di uscita.
Un'uscita a 2.1 V RMS consente un percorso del segnale audio, dopo il chip, senza necessità di impiegare condensatori supplementari e la dotazione di due impostazioni del filtro selezionabili, permettono all'utente di personalizzare il suono.
Il DAC è realizzato in solido alluminio e telaio metallico ed è disponibile in finitura nera o silver. Per quanto riguarda le connessioni impiega prese RCA dorate e USB di tipo B, allo scopo di fornire un trasferimento ottimale del segnale dal computer all'amplificatore .
Infine, una precisazione: per collegare il DAC ad un computer, gli utenti di Windows potrebbero essere tenuti a modificare alcune impostazioni audio; per questo viene fornito su CD un driver a 24 bit.  Per i sistemi Apple e Linux non sono richiesti driver aggiuntivi.
Produttore: PRO-JECT AUDIO SYSTEMS
Amazon Auto Links: No products found.
Amazon Auto Links: Could not resolve the given unit type, . Please be sure to update the auto-insert definition if you have deleted the unit.