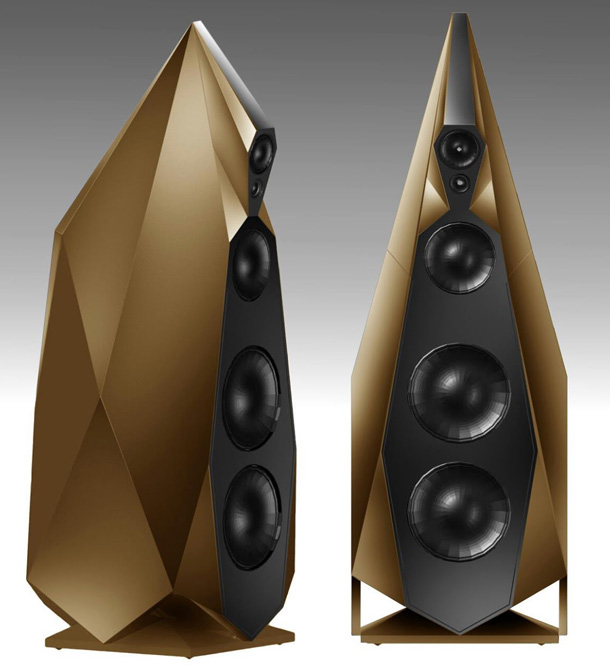 Dal Colorado le prime immagini dei diffusori Avalon Acoustics Tesseract, accompagnate solo da specifiche tecniche preliminari.
Dei diffusori Avalon Acoustics Tesseract per ora si sa che sono dei quattro vie, con quattro woofer da 15 pollici, un driver midbass ceramico/honeycomb da 11 pollici, un midrange ceramico da 4,5 pollici e un tweeter al diamante da 0,78 pollici. Questo l'ensemble sonoro-radiante. Il prezzo? Anche questo si sa: negli Stati Uniti si aggira intorno ai 300.000 dollari USA.
Caratteristiche tecniche dei diffusori Avalon Acoustics Tesseract
Frequency Response: 16 Hz ÷ 50 kHz (±1 dB anechoic with minimum sub damping settings)
No phase deviation or driver breack-up modes within –46 dB of output
No phase deviation greater than 4.2 degrees
Constant driver to driver Q
Constant first derivative radiational output
Relative harmonic distortion: <.30% throughout the passband
Driver Complement: 4 x 15″ low Q high BI sub woofers, 1 x 11″ ceramic/honeycomb underhung VC midbass, 1 x 4,5″ ceramic underhung VC midrange, 1 x .78″ diamond underhung VC tweeter
Efficiency: 92.5 dB
Recommended amplifier power: 5 ÷ 500 watts
Impedance: 5 ohms nominal and 4.6 ohms minimum
Impedance phase deviation: <10 degrees from 200 Hz ÷ 50 kHz
Powered and equalized proprietary isobaric trasmission line
Powered low frequency section impedance of 5 ohms ±.3 ohms
Group deley error: <1.5 milliseconds @ 16 Hz
Peak output power: 2,500 watts
Adjustable gain matching
Adjustable damping
Low frequency turntable filter cutoff
Height: 193 cm
Width: 74 cm
Produttore: AVALON
Distributore: ACUSTICA APPLICATA
Amazon Auto Links: Nessun prodotto trovato.