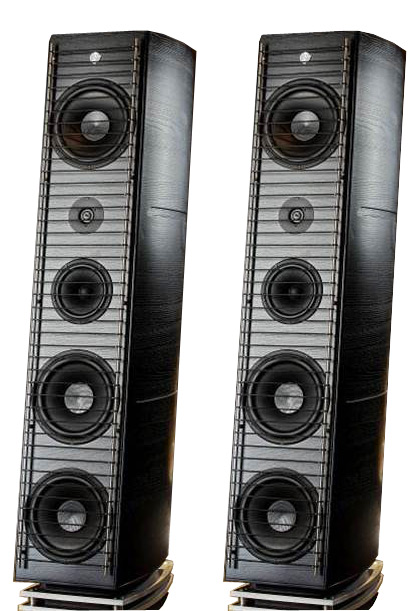 I diffusori Gamut Superior RS7 appartengono alla Serie RS, sono adatti ad ambienti di grandi dimensioni e sono caratterizzati da una riproduzione estremamente accurata.
I diffusori Gamut Superior RS7 sono a 3 vie, con lo stesso tweeter di alta qualità utilizzato in tutta la Serie RS e con un midrange DC-coupled, come per i diffusori RS9.
Al driver midrange è accoppiato un filtro speciale combinato serie/parallelo. Di conseguenza, non ci sono condensatori nel percorso del segnale, in modo da evitare errori di fase, sbavature o ritardi, che possono essere introdotti dai normali crossover.
Il risultato? Una riproduzione incredibilmente accurata e ad ampia gamma.
Il cabinet dei diffusori Gamut Superior RS7 è curvo, ottenuto con 21 singoli strati di vero legno. Lo smorzamento è minimo, per una sorprendente micro-dinamica, una riproduzione tonale più naturale e una maggiore dinamica complessiva.
Caratteristiche tecniche diffusori Gamut Superior RS7
Enclosure type: Impulse optimized Bass Reflex
Enclosure build: Laminated and Form pressed Solid wood over multilayered Birch plywood
Enclosure construction: Internal Bracing and pressure control segments and externally machined groves for optimized cabinet surfaces behaviour
Floor coupling: Solid aluminium spike system, resonance controlled
Internal Enclosure Acoustics: critically positioned & optimized acoustic elements
Driver separation: By acoustic elements only
Reflex Port: 2 x Anodized 5 mm solid aluminium, optimized flow, anti resonance coupled to the enclosure
Input terminals: GamuT machined Solid gold plated copper and Aluminium terminals
Connection options: Minimum loss bare wire connection or 12 mm Spades or 4 mm Banana
Woofer: 3 x 7" sliced cone, dynamic optimized, GamuT Hand treated cone structure
Midrange: 1 x 7" sliced cone, dynamic optimized, GamuT Hand treated cone structure
Tweeter: 1,5" impulse and resonance optimized Double ring radiator, with GamuT stainless steel wave guide
Network: Impulse correct and resonance optimized NRLI
Network configuration: 3 – way, DC coupled midrange, baffle-corrected for free in room placement
Impedance: 4 ohms nominal
Minimum impedance: 3,2 ohms at 250 Hz
Crossover point: 2150
Sensitivity: 89.5 dB/2.83 V
Frequency response: 27 Hz ÷ 60 kHz
Dimensions: 1310 (H) x 22 (W) x 520 (D) mm
Weight: 68 kg
Produttore: GAMUT AUDIO
4,82 €
3,99 €
COMPATIBILITÀ HDMI UNIVERSALE: Questo cavo HDMI 4K è compatibile con i tuoi lettori Blu-ray, amplificatore AV, Playstation PS5, PS4, PS3, XBox one, Xbox 360, Mi TV BOX, decoder TNT, Raspberry PI 3, NVIDIA Shield TV, Freebox, Livebox, i videoproiettor...
read more
(a partire da 1 Dicembre 2022 06:54 GMT +01:00 - Altre informazioni

Product prices and availability are accurate as of the date/time indicated and are subject to change. Any price and availability information displayed on [relevant Amazon Site(s), as applicable] at the time of purchase will apply to the purchase of this product.

)