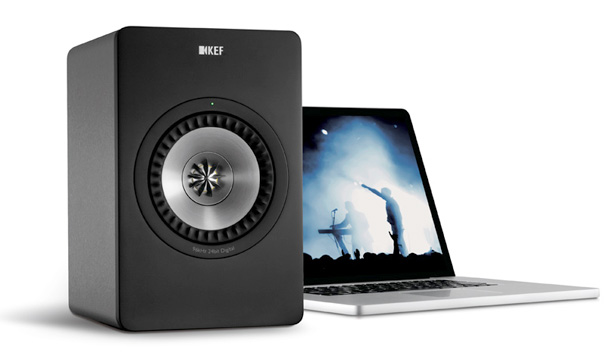 I diffusori Kef X300A sono stati progettati per l'utilizzo con un PC o con un Mac, desktop o portatile, lettore MP3 e smartphone. La connessione avviene tramite USB 96 kHz/24-bit o ingressi digitali.
I diffusori Kef X300A impiegano un driver Uni-Q, derivato dal diffusore di punta Kef Blade. L'Uni-Q utilizza un driver con un cono estremamente leggero e rigido, in alluminio/magnesio, progettato per fornire una gamma media veloce e pulita. Il tweeter, in alluminio, con guida d'onda Tangerine, è posto al centro del cono, per ottimizzarne le prestazioni.
Ogni diffusore dispone di due amplificatori in classe AB, uno per le alte frequenza e uno per le frequenze medie e basse. Per l'alimentazione degli amplificatori viene utilizzato un trasformatore toroidale ad alte prestazioni, così da ridurre al minimo il rumore da ronzio e interferenze elettromagnetiche.
Utilizzando un ingresso digitale con 96 kHz/24-bit, i diffusori X300A mantiengono, ogni singolo byte di informazioni della fonte, senza perdita o distorsione. Per evitare il jitter del convertitore digitale interno al computer, smartphone o lettore MP3, X300A ha un proprio DAC di alta qualità. Tutto ciò significa che il suono diventa eccezionalmente preciso.
Con i diffusori Kef X300A non c'è bisogno di essere un esperto, basta collegare gli altoparlanti direttamente al computer (e tra loro) con un collegamento USB. Così, dopo il collegamento del cavo di alimentazione alla rete elettrica, tutto è pronto per godere di una vera e propria esperienza hi-fi.
I diffusori Kef X300A includono anche un ingresso analogico, in modo da poter collegare qualsiasi lettore MP3 o smartphone. Commutabili in modalità EQ, permettono di ottimizzare facilmente il suono, ovunque si posizioni il diffusore (su una scrivania, a parete o nello spazio libero).
Il DAC, uno all'interno di ogni diffusore, di qualità audiophile, lavora in modalità asincrona USB. Quando si collega il sistema X300A al computer, viene bypassato il DAC interno del computer e utilizzato il DAC dei diffusori X300A.
Caratteristiche tecniche dei diffusori Kef X300A
System type
Two-way bass reflex
Drive units
Uni-Q driver array:
HF: 25mm (1in.) vented aluminium dome
LF/MF: 130mm (5.25in.) magnesium/aluminium alloy
Frequency response (±3dB)
58 Hz – 28 kHz
Frequency range (–6dB)
49 Hz – 45 kHz
Max peak SPL
104 dB
Amplifier type
Twin Class AB
Amplifier power
LF: 50 WHF: 20 W
AC power input
US/JP versions: 100-120 VAC, 50/60 Hz
EU/UK/China versions: 220-240 VAC, 50Hz
Analogue input
AUX: 3.5 mm stereo jack
Digital input
Resolution
Sampling rate
USB 2.0: mini USB type B connector
Up to 24-bit
Up to 96kHz, depending on source resolution
Controls
Balance control
System volume control
Internal volume
4.7 l
Finish
Gunmetal
Dimension (H x W x D)
Without heatsink:
280 x 180 x 215mm (11.0 x 7.1 x 8.5 in.)
With heatsink:
280 x 180 x 243mm (11.0 x 7.1 x 9.6 in.)
Weight
7.5kg (16.5lbs) per speaker
Produttore: KEF
Distributore: EUROSELL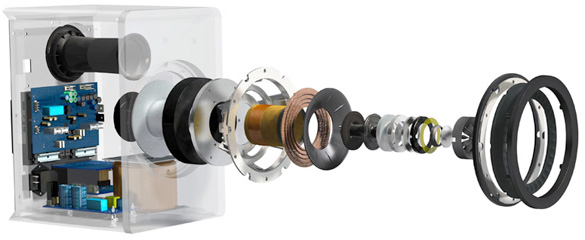 Amazon Auto Links: No products found.