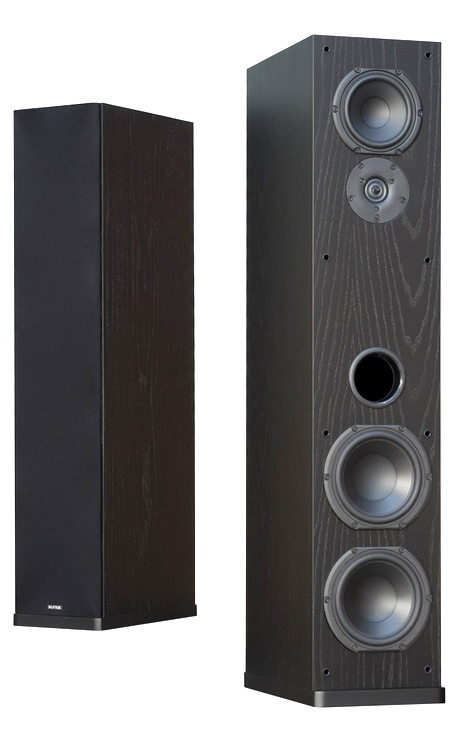 Krix Harmonix MK2 sono diffusori australiani da pavimento per l'ascolto stereo, che possono essere ottimamente impiegati anche in home theater.
I diffusori Krix Harmonix MK2 sono dei tre vie con quattro altoparlanti. Impiegano due woofer da 165 millimetri con l'area del cono maggiorata, per una riproduzione dei bassi senza sforzo; un midrange da 130 millimetri e un tweeter Super Audio da 26 millimetri, con radiatore ad anello più guida d'onda centrale, per una migliore intelligibilità e trasparenza.
La risposta in frequenza si estende sino a 40 kHz, con una profonda gamma dei bassi e una notevole dinamica. La gamma vocale non affatica mai l'ascolto e appare lucida e dettagliata.
Il cabinet è rinforzato internamente per ridurre stazionarie e risonanze, offrendo una migliore prestazione ai bassi. È disponibile in cinque finiture diverse, oltre alla possibilità di customizzazione.
Caratteristiche diffusori Krix Harmonix MK2
Frequency Range: 30 Hz ÷ 20 kHz in room response
Power Handling: Maximum 180 watts RMS amplifier power
Sensitivity: 90 dB for 2.83 volts at 1 metre
Configuration: 4 driver 3-way bi-wirable / bi-ampable
Drivers: Bass Driver 2 x nominal 165 mm laminated polypropylene cones, 33 mm voice coil wound on high powered aluminium former, with ventilated spider and aluminium flux stabilization ring for low distortion; Mid Range Driver 1 x nominal 130 mm coated paper cone, 26 mm voice coil wound on high powered aluminium former, using copper shorting ring and oversized magnet for lower distortion; Tweeter 25 mm dual concentric diaphragm with wave-guide centre plug for controlled directivity. Non-reflective dual chambered magnet structure with copper shorting ring to lower distortion
Crossover Points: 340 Hz & 2.2 kHz
Impedance: Nominally 4 ohms
Enclosure Type: Dual chambers – sealed midrange chamber, with bass reflex main chamber, front vented with internal / external flaring
Dimensions in mm: 104 high x 220 wide x 350 deep
Material: 17 mm MDF enclosure, heavily braced
Volume: 46 litres internal
Weight: 28 kg each
Prezzo: 2.795 dollari australiani la coppia
Produttore: KRIX
9,99 €
Dimensioni: 2,8 mm. Materiale del morsetto: ottone. Materiale della cassa: ABS. Numero di pin: 2, 3, 4, 6, 9 pin. Larghezza del morsetto: 2,8 mm. Dimensioni dei perni: 2,8 mm. Connettori terminali maschio e femmina. Può essere utilizzato su auto, cic...
read more
(a partire da 22 Maggio 2022 00:44 GMT +02:00 - Altre informazioni

Product prices and availability are accurate as of the date/time indicated and are subject to change. Any price and availability information displayed on [relevant Amazon Site(s), as applicable] at the time of purchase will apply to the purchase of this product.

)