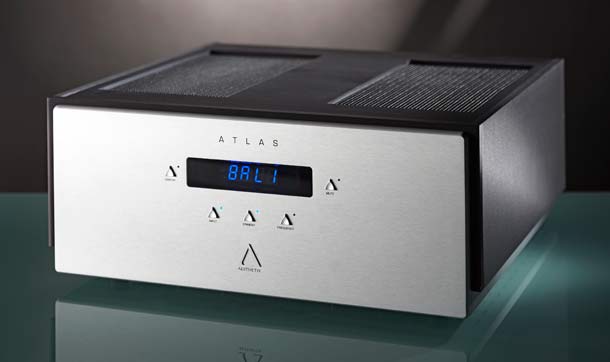 Aesthetix Atlas è un amplificatore ibrido dotato di un design innovativo, che incorpora uno stadio di uscita bipolare e uno stadio di guadagno in ingresso a tubo. Viene presentato come l'unico amplificatore ibrido a zero feedback, secondo alcune correnti di pensiero, essenziale per mantenere l'integrità armonica, l'ariosità e la coerenza sonora.
L'amplificatore Aesthetix Atlas è descritto da What Hi – Fi ? Sound & Vision come "Uno dei migliori amplificatori che il denaro può comprare", e da Stereophile come "Uno tra i più grandi amplificatori".
Una valvola 6SN7 per ogni canale viene utilizzata per fornire il guadagno di tensione. I suoi due trasformatori e le tre induttanze sono alloggiati sotto una copertura in acciaio inossidabile, per evitare interferenze con la circuiteria audio di eventuali campi magnetici vaganti. Un crossover da 6 dB/ottava passa-alto è impostato a 16 diversi valori tra 40 e 200 Hz con incrementi di 10 Hz. Una caratteristica insolita che è l'ideale per i diffusori dotati woofer alimentati (ad esempio Vandersteen) o per sistemi audio e home cinema con sub-woofer separato. In alternativa, un ingresso diretto sul pannello posteriore by- passa tutti gli interruttori e i crossover e l'amplificatore si può utilizzare in modalità full-bandwidth tradizionale.
I risultati sembrerebbero impressionanti. L'Atlas è in grado di pilotare qualsiasi diffusore di alta qualità, anche quelli più ostici.
La gamma completa Atlas comprende tre modelli: Atlas Stereo Standard, Atlas Stereo Signature e Atlas Mono. Tutti sono disponibili con frontalino nero o silver.
Caratteristiche tecniche ampli finali Aesthetix Atlas
Power output: 200 wpc into 8 Ω, 400 wpc into 4 Ω (stereo) – 300 wpc into 8 Ω, 550 wpc into 4 Ω (mono)
Input sensitivity:  60 mV (1 watt), 2.3 V (full power) stereo – 60 mV (1 watt), 3.1 V (full power) mono
Input impedance: 470 kΩ
Output impedance: 0.25 at 1 kHz
Signal to noise: 120 dB
Bandwidth at full power 4 ÷ 150 kHz
Rated THD at full power: <1%
Power consumption: 100 watts at idle
Dimensions: 18″ (w) x 8″ (h) x 19″ (d)
Weight: 70 lbs
Warranty: 3 years, non-transferable
Produttore: AESTHETIX
Amazon Auto Links: No products found.
Amazon Auto Links: Could not resolve the given unit type, . Please be sure to update the auto-insert definition if you have deleted the unit.