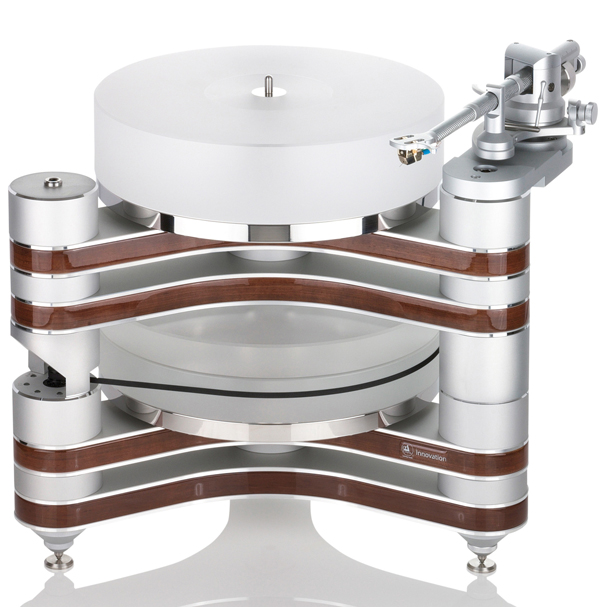 È arrivato il nuovo giradischi Clearaudio Master Innovation. È l'ultimo della serie Innovation e rappresenta il raggiungimento di un nuovo stadio nella continua ricerca di Clearaudio per la perfezione.
E il nome non è casuale. Questo giradischi Clearaudio Master Innovation è un prodotto all'avanguardia, un capolavoro ricco di funzionalità, davvero un maestro di innovazione. Derivato dal modello top senza compromessi di Clearaudio, il Master Innovation è considerato da alcuni il più bello e innovativo del mondo. Quello che mette in mostra il maggior numero dei brevetti Clearaudio.
L'obiettivo? Produrre una performance da dischi in vinile che gli stessi artisti, abituati agli originali di registrazione, potevano solo sognare. E che richiede meno di un quinto degli investimenti richiesti dal modello Statement. Tutto per rendere un sogno a portata di mano audiophile.
Impareggiabile, senza contatto, a trascinamento magnetico
Il giradischi Clearaudio Master Innovation è dotato di un piatto galleggiante principale, che ruota senza alcun contatto fisico con la sorgente motrice.
Quello che a prima vista sembra essere un complesso verticale di piatti in pila, in realtà è costituito da un piatto principale in due pezzi, di cui quello superiore a trascinamento magnetico e un piatto inferiore, sempre a due pezzi. Una stretta fessura separa le due parti dei piatti superiori da quelli inferiori magnetici, in modo che non si tocchino fisicamente. Un anello di potenti magneti trasferiscono il movimento dall'uno all'altro piatto, in modo che l'intero gruppo ruoti con precisione e il piatto/disco risulti galleggiante.
Il giradischi Clearaudio Master Innovation, oltre ad avere un azionamento silenzioso, senza attrito e senza contatto, è dotato di una massa doppia che fa da volano.
Cuscinetto ceramico magnetico (Ceramic Magnetic Bearing  – CMB)
Gli estimatori dei giradischi Clearaudio conoscono già questi cuscinetti magnetici di ceramica (tecnologia CMB), che utilizzano magneti contrapposti per tenere in sospensione il piatto principale. L'albero in ceramica (in ceramica perché può essere levigato ad un livello molto più elevato rispetto al metallo) serve solo a centrare il piatto girevole. Infatti, nonostante il peso del piatto, che è supportato da magneti, non vi è alcun punto di carico che possa causare attrito o generare rumore.
Nel giradischi Clearaudio Master Innovation l'albero ceramico prosegue attraverso il cuscinetto magnetico, dove è attaccato al piatto superiore azionato magneticamente. Di conseguenza, nessun contatto e nessun rumore.
Controllo ottico della velocità (OSC)
Il sistema di azionamento impiega la tecnologia brevettata di Clearaudio Optical Speed ​​Control (OSC). Il piatto inferiore, abbiamo visto, è costituito da due parti, la parte più bassa è in acciaio inossidabile da 15 millimetri di spessore e sulla faccia inferiore c'è un anello stroboscopico microscopico inciso con 1.500 barrette (troppo piccole per essere visibili). L'anello stroboscopico viene letto da un sensore a infrarossi migliaia di volte al secondo e l'informazione inviata al motore che, conseguentemente, assume l'esatta velocità. Il risultato è un eccellente livello di stabilità e precisione.
Costruzione eccezionale, dinamica ed elegante
Il sistema piatto-motore-braccio del giradischi Clearaudio Master Innovation è sostenuto da un telaio altamente dinamico e ben ingegnerizzato costituito da quattro livelli principali
I due livelli più bassi sostengono il piatto inferiore, il motore a corrente continua ad alta coppia, il pannello di controllo e il sistema di controllo ottico della velocità
I due livelli superiori ospitano il Ceramic Magnetic Bearing (CMB), in cui galleggiano il piatto principale e il piatto superiore a trascinamento magnetico e forniscono anche le basi per tre bracci
Ciascuno dei quattro livelli è costituito da un complesso a sandwich di alluminio, Panzerholz®. Il Panzerholz® è a prova di proiettile. Si tratta di un'armatura placcata a base di legno, che si ottiene sotto una grandissima pressione e offre uno smorzamento eccezionale alle risonanze
Il giradischi Clearaudio Master Innovation è disponibile con una varietà di finiture e materiali: alluminio nero o argento anodizzato, trasparente o laccato lucido nero Panzerholz® e POM nero, piatti acrilici chiari.
Caratteristiche tecniche giradischi Clearaudio Master Innovation
Construction principle: resonance optimised chassis. Panzerholz® and aluminium sandwich construction
Speeds: electronic, 33 1/3, 45 & 78 rpm
Drive system: belt-driven magnetic contactless drive system incorporating Clearaudio Optical Speed Control
Main turntable bearing: Clearaudio Ceramic Magnetic Bearing
Main platter assembly: 70 mm dynamically balanced main platter, made of acrylic or high density POM on top of 15 mm precision CNC-machined dynamically balanced stainless steel sub-platter. Linked via ceramic shaft to upper magnetic drive platter.
Speed accuracy: ±0.05%
Weight approximately: 60 kg (excluding tonearms and power supply)
Dimensions (W x D x H): 479 x 485 x 425 mm
Finishes: Silver & wood, black
Manufacturer's guarantee: 5 years (provided correctly filled out warranty card is returned to Clearaudio within 2 weeks of purchase)
Price: £ 14,500 wood – £ 15,400 black
Produttore: CLEARAUDIO
Auto Amazon Links: Nessun prodotto trovato.
7,99 € (7,99 € / m)
[Ampia Compatibilità] Collegare facilmente qualsiasi dispositivo con connettore audio da 3,5 mm, Il cavo jack audio Aux da 3,5 mm è compatibile con iPhone, iPad, iPod, cuffie, auricolari, smartphone, tablet, laptop, sistemi Hi-Fi, altoparlanti, autor...
read more
(a partire da 3 Dicembre 2021 20:38 GMT +01:00 - Altre informazioni

Product prices and availability are accurate as of the date/time indicated and are subject to change. Any price and availability information displayed on [relevant Amazon Site(s), as applicable] at the time of purchase will apply to the purchase of this product.

)