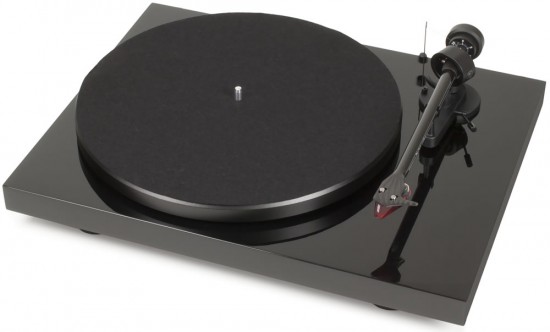 Il giradischi Debut fu introdotto sul mercato a fine anni '90. E oggi la Pro-Ject Audio Systems riprende quel progetto, lo attualizza e lo mette a portata di mano degli appassionati di vinile con qualsiasi budget a disposizione. Ecco il Debut Carbon.
L'idea è quella di portare nel mass market un giradischi di qualità adatta a soddisfare anche il più esigente degli audiofili, nonché di mettere alla portata di tutti la possibilità di godere del "dolce suono del vinile".
Questa è la filosofia che c'è dietro l'introduzione sul mercato del Pro-Ject Audio Systems Debut Carbon, il giradischi che riprende i fasti del Debut, che risale ormai a venti anni fa e che entrò addirittura al Museo di Arte Contemporanea di Vienna in tutte le sue varianti cromatiche (veniva proposto in una gamma di colori che andava dal rosso al verde).
Il ritorno al vinile non è solo una moda passeggera, ma una vera e propria esigenza di audiofili e appassionati che non vogliono rassegnarsi alle asprezze del suono digitale. Il fenomeno è talmente al di fuori dalle "solite nicchie" che anche la De Agostini se n'è accorta e lo scorso autunno ha pubblicato a dispense, in edicola, una raccolta di LP jazz in vinile da 180°.
Il Debut Carbon si rivolge, quindi, a vecchi a nuovi appassionati del vinile che per una volta possono avvicinarsi all'hi-fi senza compromessi anche senza fare un mutuo.
Il Debut Carbon è disponibile con la testina OM10 a un prezzo suggerito di 299 € e con la Ortofon 2Mred a 349 €.
Ecco il riassunto delle caratteristiche tecniche:
Speed 33, 45 (manual speed change)
Drive principle belt drive
Platter 300mm metal with felt mat
Mains bearing stainless steel
Wow & flutter +/- 0,10%
Speed drift +/- 0,80%
Signal to noise – 68dB
Tonearm 8,6", Carbon
Effektive arm length 218,5 mm
Effective arm mass 6,0 g
Overhang 18,5mm
Tracking force 10 – 30mN
Included accessories RCA cable, lid
Dimensions 415 x 118 x 320mm (WxHxD) lid closed
Weight 5,6 kg net
Distributore: AUDIOGAMMA
Amazon Auto Links: No products found.
Amazon Auto Links: Could not resolve the given unit type, . Please be sure to update the auto-insert definition if you have deleted the unit.