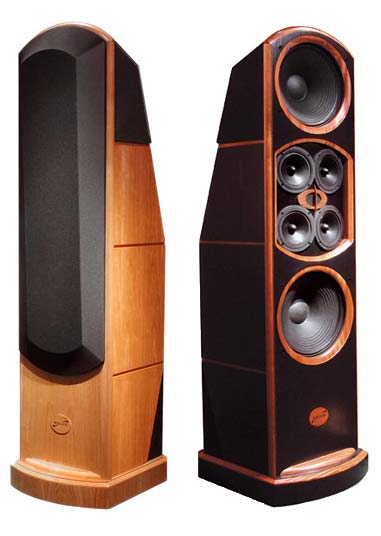 I diffusori Legacy Audio Helix sono il risultato di anni di continui ascolti e ricerche da parte del fondatore di Legacy Audio, Bill Dudleston. Il sistema di altoparlanti HELIX applica tecnologie d'avanguardia, per stabilire nuovi standard di performance.
Legacy Audio Helix; ecco subito alcune caratteristiche che denotano il tipo di diffusori con cui abbiamo a che fare: no riflessioni nella stanza d'ascolto, allargamento della scena sonora, efficienza di oltre 120 dB su tutta la gamma riprodotta, amplificazione separata per ciascuna via, subwoofer stereo incorporati alimentati da 750 watt di amplificazione ICEpower ®.
Helix viene presentato come il sistema di altoparlanti più avanzato al mondo. Costruire una cassa acustica efficiente, per alta dinamica, viene paragonato alla costruzione di una grande piramide: il raggiungimento di un'apice più alto richiede un notevole incremento delle dimensioni della base.
Con l'aiuto di produttori provenienti da Francia, Italia e Canada, Legacy ha sviluppato una famiglia unica di driver per il sistema Helix.
Unità Medio-bassi e midrange al neodimio simmetricamente disposti forniscono un modello di direttività di forma tale che elimina le riflessioni ai fianchi e del pavimento.
Una coppia di tweeter da 1″ sono disposti divaricati, per adeguarsi a questo modello di radiazione. Ogni tweeter sfrutta magneti bipolari al neodimio.
Una lente speciale è stata progettata per fornire l'impedenza acustica ai diaframmi e prevenire il cosiddetto filtraggio a pettine.
Bassi profondi emergono dal "Silver-Graphite/Rohacell", subwoofer rinforzato da 15″, montato in modo tale da ridurre al minimo le onde stazionarie.
Il rispetto della fase tra tutti i driver dei diffusori Helix si ottiene grazie ad un sofisticato processore di compensazione digitale del tempo.
All'interno della matrice digitale, le funzioni di trasferimento per ogni driver possono essere derivate via somma e sottrazione. Il risultato è una grandissima precisione dell'evento acustico totalmente coerente dal punto di vista spaziale e temporale. Il tutto può essere personalizzato per ogni ambiente d'ascolto tramite una porta seriale / USB
Caratteristiche tecniche diffusori Legacy Audio Helix
System Type: 10 driver, 4 way
Tweeter: Neo-Quadra-pole
Midrange: 4 x 6″ Curilinear ultra light diaphragm with cast frame
Midwoofer: 3 x 15″ Carbon pulp with Neodymium motors, cast frame
Subwoofer: 1 x 15″ Rohacell reinforced-Silver Graphite, cast frame, 750 watt ICEpower® amplifier
Low Frequency Alignment: Multi-coil stabilized
Freq. Response (Hz, ±2 dB): 16 Hz ÷ 30KHz, includes 24 bit processor
Impedance: 4 Ohm
Sensitivity: (Room, dB @ 2.83 V) 100 dB
Recommended Amplification: Treble 10-200 watts, Mid 10-300 watts, Bass 50-500 watts
Crossover: 60 Hz, 400 Hz, 4.5 KHz
Binding Posts: 3 Pair
Cabinet Dimensions: HxWxD (inches): 74.5 x 18.5 x 23
Shipping Weight: 502 lbs each
Shipping Dimensions: HxWxD (inches): 80.5 x 27.5 x 28.5
Finish: available in 9 different wood finishes
Produttore: LEGACY AUDIO
Amazon Auto Links: No products found.
Amazon Auto Links: Could not resolve the given unit type, . Please be sure to update the auto-insert definition if you have deleted the unit.