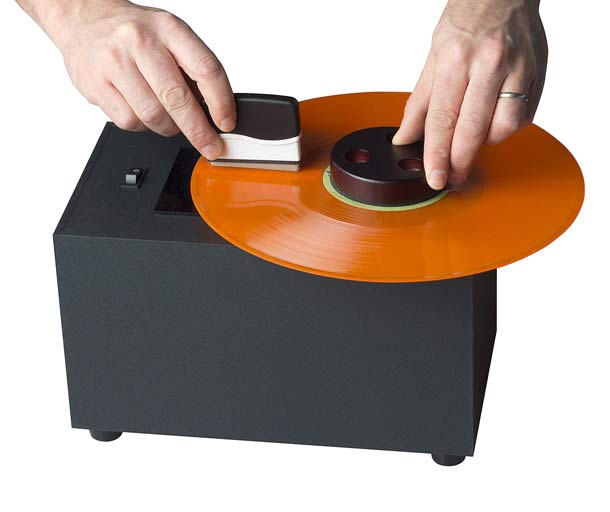 Dopo alcune macchine lava-dischi dal prezzo proibitivo, eccone una più abbordabile da tutti, la Record Doctor V, meno sofisticata e senza automatismi, ma vi permetterà di non vendere l'impianto stereo per acquistarla.
La Record Doctor presenta il nuovo modello di lava-dischi che, pur offrendo le stesse prestazioni del precedente (Record Doctor III), ora ha un prezzo molto più basso: 199 dollari, invece di 299.
Questa macchina, non solo pulisce i dischi, ma contribuisce a prolungare la loro vita, mantenendoli privi di polvere e sporcizia.
Le economie adottate per ottenere questo prezzo, indiscutibilmente basso, sono state varie, ad esempio l'eliminazione del motore che fa girare il disco, dovrete farlo voi, a mano. La Record Doctor V dispone semplicemente di un cuscinetto di precisione, per fare girare i dischi facilmente e di un serbatoio di stoccaggio, per la facile rimozione dei liquidi di pulizia. Altro risparmio sul mobile, realizzato con materiale robusto, ma più economico, rispetto al precedente.
La Record Doctor V viene fornita completa di una bottiglia di liquido, di spazzola e istruzioni.
Per ulteriori dettagli scarica il Pdf
Produttore: RECORD DOCTOR
http://youtu.be/Kc9lBc43Kx4
Amazon Auto Links: No products found.
Amazon Auto Links: Could not resolve the given unit type, . Please be sure to update the auto-insert definition if you have deleted the unit.