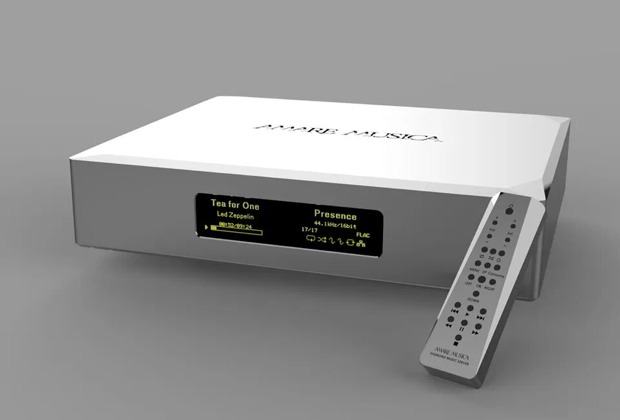 Amare Musica Diamond, dalla Polonia arriva il music server a prova di audiofilo e senza alcun limite su ognuno degli ingressi disponibili.
Forte di un design davvero raffinato, dalla Polonia l'Amare Musica Diamond è pronto per la conquista del mondo.
Si tratta di un music server / network player pronto per riprodurre qualsiasi formato, anche il DSD che va tanto di moda nel mondo della musica liquida in HD (Hi-Res Audio).
L'elenco delle risoluzioni supportate è impressionante. In pratica non ci sono limiti per ognuno degli ingressi disponibili.
Più in dettaglio:
Coassiale: 16-24 bit / 44.1 k / 48 k / 88.2 k / 96 k / 176.4 k / 192 k
AES/EB: 16-24 bit / 44.1 k / 48 k / 88.2 k / 96 k / 176.4 k / 192 k
USB: 16-32 bit / 44.1 k / 48 k / 88.2 k / 96 k / 176.4 k / 192 k / 352.8 k / 384 k
e DSD × 64(2.8224 MHz)/ DSD × 128(5.6448 MHz)
Diverse le modalità di controllo dell'apparecchio: il telecomando in dotazione, interamente realizzato in alluminio, direttamente da computer (PC e Mac) e l'immancabile App per IOS, Android e Windows Mobile.
All'interno dell'Amare Musica Diamond trova posto il sistema operativo Linux in una versione modificata ad hoc e che si interfaccia in maniera semplice ed immediata con NAS con dentro Samba. L'USB 2.0 e quella 3.0 in dotazione supportano ognuna dischi fino a 3 TB.
Per garantire lo streaming senza strappi e in modalità gapless, è presente la sola porta Ethernet di tipo Gigabit. Completano la panoramica sull'Amare Musica Diamond una unità PSU a bassimo rumore, i piedini anti-vibrazione e il circuito Soundcare® SuperSpikes
Amare Musica Diamond audiophile music server (questo il nome completo), sarà presto corredato dall'Amare Musica Diamond DAC. La commercializzazione comincia proprio in questi giorni e il prezzo dovrebbe essere (il condizionale è d'obbligo) di circa 3.500 euro.
Produttore: AMARE MUSICA
Amazon Auto Links: No products found.
Amazon Auto Links: Could not resolve the given unit type, . Please be sure to update the auto-insert definition if you have deleted the unit.