Il Cocktail Audio X45 Pro è il nuovo oggetto del desiderio nel campo dei player di musica liquida. Con la sua molteplicità di funzioni a cui il marchio ci ha piacevolmente abituato e con la sua costruzione da top di gamma… è un apparecchio non per tutte le tasche.
Definire il Cocktail Audio X45 Pro un player di musica liquida è parecchio riduttivo, dato che si pone come un vero e proprio all-in-one per soddisfare tutte le necessità in campo di musica digitale, ma anche per trasformare i vinili in file.
Si tratta quindi di un DAC, CD Ripper, Network Streamer, Music Recorder e molto altro ancora. E tutto con caratteristiche "top".
Il convertitore a bordo è il SABRE PRO ES9038PRO a 8 canali, capace di supportare risoluzioni fino a 32bit/768Khz in PCM e DSD512 nativo, famoso per la sua gamma dinamica (140 dB) e per l'uso dei velocissimi amplificatori operazionali OPA627BP. Questi ultimi sono caratterizzati da un ingresso FET ad alte prestazioni Burr-Brown di Texas Instruments.
X45Pro è in grado di leggere e di riprodurre, con lettura diretta o in streaming via rete, tutti i principali formati audio di tipo lossless (in standard PCM, MQA e DSD) anche in alta risoluzione (fino a 32bit/768kHz, come i file FLAC HD,  i WAV HD, i DSD ed i DXD).
Il Cocktail Audio X45 Pro presenta una doppia alimentazione, separando quindi il dominio analogico da quello digitale, affidando il primo a un generoso toroidale e il secondo a un trasformatore digitale SMPS, entrambi completamente schermati da apposite protezioni di alluminio.
Novatron (la casa madre, che in Europa lavora col marchio Cocktail Audio), per questo X45 Pro non ha badato a spese. Oltre ad aver scelto il miglior convertitore in circolazione e i migliori op-amp, sotto la scocca ha inserito un processore Quad Core ARM Cortex A9 da 1.0 GHz, un microcontrollore a 16 core con architettura RISC avanzata per funzione USB DAC e un display da 7 pollici ben visibile anche a discreta distanza.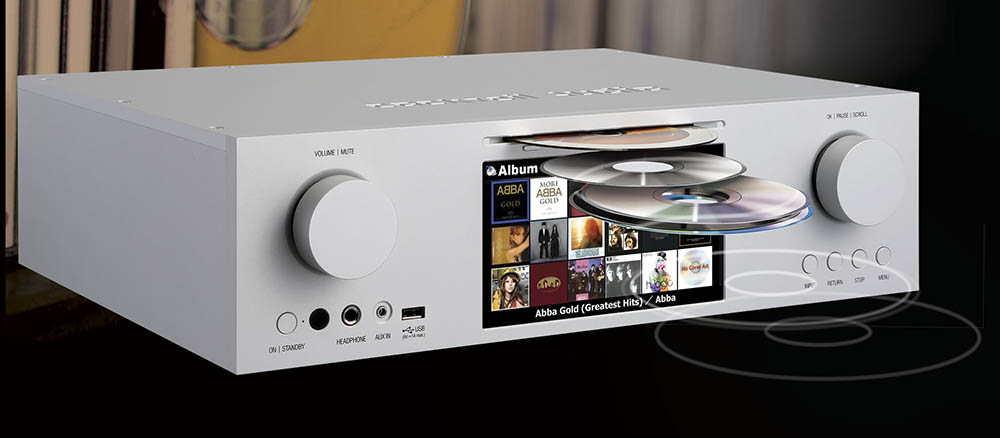 Ma questo apparecchio è anche un CD player e un CD ripper, monta un sintonizzatore DAB, DAB+ e FM e tra i tanti ingressi e uscite (su cui ritorneremo) c'è anche il phono MM, per rippare sull'hard disk interno i propri vinili, trasformandoli in immortali file (anche) grazie al convertitore analogico-digitale integrato.
La meccanica di lettura dei CD è tutta nuova e ad alta precisione: consente l'estrazione dei file da CD in modalità bit-perfect e – come al solito – il Cocktail Audio X45 Pro aggiunge automaticamente i meta tag e la copertina. Inoltre, grazie alla tecnologia Active OPC (Running OPC) "Optimum Power Controller"vengono assicurate masterizzazioni più affidabili. Active OPC monitora continuamente il livello del segnale durante la registrazione e regola il laser per compensare l'intensità del raggio in caso di disco non perfettamente pulito, garantendo così un flusso di segnale sempre costante.

Se desiderate connettere questo gioiellino a un DAC esterno avete ben 4 uscite digitali a disposizione: Toslink, Coax, AES/EBU, USB 2.0. La Toslink si ferma a 24 bit e 192 kHz, mentre le altre si spingono fino a 32 bit e 384 kHz.
Le uscite analogiche disponibili sono le classiche RCA e le uscite bilanciate XLR. È possibile configurare le uscite in due distinte modalità operative: Fixed: in questo caso il livello del segnale di uscita è fisso; Variabile: in questo caso il livello del segnale di uscita è variabile e regolabile da telecomando, diventando di fatto un preamplificatore. È anche disponibile un'uscita HDMI per il collegamento a un TV (che fungerà quindi come monitor di controllo).
Gli ingressi digitali sono la classica terna USB, Toslink, Coax, a cui s'aggiunge l'AES/EBU. L'ingresso USB AUDIO accetta segnali PCM fino a 32bit/768KHz, DSD64, DSD128, DSD256, DSD512, MQA, mentre gli altri accettano PCM 24 bit / 192 kHz.
Il sistema di raffreddamento del Cocktail Audio X45 Pro è di tipo passivo, ovvero senza ventole.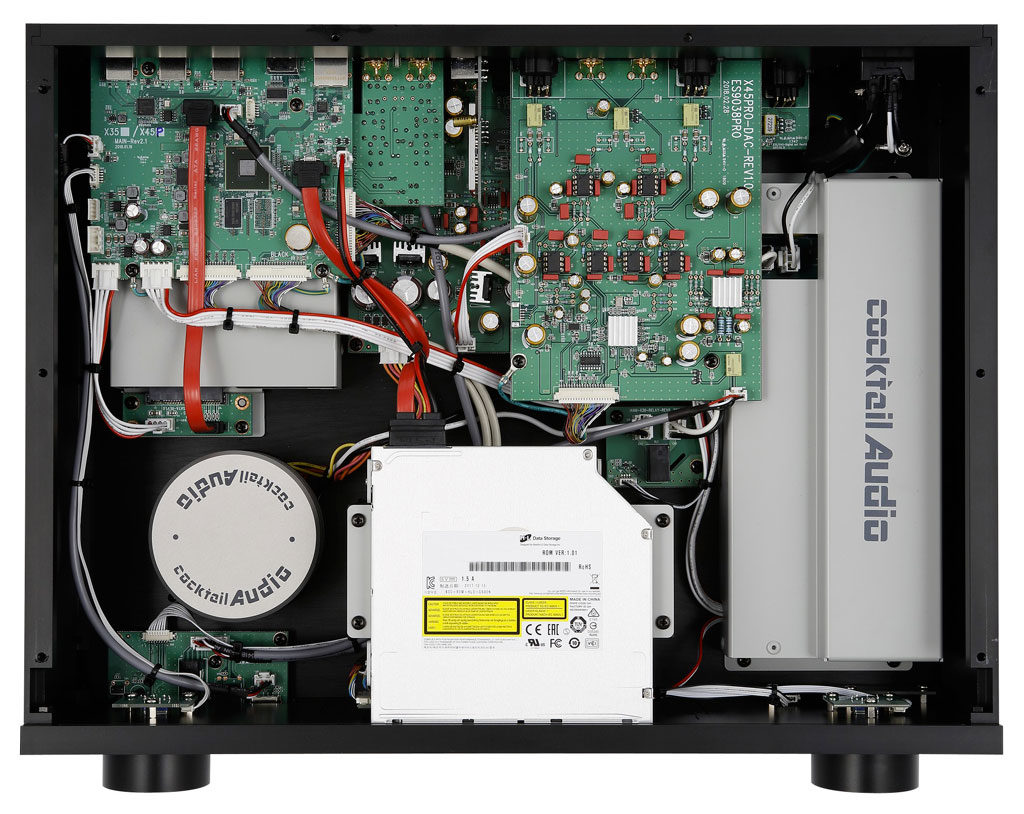 Oltre a poter ospitare un hard disk interno (fino a 8 TB, sia meccanico e sia SSD), tramite la connessione LAN  può anche lavorare in lettura e scrittura su un NAS (il WiFi è opzionale tramite dingle dedicato).
Ma allora, il Cocktail Audio X45 Pro non ha difetti? Uno, a onor del vero ce l'ha, si tratta del prezzo non proprio "popolare": per portarselo a casa occorrono poco meno di 5.000 euro.
Amazon Auto Links: No products found.
Amazon Auto Links: Could not resolve the given unit type, . Please be sure to update the auto-insert definition if you have deleted the unit.