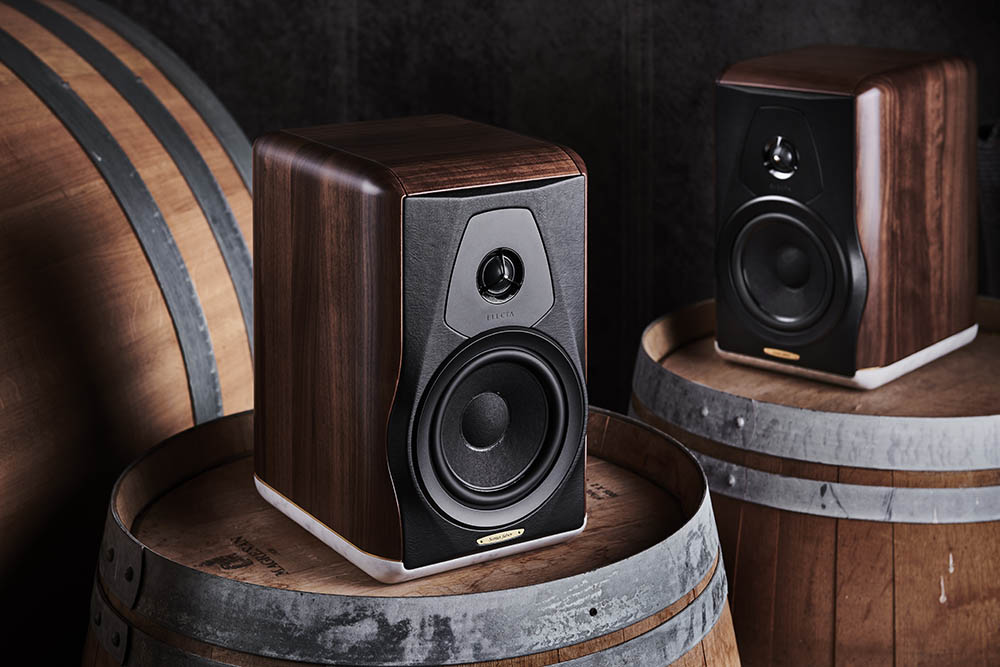 Le Sonus Faber Electa Amator III vengono presentate in anteprima (e a sorpresa) proprio in questi giorni, al Rocky Mountain International Audio Fest, in Colorado. Un ottimo modo per festeggiare il 35esimo compleanno dell'azienda italiana a vocazione internazionale.
Le Sonus Faber Electa Amator III sono il nuovo gioiello del produttore vicentino, un diffusore di piccole dimensioni, ma molto prezioso, che riprende ed eredita le caratteristiche di Electa Amator (1987) ed Electa Amator II (1997), due tra i modelli che hanno maggiormente contribuito al successo internazionale di Sonus Faber.
Proseguono il cammino dell'azienda che ha conquistato tutto il mondo tenendo sempre bene a mente tre linee guida: materiali preziosi, alta artigianalità ed il suono naturale.
Le Sonus Faber Electa Amator III sfoggiano un cabinet in noce massello, con la base in marmo di Carrara interposta da una lamina di ottone. Quelle che sembrano semplici soluzioni estetiche in realtà anche un loro perché nel raffinato progetto di questo diffusore.
Anche il frontale con il rivestimento in pelle realizzato a mano è parte integrante della struttura del cabinet.
Le Sonus Faber Electa Amator III vengono fornite insieme allo stand dedicato, composto da colonne in alluminio anodizzato nero riempite di materiale smorzante e una base anch'essa in marmo di Carrara, separata dall'alluminio da una sottile lamina di ottone, in armonia con il cabinet del diffusore.
Si tratta di casse acustiche a 2 vie, un tweeter da 28 millimetri realizzato con tecnologia Damped Apex Dome ™ (con il tripode che ricorda la medesima soluzione estetica del suo predecessore) e un mid-woofer da 6,5 pollici di nuova concezione e realizzato appositamente per questo progetto.
A legare i due altoparlanti c'è un filtro di crossover con condensatori Claify Cap ESA e realizzato con tecnologia Paracorss topology.
In arrivo sul mercato europeo a novembre (e un mese dopo nel resto del mondo), le Sonus Faber Electa Amator III hanno un prezzo adeguato alla loro fattura, anche se non certo per tutti:  il prezzo suggerito al pubblico del diffusore con lo stand dedicato è 10.000 € (IVA inclusa).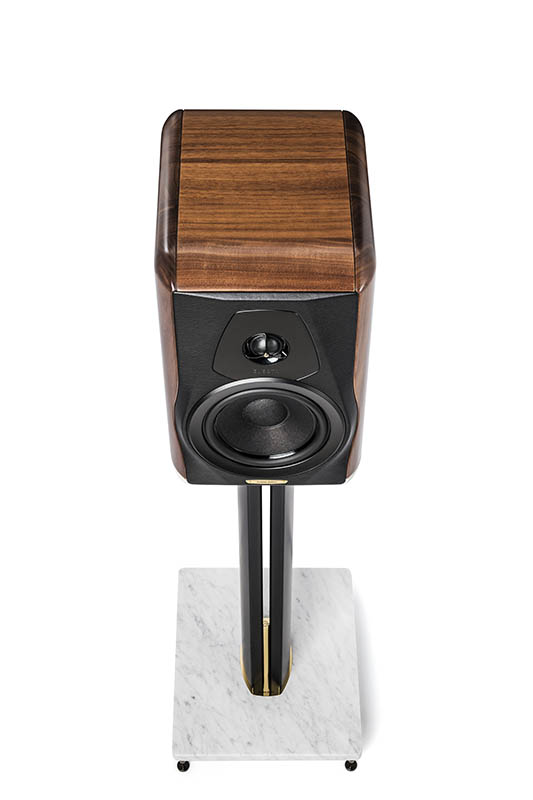 Caratteristiche tecniche diffusori a due vie Sonus Faber Electa Amator III
2-way bookshelf/standmount vented loudspeaker system
High rigidity spread resonance spectrum system obtained through a 3 layers constrained sandwich construction: Solid walnut main cabinet (made of 25mm thick sheets)/Carrara marble base (30mm thick)/Brass sheet in between. Leather covered baffle and back panel
Tweeter H28 XTR-04 DAD Sonus faber design silk dome 28 mm "Arrow Point" DAD tweeter
Midwoofer MW18XTR-04 Sonus faber design 180 mm cone with real time air dried non pressed blend of traditional cellulose pulp, kapok, kenaf and other natural fibers
Crossover anti-resonant design, optimized amplitude and phase responses for optimal space/time performance. "Paracross topology". Highest precision components with Clarity Cap PP non-polarized capacitors and low resistance Jantzen inductors. Crossover frequency: 2.500 Hz @-6dB
Frequency response 40 Hz – 35.000 Hz
Sensibility 88 dB SPL (2,83V/1 m)
Nominal impedence 4 ohm
Suggested amplifier power output 35-200W, without clipping
Dimensions (HxWxD) 375 x 235 x 360 mm / 148 x 93 x 142 in
Dedicated stand dimension (HxWxD) 720 x 300 x 350 mm / 284 x 118 x 138 in
Weight 14,6 Kg / 32,2 lb each
Dedicated stand weight 9,5 Kg / 21 lb each
Amazon Auto Links: No products found.
Amazon Auto Links: Could not resolve the given unit type, . Please be sure to update the auto-insert definition if you have deleted the unit.