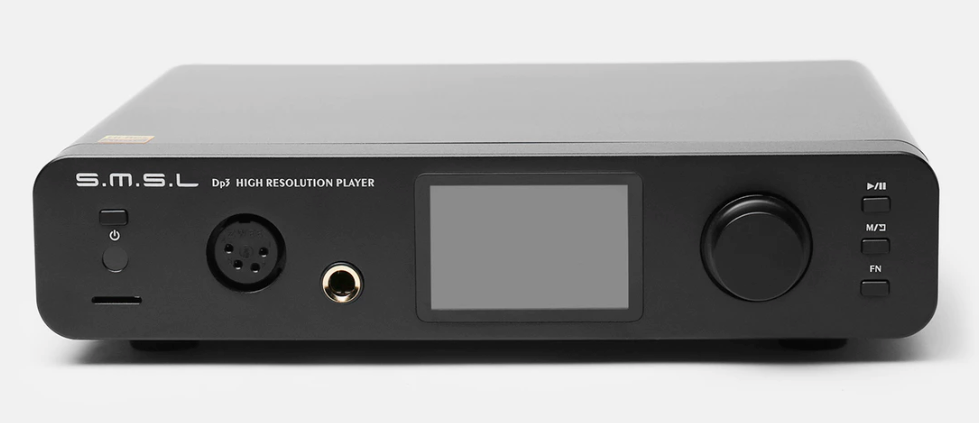 Ampli per cuffie bilanciato, un ottimo doppio convertitore e uno streamer di rete a circa 250 euro. Con SMSL DP3 è possibile e la qualità audio è di tutto rispetto. Si paga pegno sulla versatilità d'uso, ma una volta ben inquadrato cosa può e cosa non può fare questo apparecchio… il divertimento è assicurato.
Il
network player /amplificatore per cuffie SMSL DP3
ha molte frecce al suo arco. In primo luogo di tratta di
amplificatore
per
cuffie
sia con
presa
bilanciata
a 4 poli e sia con il classico jack "grande".
Complice il doppio DAC interno ESS ES9018Q2C (non certo di ultimissima generazione, ma pur sempre efficace), riesce a riprodurre file della famiglia PCM fino a 24 bit e 384 kHz e i DSD256.
Come porte di ingresso ha la LAN, il WiFi, Bluetooth, AirPlay, 2 USB-A e una lettore di schede microSD. La cosa davvero interessante è che – diversamente da come troppo spesso accade – alle porte USB-A si possono collegare hard disk fino a 4 TB (!).
Ma non è tutto. Il Bluetooth infatti è sia un ricevitore e sia un trasmettitore, così da poter collegare il SMSL DP3 direttamente a casse amplificate con annesso ricevitore. Una bella comodità.
Esce verso il mondo esterno attraverso una miniUSB, AES/EBU, RCA, Coax e Toslink. In particolare, la miniUSB è settabile dall'utente in due sensi, ovvero come uscita verso un DAC esterno (così come la Coax e la Toslink), oppure come ingresso per usarla in buona compagnia di un computer e il suo player software.

Via WiFi o LAN si possono raggiungere dispositivi basati su Samba (come i NAS), o DLNA (in buona sostanza facendo lavorare un computer e gli hard disk ad esso collegati come un NAS; leggi la nostra guida al DLNA). Ovviamente per leggere i DSD è consigliabile il collegamento fisico di un hard disk al SMSL DP3.
Insomma, con caratteristiche tecniche di assoluto rispetto (cfr sotto), una buona app per gestire tutte le funzioni, una qualità audio più che soddisfacente, al network player / amplificatore per cuffie bilanciato SMSL DP3 perdoniamo una costruzione leggera, un telecomando efficace ma troppo spartano (oltre che difficilmente utilizzabile in compagnia di un display così piccolo) e la mancanza di ingressi diversi dalle porte USB (cosa tra l'altro comune anche ad apparecchi ben più blasonati).
Applaudiamo, invece, a una cura nella scelta della componentistica che ben sarebbe stata in apparecchi dal costo anche doppio; alla luce di queste considerazioni… siamo alle prese con un apparecchio dallo straordinario rapporto qualità / prezzo, pronto ad entrare in impianti anche blasonati e dedicato a chi non vuole investire un capitale per la musica liquida, ma solo aggiungere la straordinaria versatilità offerta da questa modalità di riproduzione musicale.
Brava SMSL.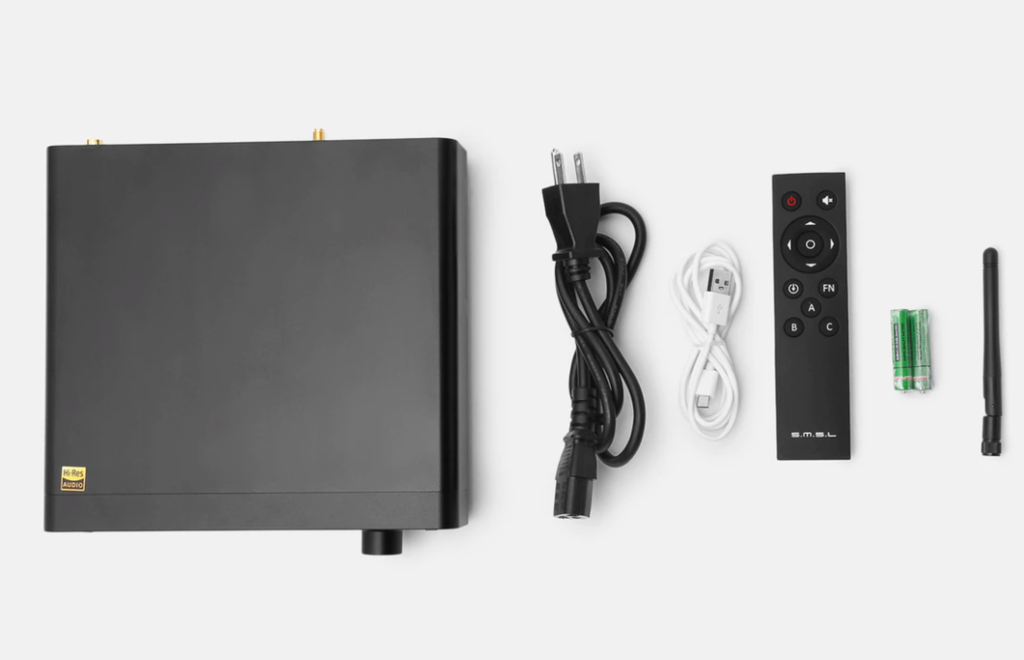 Caratteristiche tecniche amplificatore per cuffie / network player SMSL DP3
Input mode: USB, USB audio, SD, Bluetooth, DLNA, SAMBA (NAS)
Output mode: Line, headphone, optical, coaxial, AES, Bluetooth, USB
THD+N: Line output 0.0008%, unbalanced output 0.0008%, balanced output 0.0004%
Dynamic range: Line output 121 dB
SNR: Line output 112 dB, unbalanced output 112 dB, balanced output 110 dB
Headphone output power: Unbalanced output 58 mW (32 ohms), 46 mW (64 ohms), 26 mW (150 ohms); balanced output 113 mW (32 ohms), 110 mW (64 ohms), 78 mW (150 ohms), 49 mW (300 ohms)
Line output level: 2 Vrms
USB audio: DSD top support DSD256, PCM top support PCM 384 kHz
System compatibility: Windows 7 / 8 / 8.1 / 10, Mac OS X, Linux
DSD D2P: Top support DSD128
DSD DoP: Top support DSD256
DSD native: Top support DSD256
Digital output DoP output: Top support DSD64
PCM: Top support 384 kHz
File system: Supports FAT / FAT32 / NTFS
Micro-SD capacity of card: Topp support 256 GB
USB drive / hard disk: Top support 4TB
USB maximum out current: 2A (sum of 2 USB output currents)
USB DAC output: Support
Bluetooth version: 4.0
aptX: Support
Bluetooth input: Support
Bluetooth output: Support
HiBy link: Support
Wi-Fi function: Support
Wi-Fi specifications: Supports 2.4G / 5 G
Speed: 100M
File browsing: Support
Software upgrade: Support
Power consumption: 3W
Standby: 0.5W
Included Remote, Power cable, USB cable, 2 AAA batteries for remote
Amazon Auto Links: No products found.
Amazon Auto Links: Could not resolve the given unit type, . Please be sure to update the auto-insert definition if you have deleted the unit.