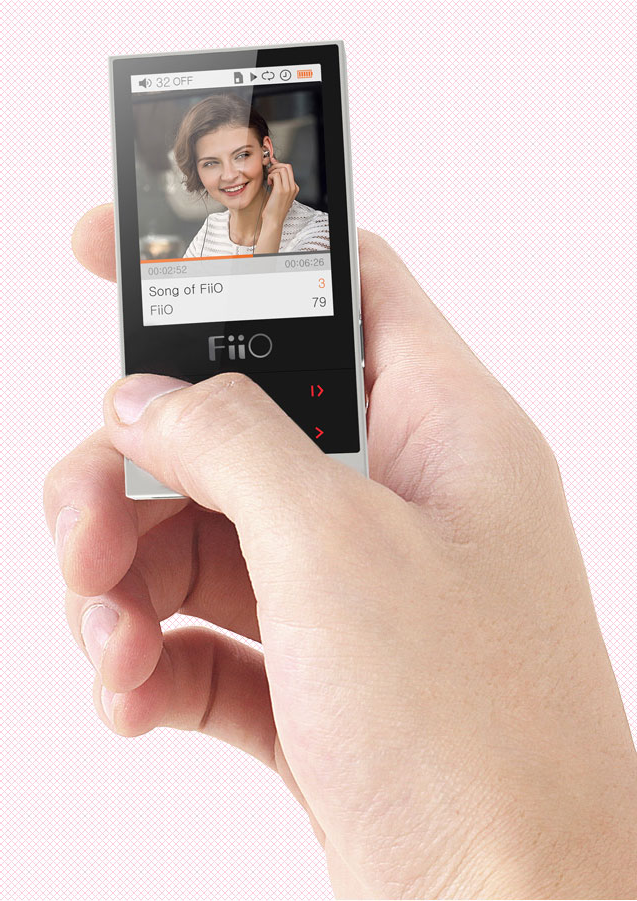 Il Fiio M3 è più basso di un accendino (!) e consente con una ricarica 24 ore di musica in Wav, MP3 e FLAC. Il costo? Una piacevole sorpresa.
I player portatili stanno vivendo una seconda giovinezza, trainata dal piacere della musica liquida ad alta risoluzione anche in mobilità. Al di là di apparecchi super-performanti ma anche dal costo impegnativo (Sony, Pioneer, Onkyo, …), ecco il Fiio M3, grande come una scatola di cerini (74x39x9 mm), contenuto in 40 grammi di peso e capace di convincere tutti per qualità, seppure con qualche piccolo compromesso.
Con queste dimensioni, infatti, la capacità di storage non può certo essere infinita e anche se il Fiio M3 può allargare gli orizzonti dei suoi 8 Gb di capacità innestandovi una microSD, per non rischiare… le frequenze di campionamento dei FLAC si fermano a 24 bit e 48 kHz. Comunque più che sufficienti per godersi anche in mobilità i piaceri dell'Hi-Res Audio (e comunque per i WAV arriviamo a 24/96).
Seppure a un costo risibile (cfr in basso), il Fiio M3 si porta in dota una pellicola protettiva già installata sul display TFT da 240×320 pixel, una pellicola di riserva e il cavetto micro-USB per la ricarica e la connessione al computer. Di qualità davvero trascurabile sono gli auricolari forniti anch'essi in dotazione, che sappiamo già rimarranno in un cassetto come riserva, sostituiti dalla nostra cuffia di fiducia.
Seppure non proprio il massimo, il software si cui si poggia il Fiio M3 è semplice da usare ed efficace; dalla sua il produttore cinese ce la sta mettendo tutta per migliorarlo sia esteticamente sia aggiungendo nuove funzionalità, rilasciando spesso degli aggiornamenti.
Sono comunque già presenti features come la modalità di riproduzione gapless, un equalizzatore grafico a 5 bande, la gestione delle playlist e altro ancora.
A dispetto delle sue dimensioni lillipuziane, il Fiio M3 nasconde al suo interno un DAC vero e proprio, ovvero il Cirrus Logic CS42L51, che fa anche da amplificatore per cuffia, garantisce un'ottima qualità e un bassissimo consumo d'energia, tanto da far arrivare questo player a 24 ore di riproduzione con solo 2 ore e mezza di ricarica.
Caratteristiche tecniche DAP (Digital Audio player) Fiio M3
Headphone Port Standard 3.5mm
Color Ivory white, Blue, Black, Cyan
Drive Ability 16~100 Ω
Dimensions 74 mm× 39.7 mm× 9.1 mm
Weight 40 g
Volume Control 60 steps digital potentiometer
Equalizer 5-band equalizer (±6dB)
Display Screen 2.0″, TFT screen with 240×320 pixels
Output Power >50 mW(16Ω//THD+N<1%)
Output Power >30 mW(32Ω/THD+N<1%)
Output Impedance <0.4Ω(32Ω)
Crosstalk >70 dB (1 kHz)
SNR ≥95 dB (A-weighted)
THD+N <0.008% (1 kHz)
Frequency Response 8 Hz~47 kHz(-3dB)
Battery Capacity 550 mAh
Battery Life >24 h
Charging Time <2.5 h
Audio Formats Supported: APE(Fast): 48 kHz/16 bit; APE(Normal): 48 kHz/16 bit; APE (High): 48 kHz/16 bit; FLAC: 48 kHz/24 bit; WAV: 96 kHz/24; MP3; WMA; OGG; M4A
Produttore: Fiio
Amazon Auto Links: No products found.
Amazon Auto Links: Could not resolve the given unit type, . Please be sure to update the auto-insert definition if you have deleted the unit.