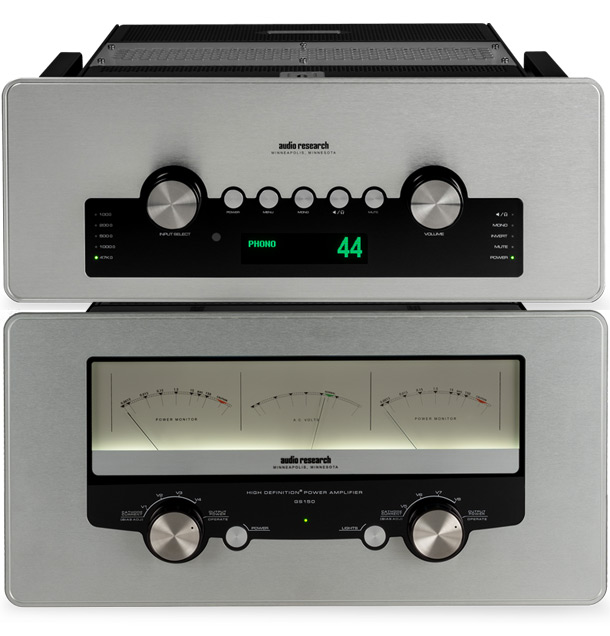 Audio Research, con decenni di esperienza nella realizzazione delle migliori amplificazioni mai prodotte, sulle quali ha costruito la sua reputazione, prosegue nella certezza della continuità con la Serie Audio Research Galileo, che comprende un pre e un finale di eccellenza: Audio Research GSPre e Audio Research GS150.
Si chiama Galileo la nuova linea di Audio Research e comprende il GSPre, preamplificatore, il GS150, finale di potenza e il GSI 75, amplificatore integrato.
Oggi la tendenza di Audio Research è riportare lo spirito senza tempo del design classico.
Da notare, nella nuova linea Audio Research Galileo, l'assenza delle maniglie dal pannello frontale. Infatti, sono state rimosse dal lato anteriore e trasferite posteriormente, su entrambi i lati, per conservare la sicura movimentazione degli apparecchi.
L'Audio Research GSPre è un preamplificatore valvolare linea e phono, con un'estetica, in particolare dei controlli, che ci riporta un po' indietro nel tempo. Il layout del pannello frontale è progettato per visualizzare con semplicità e chiarezza tutte le funzioni e le informazioni e si integra perfettamente con il finale GS150.
Caratteristiche generali preamplificatore Audio Research GSPre
Stereo Vacuum tube Line and Phono preamplifier with Headphone amplifier in one attractive package
Pure Class-A differential amplifiers in the Line stages, no feedback
Pure Class-A SE amplifiers in the Phono stages, no feedback
VF display with Blue LED's for Phono Loads and mode selected, and rotating Volume & Input Select encoder
Hand held IR Remote and RS-232 and remote IR inputs for whole home audio system
Balance and SE input/output
7 levels of voltage regulation and a low noise R-core power transformer
Phono stage features low noise JFET inputs and 6H30 outputs as well as programmable loading
Line stage features low noise JFET inputs and 2 parallel 6H30 outputs
Features custom designed coupling capacitors in the line and phono stages
+12v trigger output to turn on power amplifier and other system components
Low distortion vacuum tube headphone amplifier designed for driving a wide impedance range, 30-300 ohms
Removable 15 A IEC power cord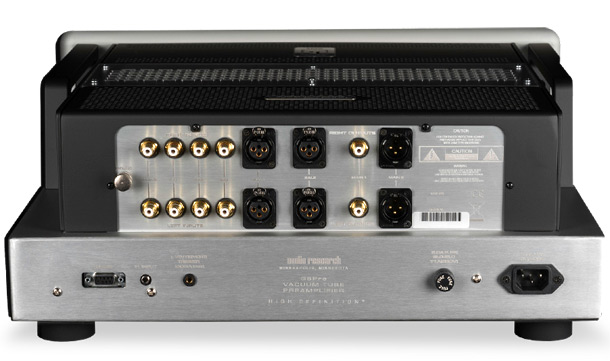 Caratteristiche tecniche preamplificatore Audio Research GSPre
FREQUENCY RESPONSE: line ±.3 dB 2 Hz to 80 kHz; –3 dB 0.8 Hz to 220 kHz; Phono ±0.1 dB of RIAA 10 Hz to 20 kHz, ±0.4 dB 5 Hz to 80 kHz; Headphone ±0.05 dB 20 Hz to 20 kHz; –3 dB 0.8 Hz to 220 kHz
THD+N @ 1 KHZ: line <.002% at 2 V RMS, Bal output; Phono <.005% at 3 V RMS output, to Record output; Headphone <.009% at 1 V RMS output
GAIN @ 1 KHZ: line 13.8 dB, Processor 0 dB; Phono 58 dB @ 1 kHz to Record output; Headphone 11.3 dB
NOISE (A-WEIGHTED): line <–101 dBV volume at max; Phono <–77 dBV to Record output; Headphone <–88 dBV volume at max
CHANNEL SEPARATION @ 1 KHZ: line: >75 dB Balanced output; Phono: >70 dB to Record output; Headphone: >60 dB
SIGNAL TO NOISE RATIO @ 1 KHZ, A-WEIGHTED: line: >125 dB Balanced output; Phono: >94 dB to Record output; Headphone: >110 dB
INPUT IMPEDANCE: 150 Kohms Balanced, 75 Kohms SE; Phono impedance programmable (100, 200, 500, 1000 or 47 Kohms w/200 pf unbalanced)
OUTPUT IMPEDANCE @ 1 KHZ: 500 ohms Balanced, 250 ohms SE; <.05 ohms Headphone SE
MAXIMUM INPUT: line 12 V RMS Balanced, 6.0 V RMS SE; Phono 11 mV RMS at 1 kHz.
RATED OUTPUT: line 2 V RMS (1 V RMS SE) into 200 kohms balanced load (maximum balanced output capability is 15 V RMS at less than .5% THD+N at 1 kHz); Phono 0.5 V RMS into 200 kohms load, Max output same as Line stage; Headphone 6 V RMS maximum into 30 to 300 ohm load
CONTROLS: Volume, Input Selector; 5 Push Buttons Power, Mute, SPKR Off, Mono, Menu, Rear; RS-232 control, Remote IR input & Remote Trigger out
POWER SUPPLIES: Electronically regulated low and high voltage supplies; Automatic 45 sec. warm-up & brown-out mute; Line regulation better than .01%
TUBE COMPLEMENT: (6) 6H30P dual triodes
POWER REQUIREMENTS: 100-125 VAC 60 Hz (200-250 VAC 50/60 Hz) 105 Watts. Standby: 1.5 Watts
L'amplificatore finale di potenza Audio Research GS150 impiega i nuovi tubi di potenza KT150 per oltre 150 watt di uscita su ogni canale senza affaticamenti. Anch'esso con un'estetica vintage, che si allinea al pre.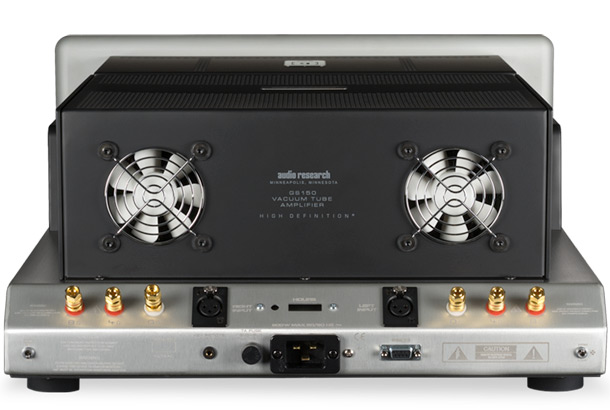 Caratteristiche tecniche finale Audio Research GS150
POWER OUTPUT: 155 watts per channel continuous from20Hz to 20kHz. 1kHz total harmonic distortion typically 0.6% at 155 watts, below 0.03% at 1 watt.Approximate actual power available at 'clipping' 160 watts (1kHz). (Note that actual power output is dependent upon both line voltage and 'condition' i. e.: if power line has high distortion, maximum power will be affected adversely, although from a listening standpoint this is not very critical.)
POWER BANDWIDTH: (–3 dB points) 5 Hz to 80 kHz
FREQUENCY RESPONSE: (–3 dB points at 1 watt) 0.5 Hz to 120 kHz.
INPUT SENSITIVITY: 2.0 V RMS BAL for rated output (24 dB Bal gain into 8 ohms)
INPUT IMPEDANCE: 300 kohms Balanced
OUTPUT POLARITY: Non-inverting, Balanced input pin 2+ (IEC-268)
OUTPUT TAPS: 8 ohms, 4 ohms
OVERALL NEGATIVE FEEDBACK: 14 dB
SLEW RATE: 13 volts/microsecond
RISE TIME: 2.0 microseconds
HUM & NOISE: Less than 0.1 mV RMS –114dB below rated output (IHF weighted, input shorted)
CONTROLS: Rotary selector for tube bias, Power on/off, fan speed, auto shut-off on/defeat, RS232, 12V trigger
POWER SUPPLY ENERGY STORAGE: Approximately 1040 joules
POWER REQUIREMENTS: 105-125 VAC 60 Hz (210-250 VAC 50 Hz) 730 watts at rated output, 900 watts maximum, 420 watts idle
TUBES REQUIRED: 4 – Matched pair KT150 – Power Output; 4 – 6H30 Driver
DIMENSIONS: 48.3 W x 23.8 H x 57.8 D cm
Produttore: AUDIO RESEARCH