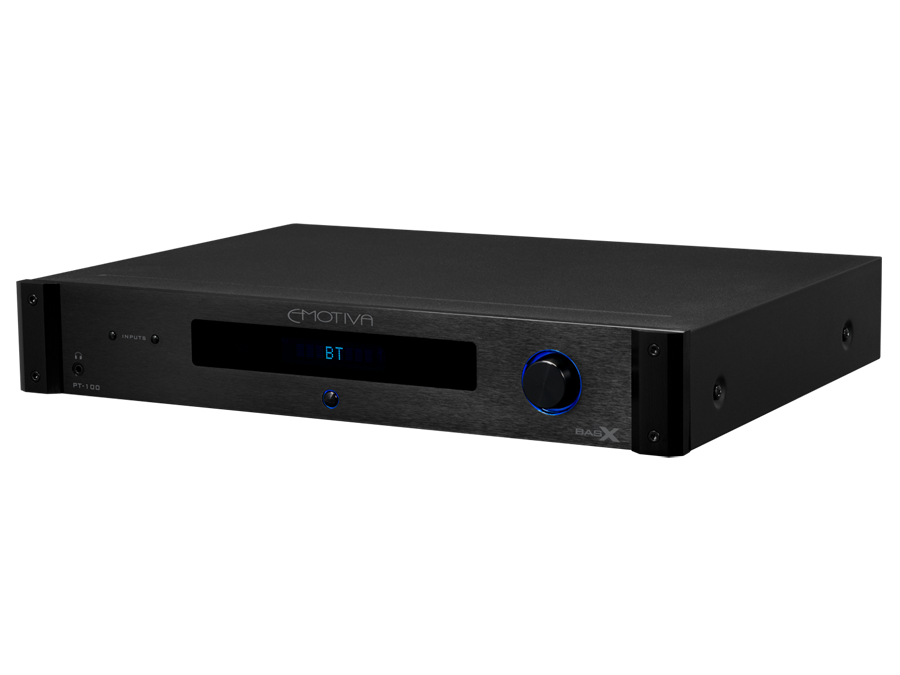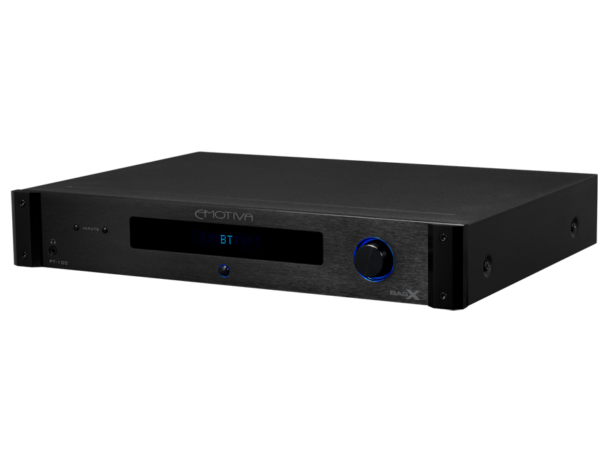 Emotiva BasX PT-100 è un DAC, un pre analogico, un pre digitale, un ampli per cuffie e … una radio FM. A un prezzo davvero per tutti.
Emotiva è un marchio americano che – seppure regolarmente distribuito in Italia – qui da noi probabilmente non ha la popolarità che meriterebbe.
Rappresenta il tipico marchio che sulle nostre pagine apprezziamo molto, ovvero un'azienda che, grazie a un attento rapporto qualità/prezzo, può rappresentare un ottimo inizio all'appassionante mondo dell'alta fedeltà, specialmente nei confronti di chi pensa – a torto – che sia un hobby dedicato solo a ricchi e riccastri.
Certo, nessuno fa miracoli e nessuno regala nulla, ma con la giusta dose di consapevolezza…
L'Emotiva BasX PT-100 è essenzialmente un DAC/pre-digitale, che non disdegna 2 ingressi analogici (per il sempreverde lettore CD o altro) e si prende il lusso / la stravaganza di inserire nel case anche un sintonizzatore FM di buona fattura e con 50 stazioni memorizzabili. Basterà quindi collegarvi una sorgente e una buona coppia di casse amplificate e siamo già pronti a inondare il nostro salotto di musica.
Gli ingressi digitali sono i classici USB, Coax e Toslink, a cui s'aggiunge anche un ricevitore Bluetooth aptX, ma nel dominio analogico c'è anche un ingresso fono MM e MC (!), oltre ai 2 già citati.
Nonostante il prezzo (299 dollari nel listino americano), la costruzione è curata e lo chassis è in acciaio, col frontale in alluminio.
La costruzione del telecomando è economica, ma non più di altre realizzazioni, ma nell'uso si rivela comunque comodo.
Il DAC interno è un Analog Devices AD1955 24/192, che però sulla porta USB si ferma a 24/96 (diciamocelo con franchezza, è un livello di risoluzione comunque godibilissimo e oltre il quale è davvero difficile sentire ad orecchio migliorie e comunque…. a 'sti prezzi…).
Fa piacere (ri)trovare anche i controlli di tono, di cui si sta finalmente (ri)scoprendo l'utilità, a dispetto di talebani / puristi.
L'amplificatore per cuffie è di tipo digitale e con controllo intelligente di livello, che garantisce la capacità di pilotare in scioltezza auricolari di qualsiasi impedenza. Non è certo paragonabile a un componente separato ma – lo ripetiamo – siamo alle prese con un prodotto sì ben suonante e ben fatto, ma pur sempre un entry level.
Il pannello posteriore rivela anche 2 uscite sub, mentre l'interno è basato su una scheda circuitale FR4 a doppio lato.
Insomma, l'Emotiva BasX PT-100 è un ottimo punto di partenza per entrare nell'HiFi dalla porta principale e/o per un secondo impianto senza svenarsi. Complimenti a Ray Dennison, Dan Laufman e Lonnie Vaughn, i responsabili di questo progetto.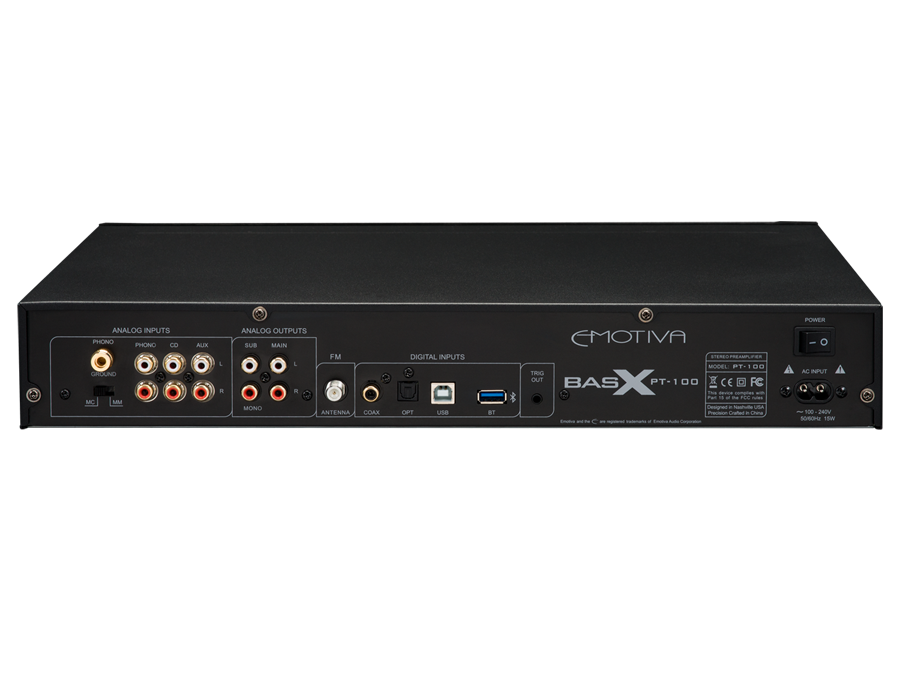 Caratteristiche tecniche preamplificatore digitale con radio FM Emotiva BasX PT-100
Analog Inputs
2 pairs – stereo analog line level inputs (CD, Aux).
1 pair – stereo phono inputs (switchable; moving magnet or moving coil).
1 tuner – FM (with external antenna input; 50 station presets).
Digital Inputs
1 – digital coax (S/PDIF); 24/192k.
1 – digital optical (Toslink); 24/192k.
1 – digital USB (DAC input); 24/96k; no drivers required.
1 – Bluetooth receiver (requires optional AptX Bluetooth dongle).
Outputs
1 pair – stereo main output; stereo, unbalanced.
2 – summed full range outputs (for connecting one or two subwoofers).
1 – stereo headphone output (front panel).
Analog Performance (line level)
Maximum output level: 4 VRMS
Frequency response: 5 Hz to 50 kHz +/- 0.04 dB.
THD+noise: < 0.0015% (A-weighted).
IMD: < 0.004% (SMPTE).
S/N ratio: > 115 dB.
Crosstalk: < 90 dB.
Analog Performance (phono)
Frequency response (MM and MC): 20 Hz to 20 kHz; ref standard RIAA curve.
THD+noise: < 0.015% (MM; A-weighted); < 0.06% (MC; A-weighted).
S/N ratio: > 90 dB (MM); > 68 dB (MC).
Analog Performance (headphone output power)
8 Ohms: 23 mW / channel
33 Ohms: 90 mW / channel
47 Ohms: 127 mW / channel
150 Ohms: 145 mW / channel
300 Ohms: 114 mW / channel
600 Ohms: 75 mW / channel
Digital Performance
Frequency response: 5 Hz to 20 kHz +/- 0.15 dB (44k sample rate).
Frequency response: 5 Hz to 80 kHz +/- 0.25 dB (192k sample rate).
THD+noise: < 0.003% (A-weighted; all sample rates).
IMD: < 0.007% (SMPTE).
S/N ratio: > 110 dB.
Trigger
12 VDC trigger output.
Power Requirements
115 VAC or 230 VAC @ 50 / 60 Hz (automatically detected).
Controls and Indicators
Power: rocker switch; rear panel.
Standby: one front panel push button; halo ring changes color to indicate status.
Two front panel pushbuttons: Input Select; menu operation.
One front panel knob: Volume; Tuning; menu operation.
Display: high visibility blue alphanumeric VFD display (dimmable).
Remote Control
Compact full-function infrared remote control.
Menu and Control System
Simplified, highly intuitive menu system.
(includes Setup options, Bass, Treble, and Balance controls).
Dimensions:
17" wide x 2 5/8" high x 12.5" deep (without connectors).
21" long x 7" high x 17-1/2" deep (boxed).
Weight
9 lbs (net)
13.5 lbs (boxed)